2015 NFL Draft: Mariota, Ogbuehi, Gregory pace Top 32; CBs strong, too
By now you know Oregon QB Marcus Mariota tops every list of 2015 NFL Draft prospects, but Randy Gregory and Cedric Ogbuehi are right there, too.
More post-draft news: Final draft grades | Super-early mock | Top 100 prospects
It's never too early to look at the 2015 NFL Draft Class, so I offer my way-too-early glance at the top 32 players for next year's draft.
Things will change over 12 months. Players will emerge. Others will fall off. Some will even get in off-the-field trouble that will sour their rankings.
So keep this as a starter kit as we look ahead to 2015, a year where the underclassmen could dominate in a big way.
The top three quarterbacks are underclassmen, with Oregon's Marcus Mariotta the top passer and top player on my list. The other two top quarterbacks are Florida State's Jamies Winston and UCLA's Brett Hundley.
Next year's draft could feature several impact pass rushers after a lull this year. The pass rusher I love is Randy Gregory from Nebraska. But he will be challenged for that top spot.
There also will be a nice group of cornerbacks; LSU and Florida State have two potential first-round corners apiece.
So dive in, look around, complain and then step back and think we have 12 months to dice every player on this list (and more) to bits.
Let's get the party started (underclassmen noted in parentheses).
1. Marcus Mariota, QB, Oregon (Jr.): He is big and can run. But the concerns will be his ability to make the reads inside the pocket. I think he has work to do there, but he has a lot of talent.
2. Cedric Ogbuehi, T, Texas A&M: The Aggies had two tackles among the top six picks in the past two drafts. This kid might be the best of all. He is so athletic for a player who is 6-foot-6, 315 pounds.
3. Randy Gregory, DE-OLB, Nebraska: Had this 260-pound pass rusher entered the 2014 draft, he might have been a top-15 pick. Now he has a real chance to go in the top five.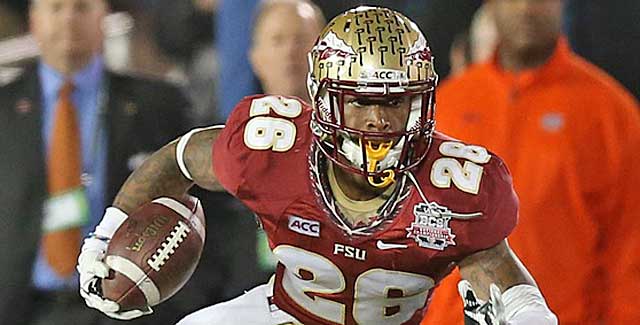 4. P.J. Williams, CB, Florida State (Jr.): He is coming off an impressive game in the National Championship and he can fly. He is 5-11, but he might run under 4.4 seconds in the 40.
5. Jameis Winston, QB, Florida State (r-Soph.): Winston is a big-armed, pocket passer who fits what the NFL wants. But that delivery could scare off some teams, as could his off-the-field stuff.
6. Andrus Peat, T, Stanford (Jr.): At 6-6, 315 pounds, he is athletic enough to handle edge rushers but can also do a nice job in the run game.
7. Shilique Calhoun, DE, Michigan State (Jr.): He is 6-4, 255 pounds and has the speed teams want off the edge. After an impressive 2013 season, he has a chance to really vault up the lists.
8. Leonard Williams, DT, USC (Jr.): At 6-4, 290-pound player, he has been seemingly destined for stardom since he showed up at USC. He is a force in the middle of that defense.
9. Landon Collins, S, Alabama (Jr.): He played a lot as a sophomore last season and could be Bama's best defensive player next season. He can tackle and he has range. He's already one of my favorites.
10. Vic Beasley, OLB, Clemson: He is an explosive up-field outside linebacker who would fit in a 3-4 scheme. He is 6-2, 240 pounds.
11. Jalen Collins, CB, LSU (Jr.): A 6-1, 192-pound corner who is smooth in coverage, he showed up big time when I watched LSU tape from a year ago.
12. Shawn Oakman, DE, Baylor (Jr.): He is a huge end at 6-9, 275 pounds who wears jersey No. 2 and sure stands out. He needs to put up better sack numbers, but the ability is there.
13. Brandon Scherff, T, Iowa: He is a big, powerful tackle at 6-5, 315-pounds. The question is does he have great athletic ability. I think he's good enough.
14. Ifo Ekpre-Olomu, CB, Oregon: He is a shorter corner at 5-10, and some expected he was going to enter the 2014 draft. He's tough kid who is more than capable of playing press-man.
15. Bernardrick McKinney, OLB, Mississippi State (r-Jr.): He is almost 6-5, weighs 252 pounds and has great athletic ability. This fourth-year junior has a chance be a dominant player and be a top-five pick.
16. Michael Bennett, DT, Ohio State: Bennett is a quick 6-3, 285-pound tackle who had seven sacks as a junior, showing off his up-the-field quickness. Teams love that from their interior pass rushers.
17. Devonte Fields, DE, TCU (r-Soph.): He missed the final nine games of 2013 because of a foot injury, but was back for spring practice and should be ready to build on his 2012 season. He was the Big 12 Defensive Player of the Year. He has the speed off the edge teams love.
18. Mario Edwards, DE, Florida State (Jr.): He did some really good things against Greg Robinson (Auburn, No. 2 overall pick in 2014 draft) in the National Championship Game. He has to get more consistent, but the talent is there.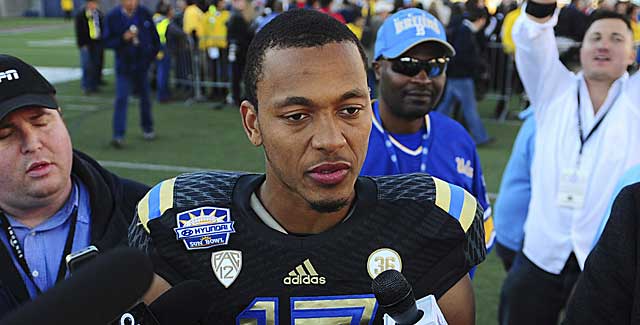 19. Brett Hundley, QB, UCLA (Jr.): I thought Hundley regressed in 2013, but he has great size and a big arm. He has to show that he's better throwing the football.
20. Alex Carter, CB, Stanford (Jr.): A 6-foot corner who does a nice job in man coverage. There is great value in that.
21. Cameron Erving, T, Florida State: At 6-5, 325 pounds, he plays left tackle. I think he has to be more consistent to get selected high in the first round.
22. Jaelen Strong, WR, Arizona State: Big at 6-4, 205 pounds and coming off a season with 75 catches and a 14.9 average, he can be special.
23. Jalen Mills, CB, LSU (Jr.): Collins and Mills will push each other to be the best corner for the Tigers, and maybe in this class.
24. Amari Cooper, WR, Alabama (Jr.): Cooper is 6-2 with speed and does a nice job running routes in the pro-style system.
25. Jordan Jenkins, OLB, Georgia (Jr.): At 6-2, 245 pounds, he can hold the point against the run and rush the passer, although he needs to get better with the rush. With another year of seasoning, the scouts will come to love this kid.
26. Trae Waynes, CB, Michigan State (Jr.): Darqeuze Dennard, his teammate with the Spartans, went in the first round and Waynes might be a better man-cover player.
27. Ronald Darby, CB, Florida State: Darby is the Noles' other corner possessing first-round talent. They can flat-out cover receivers at that school.
28. Dante Fowler, DE, Florida (Jr.): A 6-4, 260-pound edge rusher whose best football is in front of him, he has played inside as well.
29. La'El Collins, T, LSU: This 6-5, 315-pound college tackle easily could move inside and be a dominant guard. But I think he's athletic enough to stay outside.
30. Nelson Agholor, WR, USC (Jr.): With Marquise Lee gone, it's Agholor's time to take over as the No. 1 receiver. He came to USC as a huge recruit and hasn't disappointed.
31. Todd Gurley, RB, Georgia (Jr.): I usually don't put running backs on my list, but this kid has a chance to be special. He has to keep his weight in check.
32. Bryce Petty, QB, Baylor: Some will term Petty a system quarterback, but the Baylor coaches say he might be the best they've had. They did have Robert Griffin III.
Just missed: DeVante Parker, WR, Louisville, Josh Shaw, CB, USC, Devin Funchess, TE, Michigan (Jr.), Quandre Diggs, CB, Texas, Denzel Perryman, ILB, Miami, Braxton Miller, QB, Ohio State, Sean Mannion, QB, Oregon State, Mike Davis, RB, South Carolina (Jr.), Melvin Gordon, RB, Wisconsin, (Jr.) Tre Jackson, G, Florida State, Tyler Montgomery, WR, Stanford, Stefan Diggs, WR, Maryland, Noah Spence, DE, Ohio State (Jr.), Nick O'Leary, TE, Florida State, Cedric Reed, DE, Texas, Connor Cook, QB, Michigan State, Karl Joseph, S, West Virginia (Jr.), T.J. Yeldon, RB, Alabama (Jr.) , Erik Striker, OLB, Oklahoma, Dorial Green-Beckham, WR, (TBD) and Shaq Thompson, OLB, Washington.
Show Comments
Hide Comments
Conley, a first-round talent, has denied rape allegations that came to light this week

Lamps Plus and Charmin' are to the rescue for some smart endorsement money

Here's everything you need to know about the 2017 NFL Draft
Will Garoppolo be Tom Brady's backup in 2017 or will he be dealt Thursday?

Ben Roethlisberger, Alex Smith and Carson Palmer get youngsters to mentor in Prisco's final...

Plus Jonathan Allen falls further than expected and the Saints double dip in the secondary