2015 Super Bowl Odds: Peyton's Broncos final preseason favorite
The last preseason edition of our 2015 Super Bowl Odds feature Peyton Manning and the Broncos up top.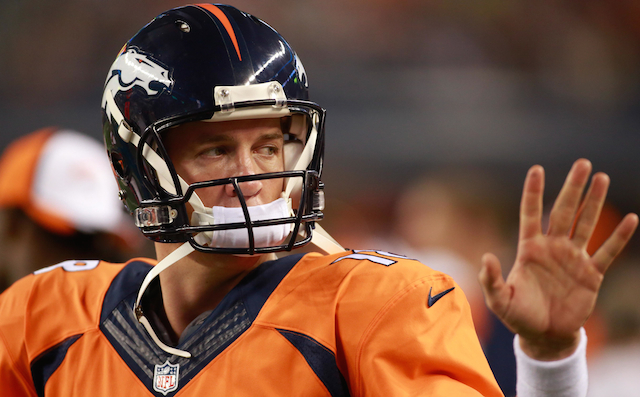 When we last checked in our 2015 Super Bowl Odds, the draft was over and we were sorting out where teams stood. It's time for one final portrait, before the season kicks off on Thursday with Seahawks-Packers.
And the Seahawks won't be the top favorite heading into the year, with Peyton Manning and the Broncos jumping them just before the start of the season. These odds were taken from Bovada.lv as of noon on Wednesday, so it appears the Wes Welker suspension doesn't affect them. (No surprise: Welker will miss four games but the Broncos are almost a lock to still win double digit games.) 
Other items of note:
-- The Lions are skyrocketing up the board. Why? Good question. The guess isn't so much they did anything in particular causing Vegas to jump all over them so much as they were heavily undervalued at 50-1. I'd probably argue 33-1 is a little pricey for a team with defensive question marks and major transition. This offense could be prolific though.
-- Sam Bradford's injury was fairly pricey for the Rams who fell from 50-1 to 66-1, although not as pricey as you'd expect. If a high-end quarterback went down in the preseason you'd see a much bigger shift in odds. Vegas either loves Shaun Hill or, more likely, isn't too impressed with Bradford.
-- The Panthers fell down the hill from 28-1 to 50-1. Gonna go out on a limb and guess it has something to do with Cam Newton being injured, a lack of big-name wide receivers and a questionable offensive line. 
--  Surprising the 49ers haven't fallen farther after the Aldon Smith and Ray McDonald incidents. Jim Harbaugh's ability to coach up a team is highly respected and they've got plenty of offense.
-- The Saints flew up the board didn't they? Get off my bandwagon, people. 
-- Look at the right side. It's a freaking freefall. When you think about it, no real surprise. After the draft, in the heart of the offseason, Vegas doesn't want to extend anyone too far out in terms of odds and offer too much value. There are many, many unknowns about each team, about various players (or owners) getting suspended, injured, etc. While we only have four weeks of preseason to base our ideas about these teams, it's clear at least a little who might be better than expected and who might struggle again. 
| | | | | | | | |
| --- | --- | --- | --- | --- | --- | --- | --- |
| Team | Post-Draft Odds | Final Preseason Odds | Trend | Team | Post-Draft Odds | Final Preseason Odds | Trend |
| Denver Broncos | 7-1 | 11-2 | | Carolina Panthers | 28-1 | 50-1 | |
| Seattle Seahawks | 6-1 | 6-1 | | Kansas City Chiefs | 33-1 | 50-1 | |
| New England Patriots | 15-2 | 8-1 | | Dallas Cowboys | 40-1 | 66-1 | |
| San Francisco 49ers | 15-2 | 8-1 | | Houston Texans | 40-1 | 66-1 | |
| Green Bay Packers | 10-1 | 9-1 | | Miami Dolphins | 50-1 | 66-1 | |
| New Orleans Saints | 20-1 | 9-1 | | New York Giants | 40-1 | 66-1 | |
| Philadelphia Eagles | 22-1 | 20-1 | | St. Louis Rams | 50-1 | 66-1 | |
| Chicago Bears | 20-1 | 22-1 | | Tampa Bay Buccaneers | 50-1 | 66-1 | |
| Indianapolis Colts | 20-1 | 22-1 | | Washington Redskins | 50-1 | 66-1 | |
| Detroit Lions | 50-1 | 33-1 | | Cleveland Browns | 50-1 | 75-1 | |
| Arizona Cardinals | 40-1 | 40-1 | | Minnesota Vikings | 50-1 | 75-1 | |
| Atlanta Falcons | 40-1 | 40-1 | | New York Jets | 66-1 | 75-1 | |
| Baltimore Ravens | 40-1 | 40-1 | | Buffalo Bills | 75-1 | 100-1 | |
| Cincinnati Bengals | 40-1 | 40-1 | | Tennessee Titans | 75-1 | 100-1 | |
| Pittsburgh Steelers | 33-1 | 40-1 | | Oakland Raiders | 100-1 | 200-1 | |
| San Diego Chargers | 40-1 | 40-1 | | Jacksonville Jaguars | 100-1 | 250-1 | |
Show Comments
Hide Comments
Plus Nick Saban sends a ton of talent to the NFL, the Browns find a QB and more from Rounds...

The Vikings' Latavius Murray and Bengals' Jeremy Hill also get put on notice with Cook, Mixon...

Here's everything you need to know about the 2017 NFL Draft
Here's a recap of Round 2 and Round 3 in the 2017 NFL Draft

Here are the 25 best prospects still available after three rounds of the 2017 draft have w...

The fans in Philadelphia did their best to make the 2017 NFL Draft more fun