49ers-Chargers game will be played despite 6.0 earthquake in Bay Area
Building engineers say that Levi's Stadium went undamaged after a 6.0 earthquake hit the Bay Area on Sunday morning.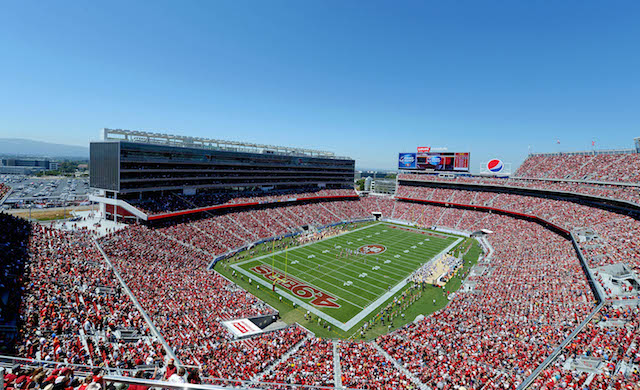 The San Francisco Bay Area was rocked by an earthquake on Sunday morning that registered a magnitude of 6.0, according to the U.S. Geological Survey. 
The 49ers are set to play the Chargers at 4 p.m. ET and that game will go on as scheduled, according to the team. The 49ers released a statement on Sunday saying that Levi's Stadium was unaffected by the quake, which was centered near Napa, Calif.
Levi's Stadium was designed to meet California seismic code requirements and seismic bracing was incorporated into the design and construction. Building engineers have walked the entire stadium and we have had no reported damage.
Coincidentally, it's the second time in 10 months that the Chargers have been in the Bay Area when an earthquake hit. San Diego was playing at Oakland last season when a 3.1 earthquake hit during the game. 
The 6.0 earthquake was the biggest seismic event in the Bay Area since the Loma Prieta earthquake of 1989. That 6.9 quake happened while the A's and San Francisco Giants were preparing for Game 3 of the World Series. The earthquake ended up delaying the World Series for 10 days.
Show Comments
Hide Comments
What happens in Mexico City doesn't stay in Mexico City

Cord-cutters are probably going to like what the Patriots owner has to say

The Patriots tight end pushed the line on some jokes while roasting the former Red Sox sta...
John Mara is a big fan of OBJ but probably not going to get a contract done

Kansas City lost big-name stars, lost its GM and had a huge trade this offseason

The former Bears quarterback also said Tony Romo might be 'leaving the door open' to retur...