49ers fire Jim Tomsula after just one season: 6 things to know
Jim Tomsula was fired by the 49ers on Sunday night.
The 49ers ultimately decided not to give Jim Tomsula more than one year to try and make things work in San Francisco, firing the long-time 49ers coach (and one-year head coach) after a single season on Sunday night.
"Jimmy has been a valuable member of the 49ers organization for the last nine years," said CEO Jed York. "We all know he is a man of high character, and his contributions on the field and in our community have always been greatly appreciated. This entire organization is proud and grateful to have worked so closely alongside Jimmy. We all wish him and his family great success in the future."
Here's six things to know about his firing.
1. Never had a chance: Tomsula was hamstrung by the 49ers from the start, taking the keys to a team that lost key players this offseason. Justin Smith, Chris Borland, Patrick Willis and Anthony Davis all retired. Meanwhile, Mike Iupati, Frank Gore and Michael Crabtree all left in free agency.
On the field, it went as poorly as one could've imagined with Colin Kaepernick so dreadful he was benched for former Jaguars first-round pick Blaine Gabbert.
No one is making excuses for Tomsula or claiming 2015 was anything other than a disastrous year, but it was a borderline miracle the 49ers won five games this season. 
2. How is this job regarded? It's not surprising to see San Francisco move on, but it'll be curious whether the 49ers job is highly regarded in the coaching community as they search for a replacement. 
Trent Baalke is still in charge in San Francisco as the General Manager and Jed York is still running the show. 
Perhaps they attract a high-profile West Coast guy like Chip Kelly or David Shaw of Stanford. Or perhaps their coaching search goes as well as it did last time and they end up bringing in someone with limited coaching experience to try and improve on the roster. 
Given how quickly they dismissed a long-time soldier and first-time coach, it's clear the shine is off the 49ers job again. 
3. Harbaugh Fail: So the 49ers ran off Jim Harbaugh who took a job at his alma mater and promptly coached the Wolverines to 10 wins in a 12-game season (plus the bowl game) and looking like they'll be playoff contenders as early as Harbaugh's second season.
10 is in fact more than five and actually twice as much as five, which means that Harbaugh won twice as many games as the 49ers with three-fourths of the games. It's not apples to apples but it's possible Harbaugh-to-Tomsula goes down as the all-time worst dropoff from one coach to another. 
Maybe the relationship with Harbaugh was fractured but chasing off a top-five NFL coach was absolutely a tremendous mistake. 
4. Credit for Gabbert: The disaster that Kaep became in 2015 is on this regime, like it or not. He looked totally lost for lengthy periods of time. Supposed to be the franchise, quarterback, there's no telling if Kaepernick will even be on the roster by the start of next year.
Whether or not he is, give Tomsula and crew credit for bringing along Gabbert. Gabbert was one of the great busts in Jacksonville -- the Jaguars drafted him in front of J.J. Watt! -- and it was expected he would melt down once he tried to work with the 49ers' offense.
Instead he thrived and at times looked like he could be a bridge quarterback to the future and maybe even a respectable starter. Credit Gabbert for improving but credit Tomsula's staff for helping to turn him around too. 
5. Another odd job: Tomsula was noted for having a list of odd jobs before he took over the 49ers and now he can add one more thing -- "49ers coach" -- to the list.
Best of luck to Jim Tomsula, who can now add Niners head coach to this diverse list: pic.twitter.com/T1SoBYXFl8

— Michele Steele (@ESPNMichele) January 4, 2016
6. Candidates: There's a rumor percolating about the 49ers chasing after Sean Payton, so it feels like this is going to be a big-name chase for York and Baalke. Other names also mentioned above include Chip Kelly (unemployed) and David Shaw (Stanford) that would be major press conference wins for an ownership group not in good standing with the fanbase.
Two other names who would be smart hires if you're trying to develop a new quarterback or fix Kaepernick are Patriots offensive coordinator Josh McDaniels and Bears offensive coordinator Adam Gase.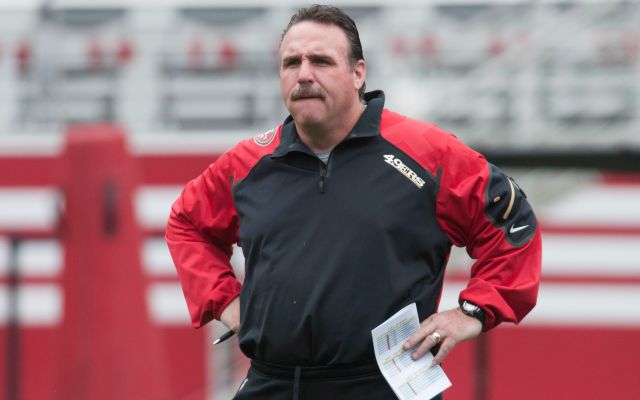 Show Comments
Hide Comments
Our Latest Stories
We're pretty sure Jerry Jones is glad he didn't overpay for Paxton Lynch

The Cowboys rookie has been even better than could have been expected filling in for Tony...

Here are all the biggest stories from a wild Week 3, including the Eagles' pasting of the...
Elliott showed off his track-and-field skills on a sweet run

The injury looked much worse when it occured

Elway dusts off his Twitter fingers to respond to someone that had questioned the draft pi...