49ers LB Aldon Smith: 'I'm a good person'
Despite his recent legal troubles, 49ers linebacker Aldon Smith said he feels like he's a quality human being.
• 1 min read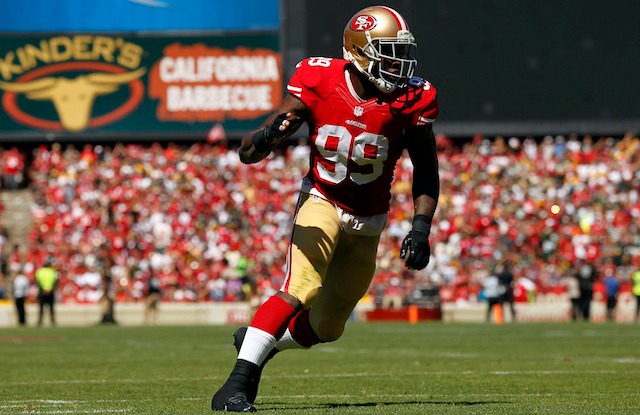 More NFL offseason: League minicamp dates | Latest news, notes
49ers linebacker Aldon Smith will find out in two months whether he'll have to serve jail time after pleading no-contest last week to six charges, including assault weapon and DUI charges. Plus, as you're probably aware, Smith is being investigated for allegedly calling in a bomb threat recently to Los Angeles International Airport.
Even with all that, Smith knows at least one truth.
"I'm a good person, and the people who know me know I'm a good person," Smith told CSN Bay Area. "Maybe after this is over, you can tell your friends I'm a good person. Anybody who hangs around me can tell that. A lot of these things are being painted in a picture that's not true."
It sounds like his team still supports him. The 49ers, after all, picked up his fifth-year option (admittedly, that doesn't mean much at this point, but it would have been telling if the team didn't pick it up), and San Francisco general manager Trent Baalke said last month that "we're a family. You don't just open a door and toss people out of it."
Said Smith: "The 49ers have supported me. As you can see, the option got picked up. And if I was a thug or something, I don't think they'd take those chances."
"Yeah, I feel good," Smith continued. "I've handled a lot of things about me, especially things that are not true. My life is good. I have a son at home. My family is doing good. I'm living day by day and enjoying life."
During the weekend, 49ers coach Jim Harbaugh and San Jose Mercury News columnist Tim Kawikami had an intense conversation about the team's possible punishment of Smith. You can read that transcript here, but for now, Smith is working out with the team, waiting to hear about the next legal step.
The Patriots coach looks pretty cool on the 15th anniversary cover of Nantucket magazine

Taco Bueno has been angling for a deal with Charlton ever since he was drafted

Jeff Garcia, Jimmy Clausen and Justin Forsett explain their involvement in American Flag Football...
The Panthers added more playmakers to take some of the pressure off Newton this season

Young has been out of the NFL a while but still feels slighted when other quarterbacks get...

Jones is the latest Cowboys defensive player to heap praise on the redshirted linebacker