49ers training camp: Kaepernick, air game key to catching Seahawks
If the 49ers can throw the ball better (Colin Kaepernick), get past Seattle (stopping Marshawn Lynch for a change) and avoid distractions (Jim Harbaugh's situation), a Super Bowl is possible.
More NFL: Photos | Videos & GIFs | Stories | Training Camps | Manziel watch
Look no further than the top of the San Francisco 49ers ' org chart to understand their philosophy. CEO Jed York says the 49ers' only goal is to win the Super Bowl, and GM Trent Baalke says, "We don't believe in windows of opportunity."
So the message is clear: This team is built to win now. But can it get over the hump and hoist the Lombardi Trophy in the next few years?
One thing the Niners need to iron out is the Alex Boone situation. The guard still is not attending camp, holding out for a bigger contract. Boone's fines, as stipulated in the CBA, are fast approaching his entire 2014 salary and the reported offer on the table to him would put him among the top 15 guards in the NFL. This is a battle he can't win.
When I reached the 49ers stop on my camp tour, I got a chance to see four defensive starters get back on the field: Justin Smith (shoulder), Ian Williams (broken leg), Ray McDonald (biceps surgery) and Tramaine Brock (ankle). Also back on the field for the first time was receiver Michael Crabtree (hamstring).
After a two-hour padded practice and reviewing the offseason, here are some impressions of the 49ers.
What to expect on offense: In 2013, the offense was No. 24 overall, and the passing game was 30th. Count on a better air attack which figures to utilize more 11 personnel (one RB, one TE, three WRs) than previously during the Jim Harbaugh era.
"We wanted to add to our receiver position this year," Baalke said.
And they did. Crabtree and Anquan Boldin will be joined by veterans Stevie Johnson and Brandon Lloyd , but the real interesting addition is rookie Bruce Ellington , who Boldin terms "a real football player, tough and competitive." At practice it was easy to see Ellington will be a factor. Any combination of these receivers, combined with TE Vernon Davis , present matchup problems.
When complete (meaning Boone's return), the offensive line is an excellent run-blocking unit, and OC Greg Roman will not drift too far from their bread-and-butter ground attack -- though some believe running back Frank Gore is nearly done, an assertion Gore disputes.
"Tell people to keep saying I'm finished," Gore said. "It motivates me."
He had 32 runs of 10 yards or more last season, and at practice demonstrated the power and quick pop he's had in years past. Rookie Carlos Hyde will get his share of reps, but he's not ready to be the bell cow.
In the end, this offense goes only as far as Colin Kaepernick takes it. He is very talented and a hard worker but needs to take the next step in his development: Better touch to complement his fastball and improving accuracy and reading defenses.
What to expect on defense: The Niners have one of the league's strongest front-seven groups -- they're almost as impressive in the weight room as as they are at practice. They won't be pushed around in the ground game, so running the ball is not the way to beat San Francisco, excluding nemesis Marshawn Lynch . In his past four games vs. San Francisco, the Seahawks back has 390 yards and five TDs on 96 carries. The 49ers-Seahawks rivalry is deep, and starts with Seattle running at this front.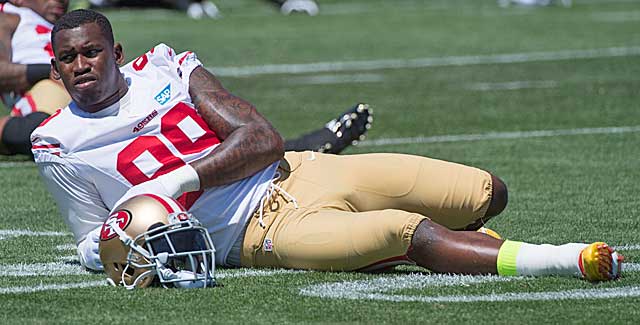 This linebacker group has been among the best for some time, led Patrick Willis inside, though running mate NaVorro Bowman is coming off a serious knee injury and could miss half the season. However, I was very impressed with rookie Chris Borland . There's more star power at outside backer in All-Pro Aldon Smith , who has looked great but is awaiting word on a suspension for offseason DUIs and weapons charges. The key player if he Aldon Smith is suspended is Corey Lemonier , who has impressed and would hold up fine if he has to start.
The secondary has been overhauled, but All-Pro safety Eric Reid is still the anchor, joined by Brock, Antoine Bethea and Chris Culliver . Rookie Jimmie Ward will slide into the nickel-back role.
The big questions
1. Can the 49ers win the division and get home field through the playoffs? San Francisco opens a state-of-the-art stadium in Santa Clara, and home field advantage is the key to beating the Seahawks in the playoffs. Kaepernick is 0-3 in games at Seattle.
2. Will the 49ers develop a quality passing attack? Last season, the 49ers were 2-4 vs. playoff teams, averaging only 15 ppg in those games. The new passing attack should change the outcome of those games. They don't play Seattle until late Nov. 27, so they have time to develop the passing game.
3. Is this Jim Harbaugh's last season as 49ers coach? He's won enough to warrant a long-term extension, but there feels like something is missing. This storyline could play a leading role in the season's outcome.
Rookie report: Baalke is among the NFL's best personnel people. It's hard to consistently draft near the bottom of rounds and keep hitting home runs. The 2014 draft is likely to produce three or four major contributors. First-round pick Ward (Northern Illinois) is a hybrid DB who will play. Second-rounder Hyde (Ohio State) will team with Gore in the running game. Third-rounder Chris Borland (LB, Wisconsin) could line up the defense and play now if needed. Fourth-rounder Ellington (South Carolina) is a playmaker at WR.
On the bubble: This rookie class will push some veterans off a loaded roster. Veterans like Lloyd, Jonathan Martin , Ray Ventrone, Josh Johnson and LaMichael James are in dog fights for roster spots.
Outlook: The 49ers should win a minimum of 11 or 12 games. The roster is deep, the schedule is void of long trips, the bye is in the middle of the season, they don't face the Seahawks until Week 13 and the new stadium is awesome. The nagging question: Can they avoid distractions to win the rugged NFC West and handle mounting pressure leading to late-season games vs. the Seahawks without losing sight of improving Arizona and St. Louis?
Show Comments
Hide Comments
Our Latest Stories
From epic spectacles to epic fails, the best and worst of Super Bowl halftimes, ranked

The Patriots clinched a trip to the 2017 Super Bowl to face the Falcons -- and the NFL com...

Jonathan Kraft threw some Deflategate shade in the direction of Indianapolis
Arthur Blank broke it down in a big way following the win over the Packers

Jim Irsay should have his listeners while the 49ers are in desperation mode

The Patriots coach had no clue who won the Green Bay-Atlanta game