Aaron Hernandez indictment could mean more cap space for Patriots
The Patriots could end up getting an extra $3.25 million in salary cap space because of the latest indictment against Aaron Hernandez.
The latest murder indictment against Aaron Hernandez, handed down on Thursday, could mean extra salary-cap space and recouped money for the New England Patriots because of the timing of the double-murder Hernandez has been charged with.
The former Patriots tight end signed a five-year, $40 million extension with New England in August 2012 that included a $12.5 million signing bonus and $16.4 million in total guaranteed money. 
When Hernandez was arrested in June 2013 and charged with murder in the death of Odin Lloyd, the 24-year-old was still owed $6.21 million in guaranteed money, including the final $3.25 million installment on his signing bonus.
When it became apparent that the Patriots weren't going to pay the money, the NFLPA filed a grievance on Hernandez's behalf in October 2013. The NFLPA might have had a leg to stand on at the time, but after Hernandez's indictment on Thursday, the Patriots may have the upper hand.  
CBSSports.com's Joel Corry, a former sports agent, explained back in March what a Hernandez indictment would mean. 
From Corry: 
If Hernandez is charged in connection to the July 2012 double murder in Boston -- before him signing his extension -- language in his contract should give the Patriots grounds to recoup his entire signing bonus and end his grievance. Hernandez's contract contains a clause where he represents and warrants that there weren't any existing circumstances when he signed his deal that would prevent his continued availability throughout the contract. Committing or participating in a double murder should meet this standard. There's another clause explicitly stating that the Patriots wouldn't have entered into the contract except for Hernandez's representations. At a minimum, the Patriots would gain $3.25 million in cap space from the unpaid signing bonus installment. Any additional cap relief would come only from money that was recovered from Hernandez, which may not be any given his circumstances.
Basically, the Patriots have a good chance of getting an extra $3.25 million in cap space. However, the team is unlikely to get any more than that because any additional space would have to come from money directly recovered from Hernandez, money that's being drained by his mounting legal problems.
Hernandez was indicted on a double-murder charge on Thursday, stemming from the July 2012 deaths of Daniel Abreu and Safiro Furtado in Boston. The murders came just one month before Hernandez signed his extension with the Patriots.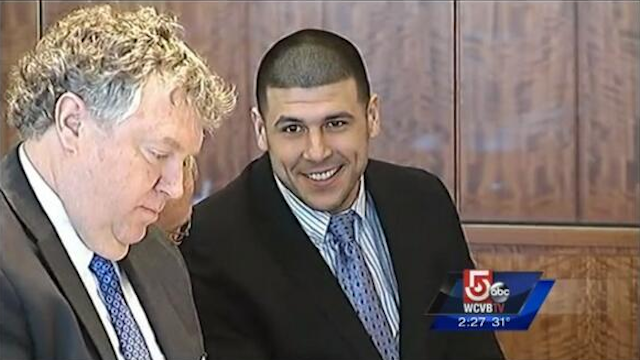 Show Comments
Hide Comments
Our Latest Stories
Arians tore his rotator cuff in December

Peterson says it's not about the money

Richard Sherman also stood up for Kaepernick
If he does get dealt, Sherman thinks the Seahawks will miss him when he's gone

Plus O.J. Howard cracks the top 10 and the Patriots trade back into the first round in this...

Cousins fired a football at a cardboard box to reveal the gender of his and his wife's forthcoming...