Aaron Rodgers brings Packers back to life in 35-18 win: 9 things to know
The playoff Packers look a lot scarier than the regular-season Packers.
At the end of the NFL regular season, Packers quarterback Aaron Rodgers said that he wasn't too concerned about that fact that his team looked horrible because he knew they would show up when "all the marbles" were on the line. 
Well, all the marbles were on the line in Washington and Rodgers was right: His team showed up. Rodgers led a revived Packers offense to a somewhat surprising 35-18 win over the Washington Redskins in the final playoff game of Wild Card Weekend.
It wasn't so much surprising that the Packers won, it was surprising in the way they did it: They basically blew the Redskins out of Washington. 
For the first 17 minutes of the game, it looked like the Packers were going to be the ones blown out. Green Bay punted on three of its first four possessions and the one possession that didn't end with a punt, ended with a safety. It was a nightmare for the Packers. 
Rodgers wasn't helping things either, the Packers quarterback started 1 of 8 and looked to be completely off his game.
Something clicked in the second quarter though, because Rodgers caught fire.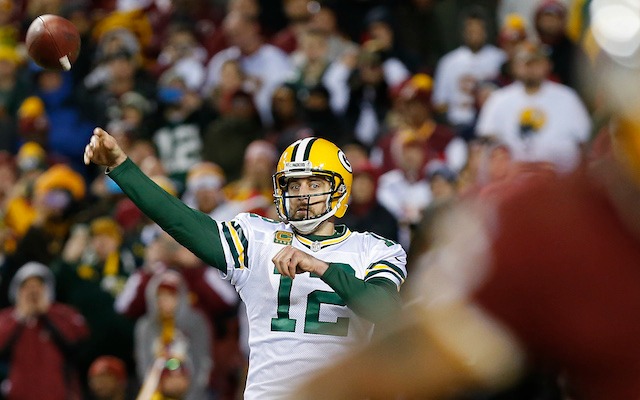 After the Packers fell behind 11-0, Rodgers would go on to lead five straight scoring drives, which is notable, because before Sunday, the Packers hadn't scored on five straight offensive drives all season. 
These weren't puny drives either: Rodgers directed touchdown drives of 80-, 80-, 76- and 60-yards in the game.  
Rodgers' most impressive scoring drive was definitely his first one. The Packers quarterback broke out of his 1 for 8 funk by going 5 for 6 for 68 yards and a touchdown.
The drive included everything you expect to see out of Rodgers: He ran a play after the Redskins jumped offsides, and then there was his touchdown pass, which involved keeping the play alive and throwing a 12-yard strike to Randall Cobb .  
Aaron Rodgers making it look too easy (Part 2). Packers cut the lead to 11-7. pic.twitter.com/0l72EZ2J72

— HuffPost Sports (@HuffPostSports) January 10, 2016
Rodgers finished the game 21 of 36 for 210 yards and two touchdowns. 
Up next for Green Bay is a trip to Arizona and before you write the Packers off, you might want to consider the fact that Rodgers is pretty confident about this game too.
In the same late December interview where he said the Packers would show up when all the marbles are on the line, he also said the Packers could win in Arizona -- and this was after the Packers lost 38-8 IN Arizona. 
"Personally, I feel like we can go on the road and win [at Arizona] in the playoffs," Rodgers said. 
A win in Arizona might not seem plausible, but then again, most people probably didn't think Rodgers and the Packers scoring 35 points against the Redskins seemed plausible.
Once again, all the marbles will be on the line on Saturday night in Arizona and if we learned one thing on Sunday, it's that the Rodgers and the Packers really like marbles and they'll do anything possible to make sure they win when they're all on the line. 
Here's eight more things to know from Green Bay's 35-18 win
2. Eddie Lacy returns at pivotal time: Eddie Lacy spent most of the 2015 season disappearing at pivotal times for the Packers. For instance, in Week 4, Lacy ran for 90 yards, which is pretty good. The problem though is that he followed that up by only rushing for 78 yards in the four games combined after that.
The Packers never had any idea what what they were going to get from Lacy and that carried over into Sunday's playoff game. During the first half, "Ugly Lacy" showed up and rushed for just six yards on four carries. Lacy must've found a phone booth at halftime though because he turned into Superman in the second half. The Packers running back carried the ball eight times for 57 yards in the half, a total that includes a huge fourth-and-1 conversion where Lacy ran for 11 yards.
If the Packers had failed on the fourth down play, the Redskins would've taken over on their own 45-yard line. Instead, Lacy's run paved the way for a Packers touchdown. After the 11-yard run, Lacy got the ball again and rumbled for a 30-yard gain that set up a James Starks ' 4-yard touchdown run. Starks was also impressive in the game, rushing for 48 yards on 11 carries. 
Overall, the Packers totaled 141 rushing yards in the game, which was their fourth-highest total of the season. 
3. Davante Adams steps up: Lacy wasn't the only Packers offensive player who stepped up big time on Sunday, so did Davante Adams . Usually, when Rodgers throws a ball toward Adams, most Packers fans hold their breath because they're afraid he's going to drop it, but there was no case of the dropsies against Washington.
As a matter of fact, Adams might have made the best catch of the day. With 45 seconds left in the first half and Green Bay sitting at Washington's 30-yard line, Rodgers threw up a pass to Adams on third-and-2.
If Adams drops the pass, then Green Bay has to settle for a 47-yard field goal attempt, but that didn't happen. Instead, Adams made this catch. 
Perfect Aaron Rodgers throw. Ridiculous Davante Adams grab. Now THAT'S a 20-yard catch. #GBvsWAS https://t.co/QrEp4eapaI

— NFL (@NFL) January 10, 2016
Adams followed that up by making a touchdown catch just two plays later.
Rodgers finds @tae15adams for 6! #GBvsWAS pic.twitter.com/9AYpMHH1zn

—

Green Bay Packers

(@packers) January 10, 2016
The Packers receiver finished with four catches for 48 yards and that touchdown. More importantly, he finished with zero drops. Adams caught all four passes that Rodgers threw his way. 
4. Backup left tackle JC Tretter got off to a rough start: The Packers had been hoping that left tackle David Bakhtiari (ankle) would be able to start against the Redskins, but that didn't happen, so Green Bay decided to give backup center JC Tretter his first NFL start at left tackle.
At first, it looked like the decision to start Tretter was going to be a disaster. On the Packers' second offensive possession, the pressure seemed to get to Tretter. Not only was the 2013 fourth-round pick called for a false start, but he was also taken to school by Preston Smith , who sacked Rodgers for a safety.
Aaron Rodgers sacked for the safety. pic.twitter.com/WdKQkbNiez

— MarcusD (@_MarcusD_) January 10, 2016
Tretter's obviously a fast learner though because after that possession he was on fire. Rodgers didn't get sacked the rest of the game and he was rarely pressured by Tretter's guy. By the time the second half rolled around, the Packers had so much faith in Tretter that they started running behind him. Lacy's two biggest runs of the day both went to the left side. 
5. Packers defense comes up big: When Kirk Cousins had time to throw on Sunday, he was pretty much able to pick the Packers apart. The good news for the Packers though is that Cousins was under pressure for most of the game and rarely had time to throw. The Packers sacked Cousins six times in the win, which was way above their season average of 2.7 sacks per game. Of those six sacks, 5.5 of them came courtesy of linebackers Nick Perry (2), Mike Neal (2) and Clay Matthews (1.5). 
The Packers defense also came up big against Washington's run game. The Redskins were held to just 84 yards on the ground, which was good news for the Packers because when the Redskins can't run, they don't win. Including Sunday, the Redskins have been held below 90 yards in nine games this season and they're 2-7 in those games. 
6. The Kirk Cousins and Jordan Reed show: The Packers defense didn't completely shut down the Redskins offense, Jordan Reed still got his share of yards. The Washington tight end caught nine passes for 120 yards and a touchdown, and although it sounds like Green Bay left him wide open all game, that's not the case. Cousins actually targeted Reed 17 times in the Redskins' loss.
There were times when Reed literally plowed through the entire Packers defense. 
Remember that time when Jordan Reed couldn't be brought down by the entire Packers defense? pic.twitter.com/p4T1zhuptg

— michael phillips (@michaelpRTD) January 10, 2016
However, that same defense that Reed is running over held him to just four catches in the second half. As for Cousins, he finished the game 29 of 46 for 329 yards and a touchdown. Cousins and the Redskins offense fell apart in the second half. After scoring on their opening drive, here's what the Redskins did with the rest of their second-half possessions: Punt, punt, turnover on down, turnover on downs, turnover on downs. You're not going to win a playoff game playing a second half like that. 
7. Redskins can't beat good teams: The Redskins were good in 2015, but they weren't good enough to beat good teams. Including the Packers, Washington played four teams this season that finished with a winning record. In those four games, the Redskins went 0-4 and were outscored 140-64. 
8. Road warriors: The Packers capped off a perfect weekend for road teams in the wild-card round, which is notable because it's the first time that's ever happened. Since the NFL expanded to 12 playoff teams in 1990, road teams had never gone 4-0 on wild-card weekend. Even 3-1 was pretty rare: Only four times since 1990 have road teams even gone 3-1 (2004, 2005, 2010, 2013). 
9. The Packers like that. After Green Bay's big win, Packers fans and players decided to steal Cousins' famous saying. As time began to trickle down in the game, Packers fans started chanting "You like that!"
It wasn't just Packers fans though: Randall Cobb also got involved. The Packers receiver, who totaled 52 yards and a touchdown in the game, only had one thing to say as he headed to the Packers locker room after the game. 
.@rcobb18: "YOU LIKE THAT?!" #Packers pic.twitter.com/qBiP6yrdgv

— Stephen Watson (@WISN_Watson) January 11, 2016
Show Comments
Hide Comments
The crowd went wild when Waka informed them who was on the phone

Everybody whiffs in the draft. Here's the worst pick for each franchise since 1995

Smith missed all of last season recovering but could be close to a return
The Saints have four of the first 76 picks in this week's draft

Players can now sell their data as the NFLPA looks to advance player safety

The former Bucs and Raiders star only sees 'splash plays' with the Texas A&M defensive end