Aaron Rodgers chances of playing on Thanksgiving are 'slim to none'
Packers coach Mike McCarthy said on Monday that the chances of Aaron Rodgers starting for Green Bay on Thanksgiving Day are 'slim to none.'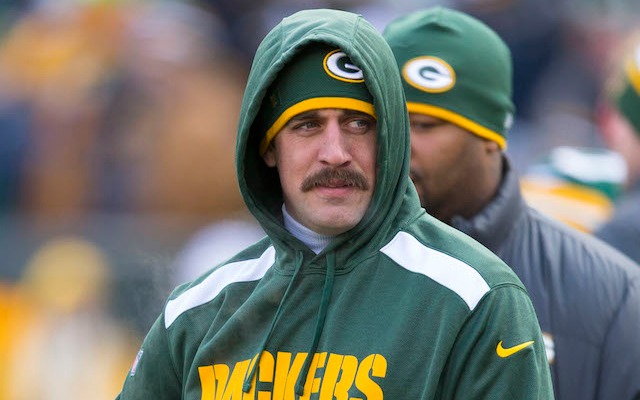 After fracturing his collarbone against the Bears on Nov. 4, Packers quarterback Aaron Rodgers had hoped to be back by Thanksgiving. However, it doesn't look like that's going to happen. Coach Mike McCarty said on Monday that the chances of Rodgers playing on Thanksgiving Day against Detroit are 'slim to none.' 
"He would like to go," McCarthy said. "Based on the information... I would say he's slim to none. It would be a huge stretch for him to play in this game."
When Rodgers is healthy, he's obviously the starting quarterback in Green Bay, but there is a backup quarterback controversy brewing. Scott Tolzien was the starter in Green Bay's 26-26 tie with Minnesota on Sunday, but he might have lost his job to Matt Flynn.
Flynn replaced Tolzien in the third quarter against the Vikings and rallied the Packers back from a 23-7 deficit. Flynn threw for 218 yards and a touchdown, despite the fact that he's only been on the roster since Nov. 12.
McCarthy wouldn't commit to either quarterback when asked who Green Bay's starter would be on Thursday against the Lions. "Matt [Flynn] played very well. He deserves to start," McCarthy said. "I like the way Scott [Tolzien] has grown. We're going to do everything we can to make sure both are ready."
The last time Flynn started against the Lions, he made the most of it. In the Packers 2011 regular season finale, Flynn threw for 480-yards and six touchdowns in a 45-41 Green Bay win. That one start played a large role in the contract Flynn would sign with the Seahawks before the 2012 season. Seattle would end up trading Flynn to the Raiders in April 2013, and between the two teams, Flynn ended up making a total of $14.5 million for one a total of one start. 
Show Comments
Hide Comments
Floyd claims to have drank four or five bottles of kombucha tea, resulting in a failed alcohol...

Atlanta's new video board wraps around the length of the stadium and looks incredible

Miami wound up turning to Matt Moore, who fared well but couldn't deliver in the playoffs
John Mara says Beckham needs to show more maturity, but he wishes every player worked as hard...

Bennett is transitioning from playing with one all-time great quarterback to another

Carr is the highest-paid player in the NFL, until the next deal for a franchise quarterback...