Aaron Rodgers expected to be fully cleared on Tuesday, didn't happen
Packers quarterback Aaron Rodgers admitted on Tuesday night that he thought he was going to get full clearance to play after getting his X-ray results on Tuesday morning.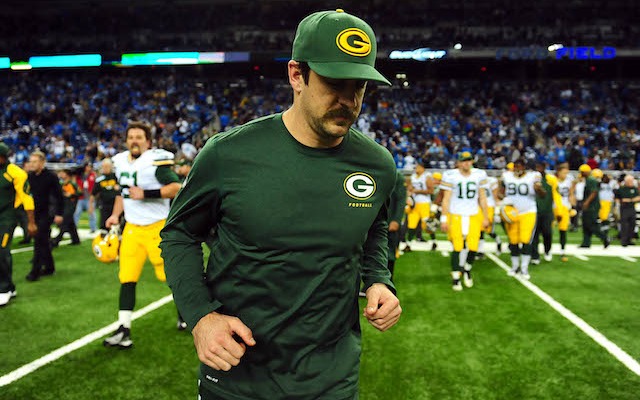 When Packers quarterback Aaron Rodgers got the results of his X-rays on Tuesday morning, he thought for sure they were going to deliver good news. Rodgers thought he was going to be cleared to play.  
"I can't say [Tuesday] morning was the greatest news. I was expecting full clearance," Rodgers said on his weekly radio show with ESPN Wisconsin. "We didn't get that."
Although Rodgers hasn't been cleared to play, coach Mike McCarthy did say on Tuesday that Rodgers hasn't been ruled out either. The 30-year-old quarterback will practice on Wednesday and hope to get medically cleared before Sunday's game with Atlanta. Rodgers hasn't played since fracturing his collarbone on Nov. 4 against the Bears. 
"We'll see how I feel [Wednesday] in practice," Rodgers said. "I haven't been medically cleared yet. But I am able to practice. Unfortunately for everybody involved, it's just going to be a waiting game. I won't be able to play if I'm not medically cleared."
The Packers are 0-4-1 since Rodgers went down injured on Nov. 4 and he admitted he knows there's a rush to get him back on the field.  
"When I'm ready to play and everyone is on board, then I'm going to play," Rodgers said. "I know there's a rush to get back out there. I feel it internally, but also externally. I desperately want to be out there, but it has to look good."
If Rodgers can't go, Matt Flynn is expected to make his second straight start, "Matt (Flynn) has got a great game-day demeanor," Rodgers said. "He's able to keep his emotions in check. [Flynn] just couldn't get in a rhythm. We had a lot of third-and-long plays. It was tough to watch. Lot of frustration on the sideline." 
Rodgers and the Packers could be even more frustrated on Sunday. If Green Bay loses to Atlanta and the Lions beat the Eagles, the Packers will be all but eliminated from playoff contention. 
Show Comments
Hide Comments
Plus Nick Saban sends a ton of talent to the NFL, the Browns find a QB and more from Rounds...

The Vikings' Latavius Murray and Bengals' Jeremy Hill also get put on notice with Cook, Mixon...

Here's everything you need to know about the 2017 NFL Draft
Here's a recap of Round 2 and Round 3 in the 2017 NFL Draft

Here are the 25 best prospects still available after three rounds of the 2017 draft have w...

The fans in Philadelphia did their best to make the 2017 NFL Draft more fun