Aaron Rodgers is at the Oscars and he's photobombing famous people
Aaron Rodgers is at the Academy Awards and he's gone full Aaron Rodgers.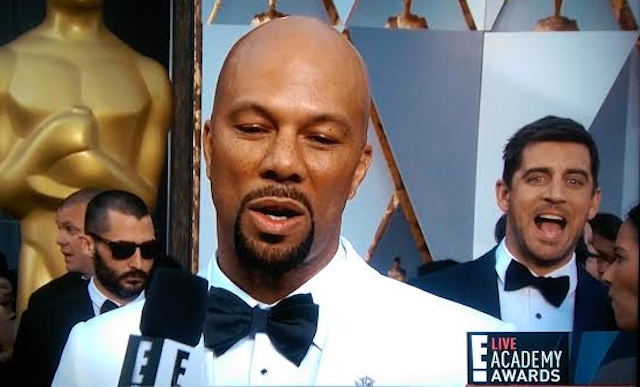 The NFL's best photobomber has officially taken his talents to Hollywood.
During the NFL season, Packers quarterback Aaron Rodgers loves to photobomb his teammates before home games. However, since it's the offseason, there aren't a lot of opportunities for Rodgers to pull off the perfect photobomb. That is, until the perfect opportunity came up on Sunday night before the Academy Awards. 
Rodgers is attending the event with his girlfriend Olivia Munn and at some point, the two got separated, which meant Rodgers was left all alone standing behind Common while Common was being interviewed by E! red carpet host Ryan Seacrest. 
That's when Rodgers decided to show off his photobombing skills to the country.
And the award for best Oscars photobomb goes to... AARON RODGERS!
Also, Common was raised as a Chicago Bears fan, so he basically had this coming if you think about it. Rodgers will probably be banned from the red carpet for life, but who cares because it was definitely worth it.
(UPDATE: Feb. 28, 11:20 p.m. ET) We have another Aaron Rodgers photobombing to report at the Oscars. 
Aaron Rodgers update: He's now photobombing Kevin Hart Snapchat pictures. #Oscars https://t.co/PIdEP4QBMy pic.twitter.com/P1MaEFqbRu

— John Breech (@johnbreech) February 29, 2016
By the way, if you're wondering how crazy Rodgers gets with his photobombs during the NFL season, here's a good one from a game just before Christmas in 2013.  
Aaron Rodgers: Master photobomber. http://t.co/bxqn59prbR pic.twitter.com/DgwWA7BbHG

— CBS Sports (@CBSSports) December 23, 2013
Show Comments
Hide Comments
Receivers surprise in the top 10, Alabama goes MIA in the top 15 and more 2017 NFL Draft t...

Florida State RB Dalvin Cook will kick off Day 2 of the draft

There were a lot of good moves made during the first day of the 2017 NFL Draft
It seems that fans in Chicago feel like the Bears may have gotten ripped off

Round 1 is in the books -- and here's a recap of all the rumors, picks, trades and analysi...

Here's everything you need to know about the 2017 NFL Draft