Aaron Rodgers won't call his own plays: 'Nobody does that'
Tom Clements will be the man making the calls for the Packers, though Rodgers of course will have the freedom to check away at the line of scrimmage.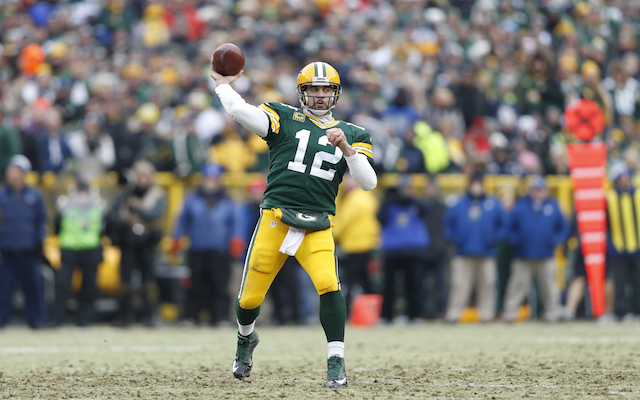 Things are changing with the Green Bay Packers offense next season. For the first time since he became head coach in 2006, Mike McCarthy won't be the one calling the plays. That responsibility will fall to associate head coach Tom Clements, who had previously served as quarterbacks coach and then offensive coordinator for the team.
Green Bay's offense has had extraordinary success under McCarthy, posting an average offensive DVOA rating of 6.8 in his nine seasons, per Football Outsiders, which includes a No. 1 overall finish last season. Some high-profile miscues in the NFC title game against the Seattle Seahawks led to a change, though, and Clements will run the show this upcoming season.
Clements has been with McCarthy since 2006 in some capacity, so it's unlikely the structure of the offense will change much, if at all, but one thing McCarthy said you can expect to see more if is Aaron Rodgers operating out of the shotgun and pistol formation. "I like the pistol," McCarthy said back in March, according to the Milwaukee Journal Sentinel. "I think there's a lot of value regardless of the injury to Aaron. I know he likes it. There's a place for it year-round in your offense."
But while those things will change, one thing that won't be happening is Rodgers calling all his own plays. "Well, Peyton doesn't do that," Rodgers told ESPN.com. "Nobody does that."
The MVP will of course have the ability to check out of plays that come in from the sideline if he sees something he doesn't like in the defense, but he believes having a baseline call to work from for most of the game benefits him.
"I think everybody would want a starting point. We all have moments where we have (called the plays), whether it's a no-huddle situation or two-minute. Everybody wants a starting point. It's tough to have to call every single play, so it's always nice when you can have a good starting point and you can make a slight adjustment if you have to."
Show Comments
Hide Comments
The Cowboys were big stars at Dirk's annual charity event

Floyd claims to have drank four or five bottles of kombucha tea, resulting in a failed alcohol...

Atlanta's new video board wraps around the length of the stadium and looks incredible
Miami wound up turning to Matt Moore, who fared well but couldn't deliver in the playoffs

John Mara says Beckham needs to show more maturity, but he wishes every player worked as hard...

Bennett is transitioning from playing with one all-time great quarterback to another