Adam Jones: Antonio Brown flopped on pivotal play that cost Bengals big
Bengals cornerback Adam Jones thinks Antonio Brown deserves the ultimate acting award for a certain play on Saturday night.
The Bengals' meltdown during their 18-16 loss to the Steelers on Saturday night started with Jeremy Hill's fumble with 1:36 left and then went completely nuclear just over a minute later when linebacker Vontaze Burfict was flagged for an illegal hit on Steelers wide receiver Antonio Brown. 
At least one Bengals player doesn't think Burfict should've been flagged, though, and that player is cornerback Adam "Pacman" Jones.
After the game, Jones told NFL.com that Brown flopped on the play and he even suggested that the Academy should reward Brown for it. 
"Man, that (expletive) was (expletive) acting. He flopped. He needs a (expletive) Academy Award for that performance," Jones said. 
You can see the hit below and judge for yourself whether or not there was a flop. 
This is just brutal pic.twitter.com/hBsIAJIBwO

— The Cauldron (@TheCauldron) January 10, 2016
Brown was actually knocked unconscious on the play, which really, really, hurts Jones' flopping theory. Not to mention, there's also a good chance that the NFL is going to fine AND suspend Burfict for the hit. 
For what it's worth, Steelers linebacker James Harrison actually defended Burfict's hit after the game. 
"By rule as they told me when I went down to New York that is a penalty. Personally, I don't think it is because I don't think you can get out of the way fast enough," Harrison said on NFL Network.
As for Jones, Brown's alleged "flop" isn't the only thing he was mad about after the game. Jones was also upset with the fact that Steelers assistant coach Joey Porter came on the field after the play where Brown was knocked out. 
Porter in the middle of it. Pacman penalty. pic.twitter.com/bNDjecxWYi

— MarcusD (@_MarcusD_) January 10, 2016
Jones was penalized 15 yards for having an altercation with Porter, who wasn't even supposed to be on the field. Jones might have a legitimate gripe with his Porter complaint because the NFL is expected to fine the Steelers assistant for his actions on Saturday. 
Jones' penalty for his altercation with Porter, stacked on top of Burfict's penalty, meant that the Steelers got to try a 35-yard game-winning field goal instead of a much more difficult 50-yarder. 
After the game, Jones had some not so nice things to say about Porter. 
"The (expletive) ref did a horrible (expletive) job," Jones said. "You got (Steelers linebacker coach) Jerry [sic] Porter in the middle of the (expletive) field talking (expletive) to everybody and then when somebody says something to him... he isn't even supposed to be on the (expletive) field."
You can see Jones' entire video here, but remember, there's a few words that aren't family friendly. 
As things stand, Jones will have all offseason to think about his penalty, but Brown won't have much time to think about a possible Oscar speech because the Steelers play next weekend and the Bengals don't.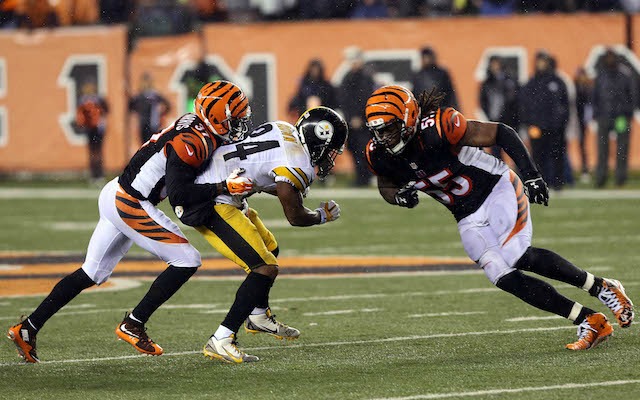 Show Comments
Hide Comments
Our Latest Stories
We're pretty sure Jerry Jones is glad he didn't overpay for Paxton Lynch

The Cowboys rookie has been even better than could have been expected filling in for Tony...

Here are all the biggest stories from a wild Week 3, including the Eagles' pasting of the...
Elliott showed off his track-and-field skills on a sweet run

The injury looked much worse when it occured

Elway dusts off his Twitter fingers to respond to someone that had questioned the draft pi...