Adrian Peterson avoids Lisfranc injury, unlikely to play in Week 15
Vikings running back Adrian Peterson avoided a Lisfranc injury, which would have sidelined him for the rest of the season.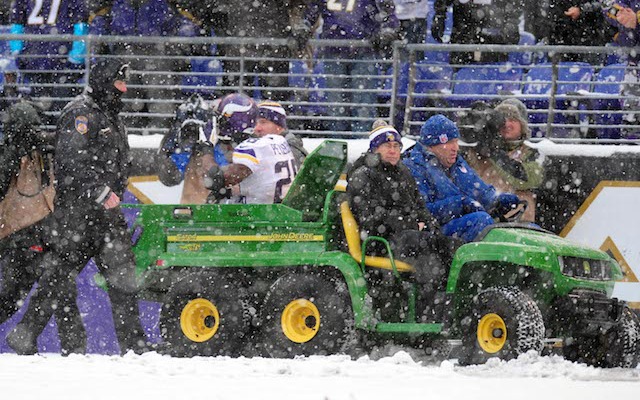 Vikings running back Adrian Peterson isn't in the clear just yet, but he did receive some good news on Monday. An MRI of Peterson's sprained right foot came back clean, meaning Peterson didn't suffer a Lisfranc injury or damage any ligaments against Baltimore on Sunday. Initial X-rays also showed that Peterson didn't break any bones in the foot.
Despite the good news though, ESPN.com is reporting that it's unlikely Peterson will play on Sunday against Philadelphia. However, it does appear he's avoided serious injury. Peterson had been awaiting the results of a CT scan that he had on Monday. The Vikings will know more about Peterson's condition and how he feels when he gets out of the walking boot and begins running. 
"Well, it's a little painful," Peterson said of his foot, via the Minneapolis Star Tribune. "Obviously it kept me out of the game. The MRI came back great so that's good. Just got to get a CT scan to make sure the bone is OK."
Peterson injured his foot in the second quarter of Minnesota's 29-26 loss to the Ravens on Sunday. Before going down with the injury, Peterson tallied 13 yards on seven carries.
"Initially you don't know exactly what's going on when you're feeling it," Peterson said. "That initial contact definitely didn't feel good. I was kind of worried. But kind of cleared up a little bit after getting the MRI. I'll see how things play out after the CT scan.
Peterson wants to play this week against the Eagles, however, coach Leslie Frazier didn't sound as enthusiastic. Even though Peterson avoided a serious injury against Baltimore, Frazier hasn't ruled out sitting his running back for the rest of the year, especially since the Vikings have been eliminated from playoff contention. Frazier said he'll make that decision once he knows the severity of Peterson's injury. 
"You can't ignore that fact," Frazier said. "You want to know exactly how severe the injury is, and it helps you make that kind of a decision. So as we learn more about the severity of it, or the lack of severity, then you can make a clear decision about this ballgame and future ballgames in this season."
The Vikings might be eliminated from playoff contention, but they can still play spoiler this year. Minnesota's final three games are against three current division leaders: Philadelphia, Cincinnati and Detroit. 
Williams is currently a free agent

Eight members of the Cowboys' defensive front-seven have been suspended since 2015

After being scammed, Portis contemplated murder until his friend dissuaded him
Two months after a woman earned a football scholarship, the AFFL says 'everything is on the...

The quarterback nearly retired this offseason but opted to return for his 15th NFL season

One of 2016's breakout rookie stars says he and Romo have a strong relationship