After Further Review: How to stop Russell Wilson? Keep him in pocket
Russell Wilson is a good QB, but far from great. When Denver watches tape, it will see a passer who makes plays on the run but struggles in the pocket.
More SB coverage: XLVIII odds | Expert Picks | Weather updates | Latest news
The best way to have success against Russell Wilson?
"Make him throw from the pocket," one NFC general manager told me.
That is something I've been preaching for a long time. Wilson, now in his second season as the starting quarterback for the Seattle Seahawks, has his team playing for the Lombardi Trophy. He will face Peyton Manning and the Denver Broncos in Super Bowl XLVIII, and he is certainly the "other" quarterback in this game.
For Wilson, just being here is impressive enough, but he had some really good moments this season for the Seahawks. A third-round pick in 2012, he beat out Matt Flynn to start as a rookie and led the Seahawks to the playoffs -- and a postseason victory -- last season.
This season, he led Seattle to a 13-3 record, the top seed in the NFC and helped win two playoff games to get Seattle here. Russell-mania is in full swing. But the reality is that he isn't nearly as good as his reputation would lead you to believe.
In fairness, he is just a second-year passer. And he works at it, so he will continue to grow. The guy reeks of a gym-rat quarterback, and those are usually the kind who can overcome some of their limitations.
To be honest, I was shocked when I dove in and studied Wilson closely. I expected more from a quarterback with 52 touchdown passes in his first two seasons. There are times in the pocket when he does Tebow-like things, pirouetting in circles for no reason. Sometimes, that can lead to a big play, but it just doesn't need to happen.
Wilson is unsettled when asked to stand on the spot. He certainly prefers getting outside the tackle box to make throws. It's cleaner for him there.
Is this criticism harsh? Maybe. I do think he has a ton of potential. But there is no way anybody can watch his tape and come away thinking he is close to being an elite NFL quarterback in the pocket. He does play with spontaneity and that can't be coached, but in time there has to be more. He does a good job of avoiding bad plays, but that means he passes on chance throws as well. The Seahawks don't ask him to do too much in their run-heavy offense. Their schemes aren't all that creative in the passing game either.
Wilson hasn't been good in his past six games at all. In fact, he has struggled at times -- even in the playoffs.
Over that stretch, Wilson has averaged 162 yards and has five touchdown passes and three interceptions. Wilson averaged 8.2 yards per attempt in the regular season, but in his past six games he has been at more than 8.0 YPA only once -- last week in the NFC Championship Game victory over the 49ers -- and has been under 6.0 YPA twice.
That's after a three-game span in Weeks 11-13 where his per-attempt averages were 11.04, 12.78 and 10.33.
Can you say slump? He seems more tentative.
Wilson was better last week, completing 16 of 25 for 215 yards -- his highest total in six weeks -- one touchdown pass and no picks.
In studying Wilson's tapes this season and last, there are several things that stand out to me. Among them:
• He's really good when he gets outside the pocket. Unlike most young quarterbacks, he keeps his head up. His best throws come when he's on the move.
• He feels phantom pressure at times inside the pocket. Young quarterbacks often do this, feeling as if somebody is there when there is no pressure, and they take off and run too soon. Wilson has taken a lot of shots this season behind a banged-up offensive line, so that could be impacting that mindset. He certainly isn't comfortable in the pocket.
• Wilson is best on the single-read throws, when he's asked to designate the best matchup and make the throw. Those concepts require a pre-snap read and then no scanning of the field. It's read it, then throw it, often to one-on-one matchups outside against man coverage or slants inside.
• Wilson is best off play-action, both inside and rolling outside the pocket. He is one of the best in the NFL throwing off play-action. He's really good faking one way, rolling out, and throwing to guys moving across the field.
• He struggles with zone concepts at times. Teams rushing him with four and dropping seven have given him problems. I think the lack of pure talent outside for the Seattle receivers gives teams the idea they can match up all day in man coverage. What that does is play into Wilson's strengths. He can make the one-read throws. He can take off and run when the defenders' backs are to him and he can throw well on the move, whether by design or improvising. So why do teams not play more zone against him?
Here is a look at some of the plays that caught my eye when studying Wilson.
Play-action is when he flourishes
This is one of those play-action rolls that cause teams problems and make for easy throws for Wilson. It came in Seattle's regular-season meeting vs. the Saints. Seattle had a third-and-1 on its 36 in the first quarter.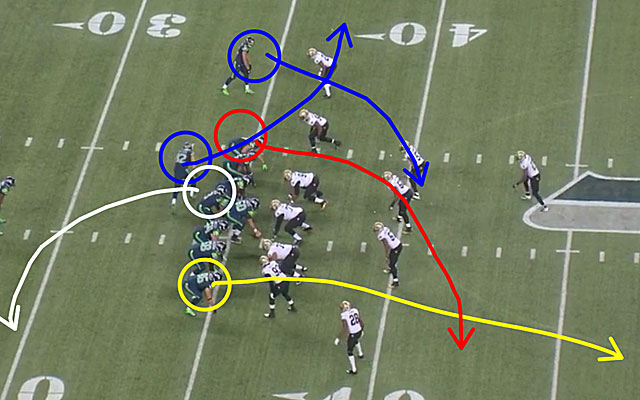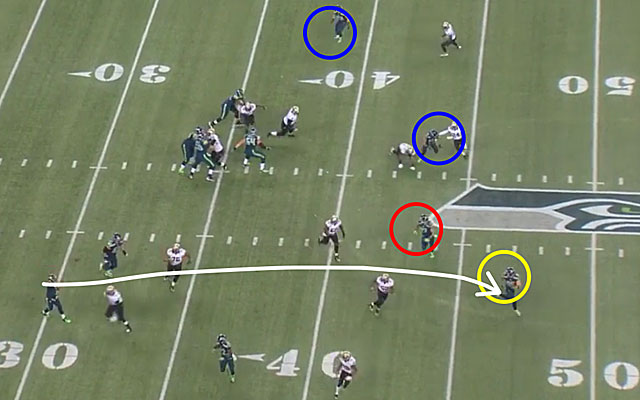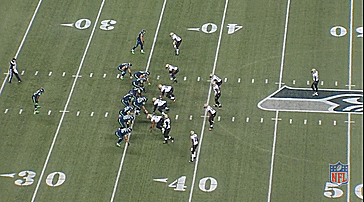 The Seahawks lined up in a power set with three tight ends, one receiver and one back. Before the snap, they motioned tight end Luke Willson from left to right and then back to the left to get a read on the coverage. Wilson then took the snap and play-faked to Marshawn Lynch and rolled to his right. As he got outside the pocket, tight end Zach Miller, who was lined up tight on the right, used an inside release to run down the seam. The play-action allowed him to get by linebacker David Hawthorne for an easy throw for 60 yards to set up a Seattle touchdown. The design of the play made it easy for Wilson to hit Miller for the big play.
Zone coverages seem to affect him
Here's a look at a couple of plays where Wilson was facing zone coverage and doesn't look comfortable waiting on the spot.
The first came in the opener against the Panthers from his own end zone. Carolina rushed four and dropped seven with quarters-coverage deep and man under. Wilson's two deep receivers were doubled and his underneath options were blanketed. Wilson had no pressure inside, but eventually Greg Hardy came from the right side to force him out of the pocket. He threw short and incomplete. To be fair, the route design wasn't good. There was no route shortened to the wide-open middle of the field. Sidney Rice ran right into the coverage. But the point here is to show how teams have had some success against Wilson. This play didn't allow him to use his legs.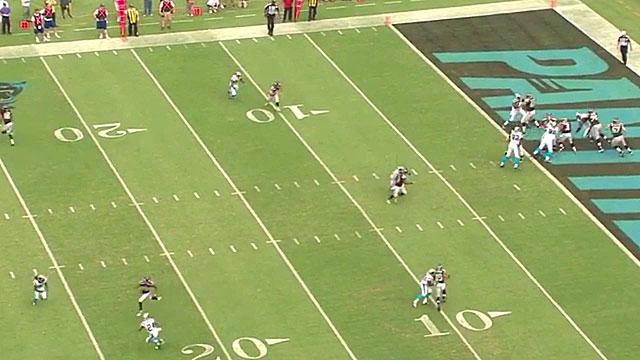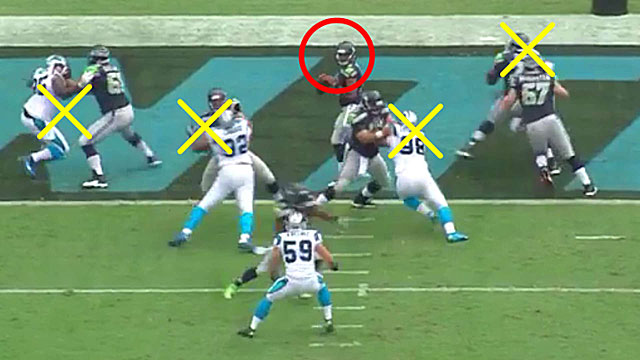 Here's another zone look against Arizona. It came with Seattle facing a third-and-8 at the Arizona 9.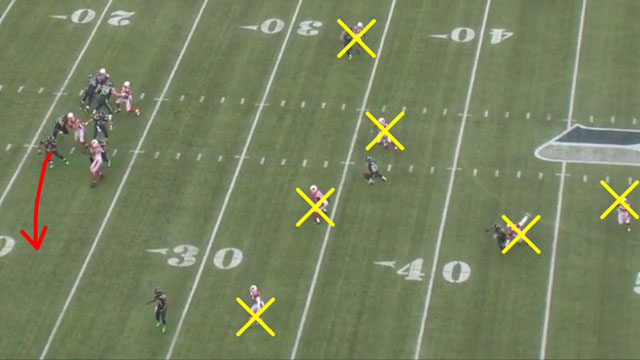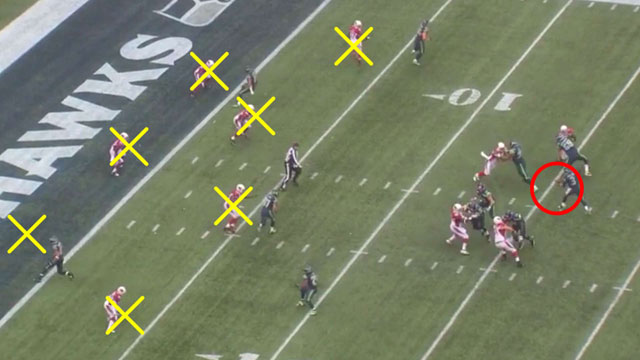 Seattle was again in "12" personnel (one back, two receivers, two tight ends) and had two to the left and two to the right, with Miller lined up on the wing inside of Jermaine Kearse on the right side. At the snap, Miller ran to the flat, while Kearse ran a curl at the goal line. It was clear that Wilson made the pre-snap read to go to Kearse. He looked there the entire way and allowed Antoine Cason to break on the ball and knock it down.
Wilson deadly outside the pocket
Wilson does what a lot of young quarterbacks don't -- keep his head up as he scrambles. Here's a look at a play from the first San Francisco-Seattle game in Week 2 that shows how dangerous he is outside the pocket.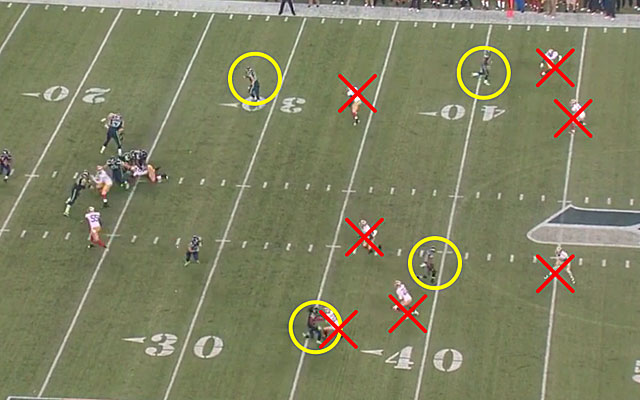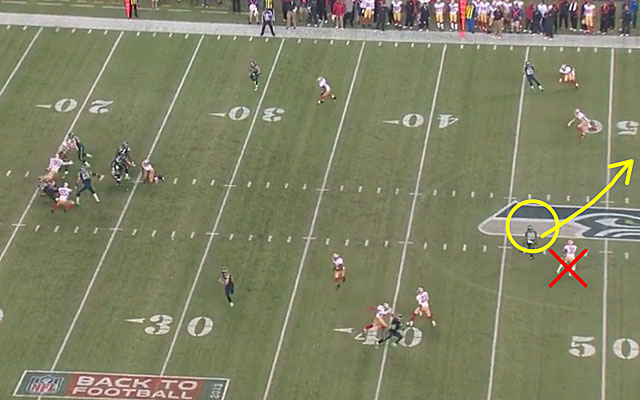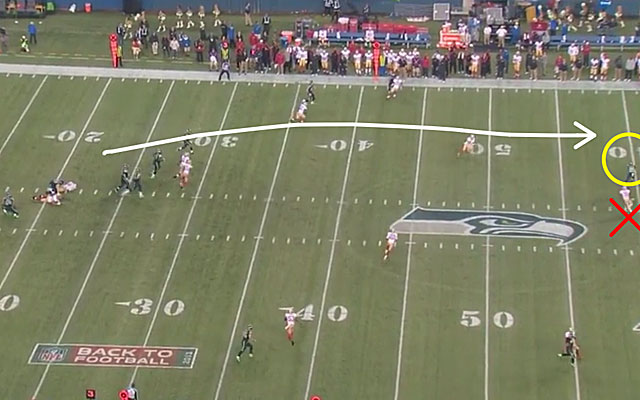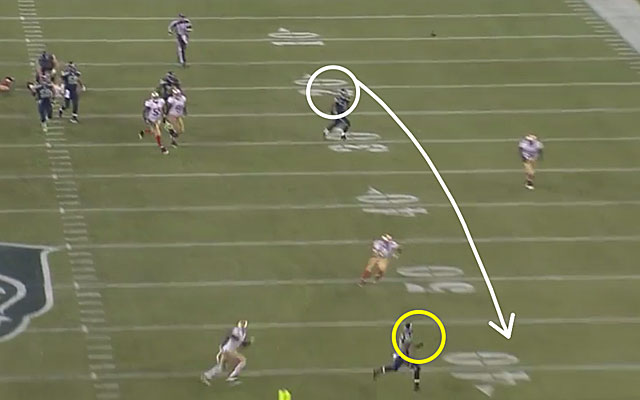 The Seahawks had a third-and-12 at their 29. They were in an empty formation with three receivers and two tight ends. The 49ers countered with a nickel defense, playing a two-deep look. At the snap, Wilson had immediate pressure inside from a stunting Aldon Smith. So he quickly moved to his left. As he did, Doug Baldwin continued his post route to the sideline and Wilson got outside the pocket, kept his head up, and hit him for a 51-yard gain. That's the best thing Wilson does as a quarterback, keeping his head up for big-play shots.
Bad pocket awareness
Here's what he doesn't do well: Feel pressure. Here is a look at two GIFs that show what I am talking about. In both, he seemed be imagining pressure around him. That's not good.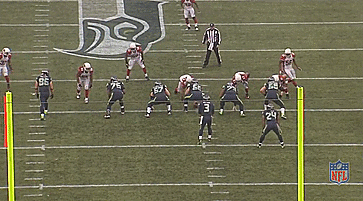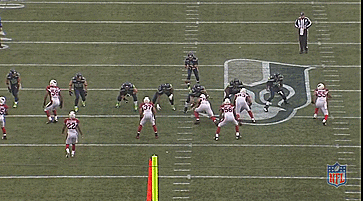 Wilson does a good job at times of taking off to turn bad plays into good runs. He did a great job of that to rally the Seahawks past the Houston Texans. His ability to move in that game was key in the fourth quarter. At other times, he has done a great job of turning pressure into big plays with his feet.
That's why playing so much man against him can be dangerous. Turn your back and he turns it into long runs.
Summary
Wilson is still learning how to play quarterback. It's obvious from the way the Seahawks play that he is a game manager who they hope will grow into more. If not for his ability outside the pocket, I wonder how good he would really be. But that's the plus side with a player like Wilson. That dimension makes him a good quarterback. It doesn't make him a great one. Great ones have to be good inside the pocket. He is far from that.
Great ones get to the third and fourth reads without bailing. He doesn't do that. A lot of his big plays come on one-read throws. He does extend plays with his legs, but that eventually will change as he slows down.
Yes, Wilson has put up some good numbers. But, to me, he is far from a quarterback who deserves MVP votes.
Keep him in the pocket, and Denver has a real chance to win Super Bowl XLVIII.
Show Comments
Hide Comments
Four defensive backs are picked in the final five spots of the first round in Rob Rang's final...

The last version of Will Brinson's 2017 NFL Mock Draft sees the Chiefs land their new franchise...

Character has become such a concern for draft prospects that scouts spend a majority of their...
Also, expect Haason Reddick to go higher than expected and Reuben Foster to be taken on Th...

Plus the Cowboys and Steelers find new cornerbacks late in the first round in Dane Brugler's...

The league appears fully prepared if the Browns decide to pull off a few unexpected trades