After Further Review: Tannehill coming into his own in crunch time
Overshadowed in the 2012 draft, it's time to give Ryan Tannehill his due. The second-year QB has grown up fast while leading the Dolphins to the brink of the playoffs.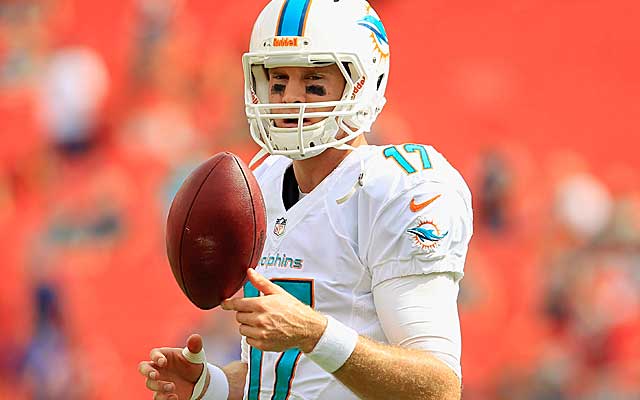 There comes a moment when young NFL quarterbacks hit the fork in the road. The game either slows down for them, and they settle in to being quality passers for years to come, the kind who can lead a team to a Super Bowl.
Or they never figure it out, the game remains too fast, the decisions too tough to make and they wind up on the Island of Misfit Quarterbacks, not because of the tool set but because of the inability to decipher things quickly.
Miami Dolphins quarterback Ryan Tannehill had many wondering for the first 22 or so games of his career if he'd take the road to stardom or the road to a spot in Ryan Leaf-ville.
The past month has shown us that Tannehill is on his way to being much more of a franchise passer than he is a bust. The second-year passer has impressed the past three weeks, throwing eight touchdown passes and two interceptions as the Dolphins have won all three games. In those games, he's thrown for an average of 281 yards and completed close to 65-percent of his passes.
Counting last season, his rookie season, Tannehill is now 5-2 in December with 13 touchdown passes and three interceptions.
That's the type of thing you need from a passer as we move toward the playoffs. It's crunch time, and Tannehill is coming up big.
To get an idea as to why, I went back and studied a bunch of his games, some early in the season as well as he last three. What I saw was a quarterback who has ditched some bad habits -- patting the ball for one -- and has taken on a calmness in the pocket.
It helps that the offensive line is playing better, but Tannehill seems so much more sure of himself as he sits in the pocket and makes his reads. He always had the big arm. But now he waits to use it rather than just firing at the first moving target. The patience is his biggest plus now. In the past, he lacked it.
That's how you can tell the game is slowing down. He sees it better. But he's also using his eyes to influence defenders, which he didn't do much of as a rookie and struggled with some early this season.
The ball comes out better now, too. He has a better comfort with sliding away from pressure, re-setting his feet, and then using that arm to make the throws. In the past, his mechanics were flawed and he tried to make some throws with out the subtle slide that all great quarterbacks need in the pocket. I will show a play here, just a 9-yard completion, which will show what I mean about his improvement in that category.
Tannehill is also letting it go more. Early this season, he seemed to wait on too many throws. You can't throw to wide-open receivers all the time in the NFL. That's not reality. So he's doing a better job of anticipating guys coming open, and making throws to them when they are not, which good quarterbacks have to do.
The passing windows open and shut so quickly in the NFL, which is why throwing only to open receivers is a curse for a lot of young quarterbacks. Tannehill is now throwing guys open, which means throwing into covered receivers, tight windows, for big plays.
The transformation I see on tape is a player who now believes in what he's doing. The difference from early this season to now is amazing.
Tannehill was the overlooked passer in last year's rookie class. It was all about Robert Griffin III , Andrew Luck and Russell Wilson . Only Wilson is having a better second season.
Here are a few of the plays that caught my eye while watching Tannehill's tapes.
The first one is a deep out for completion he threw to Mike Wallace for a 22-yard gain.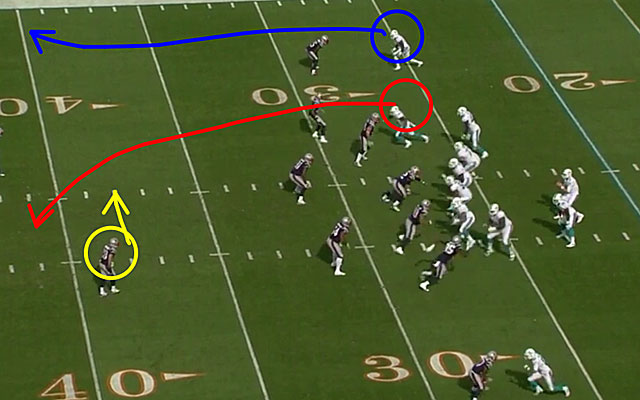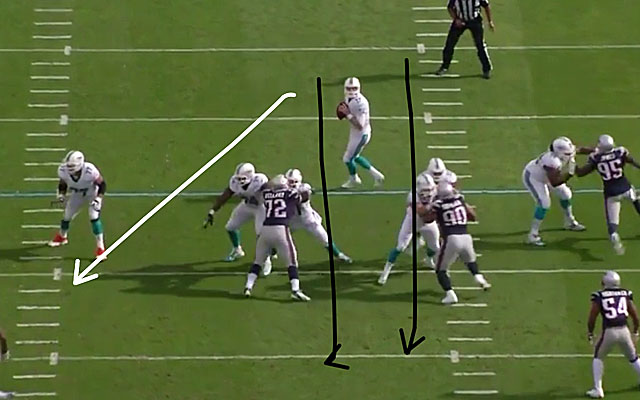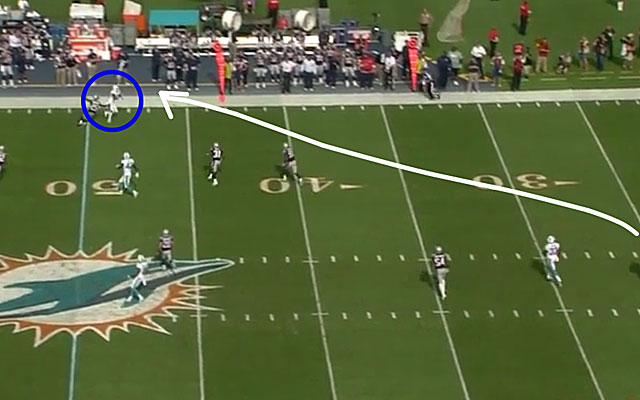 The Dolphins have a second-and-15 at their own 28 after a sack on first down. The New England Patriots show a two-deep look with man-underneath. Wallace (blue circle) lines up wide to the right with Rishard Matthews (red circle) in the slot inside of him. Matthews runs a deep-in cut, which would have been open against a two-deep look, but the Patriots actually rotate to a single-high look with Steve Gregory (yellow circle) becoming a robber in the middle. He is reading Tannehill as he looks to the middle in the second picture. Tannehill doesn't bite. He comes off Matthews, turns his body to his right, and fires a shot to Wallace for the big gain. That's a tough NFL throw to make, and Tannehill shows off his arm on that one.
What's more important is he understood what the Patriots were trying to do, and he broke away from his initial read. That's impressive.
The second play I want to show will be with a GIF to better illustrate how Tannehill has grown in terms of pocket feel.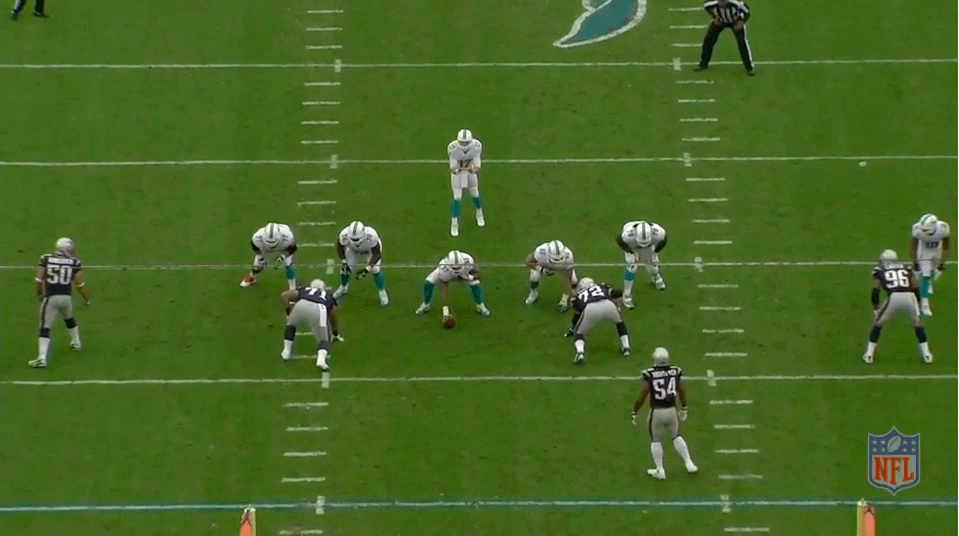 It's that simple 9-yard completion to Wallace. What makes the play interesting is how Tannehill slides in the pocket. He opens to his right, then looks into the middle, before coming back to Wallace on his left. But as you can see by the GIF, he has to move away from pressure coming from his right in the form of Rob Ninkovich . In the past, Tannehill might have run out of that pocket. Instead he takes a big step to his left, away from the pressure, and keeps his head up to find Wallace for the short gain. That's a play that shows Tannehill's growth inside the pocket.
The next play I want to show is the 39-yard touchdown pass he threw to Wallace at the end of the first half against the Patriots.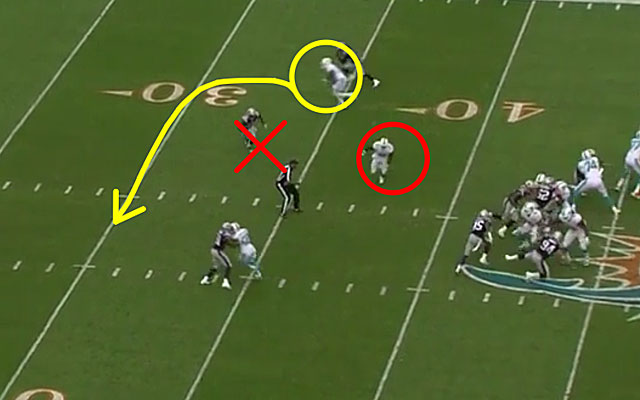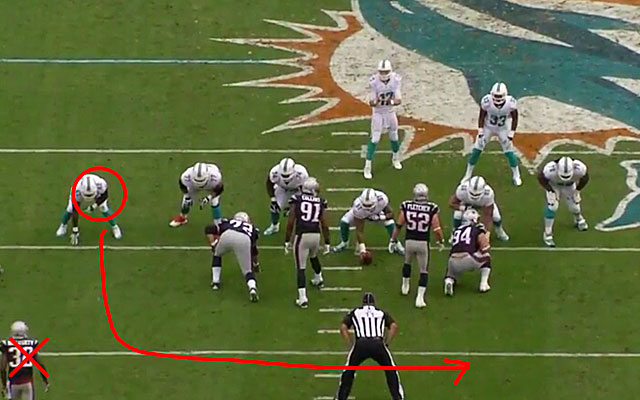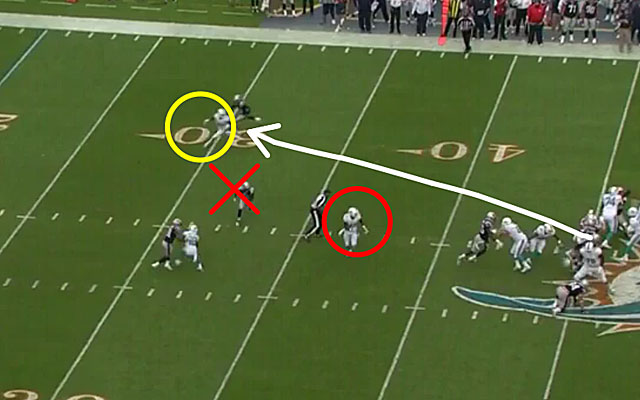 Wallace (yellow circle) is lined up wide to the right in man coverage against Marquice Cole . But the key to the play is Tannehill reading safety Devin McCourty (red X), who is also in man coverage against tight end Charles Clay (red circle). Tannehill waits for Clay to cross the field to get McCourty out of his throwing lane. He then fires a shot to Wallace, who breaks away from Cole and turns it into a big play and a touchdown. Patience is the key to that play for Tannehill.
The last play I want to show is the game-winning touchdown pass, which caps off an impressive drive that includes a fourth-down conversion on a quick screen to Clay. The touchdown came on a nice read and throw to running back Marcus Thigpen , who is lined up next to Tannehill in the shotgun.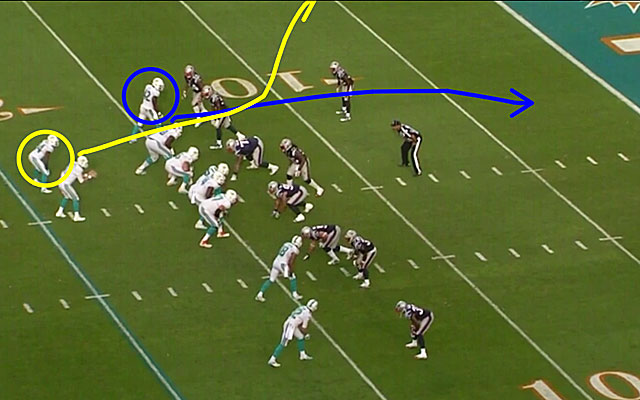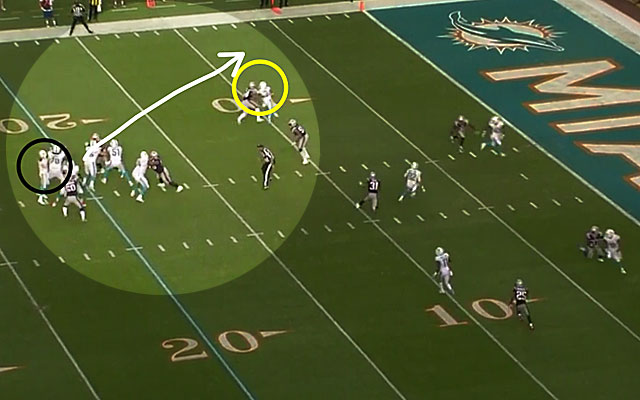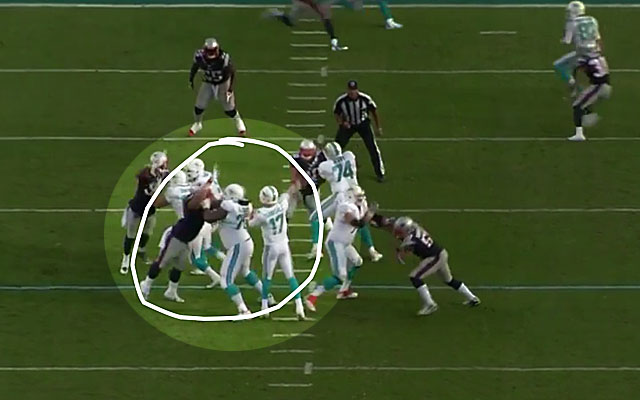 At the snap, Clay (blue circle) runs to the post. That's Tannehill's first look. But he would be forced to throw over the linebacker, and Clay is pretty well covered by McCourty. So he opts to take a chance with Thigpen in man coverage with Don'ta Hightower. The impressive thing about the play is that Tannehill commits to the throw before Thigpen is out of his break. And he makes the throw, as you can see by the last picture, with Bryant McKinnie being pushed back into his face. That means he can't really step into the throw, yet has the arm strength to get it there for the score.
If Tannehill keeps improving at this pace, and continues to light it up in December, the Dolphins will be a tough team to get out come playoff time. He certainly has made big strides in his second season.
It's time he started to get the attention that some of those other second-year starters get. I believe Tannehill has taken the right path to being a successful NFL passer. He looks the part now, that's for sure.
Things I saw on tape
1. It's time for the anatomy of a big play. The play I picked is how the Kansas City Chiefs schemed open Jamaal Charles for a 71-yard touchdown pass on a third-and-1 play in the third quarter against Oakland last week. It was the fifth touchdown of the day for Charles, and fourth through the air. The first three receiving scores came on screen passes that were well designed and poorly played by the Oakland Raiders . It helped that Charles can fly, turning what should have been short gains into big scores. But the 71-yarder was different. It was Charles on a wheel route. Raiders linebacker Miles Burris , who was in for all of two plays, was torched on the route. Here's a look: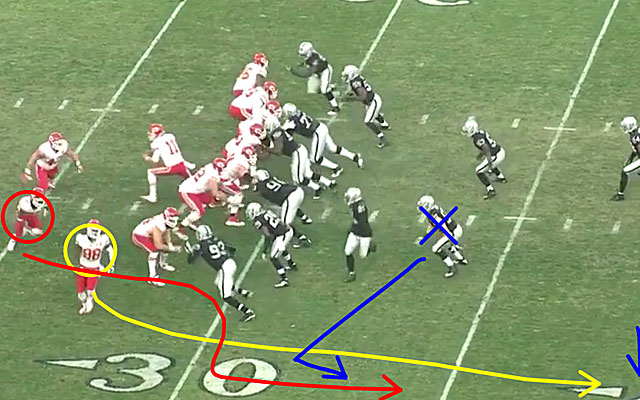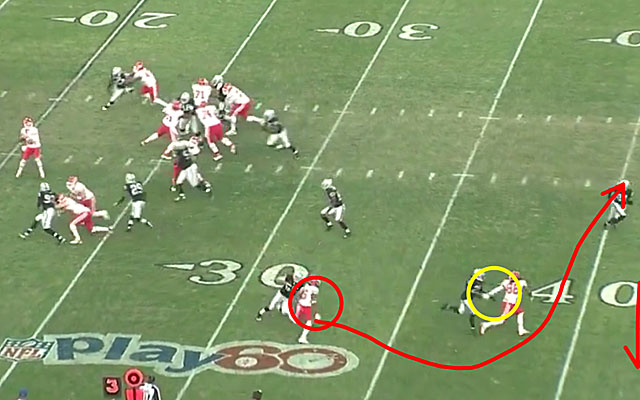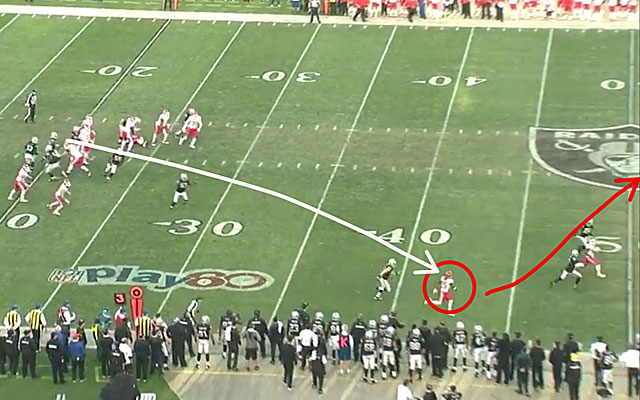 The Chiefs motion Junior Hemingway (yellow circle) from left to right and then send him on a go route in man coverage against Mike Jenkins . Hemingway actually beats Jenkins, but safety Charles Woodson comes over the top to help. That's when Alex Smith , after a play-fake to fullback Anthony Sherman , sees Charles break free. He lofts a perfect pass to Charles (red circle), who did the rest, cutting back inside to make Woodson miss, and then it's off to the end zone.
Charles is the prototypical "air back." He can take it the distance on long runs and he's a huge threat in the passing game as the Raiders found out last week. The way the game is played today, with so many defenses being spread out, Charles is arguably as valuable as any back in the league -- including Adrian Peterson .
2. One of the reasons why the Dolphins offensive line is playing better is because right tackle Tyson Clabo is playing better. He was a disaster early in the season, but has come on in recent weeks. Clabo, who signed a one-year deal as a free agent from Atlanta, has been known in his career as a guy who will battle, but is limited athletically. That lack of athletic ability showed up a lot early in the season, but he has done a good job in recent weeks of fighting through it. The Dolphins' offensive line was a major problem early and when the Richie Incognito-Jonathan Martin scandal led to those two leaving the team, for different reasons, it was assumed the line would get even worse. But it hasn't. And Clabo's improved play, coupled with Mike Pouncey being back healthy at center, is the reason why.
3. The San Francisco 49ers are starting to look like the 49ers from last season on defense. A big reason is the play of outside linebacker Aldon Smith . After sitting out six games because he was in rehab for off-field issues, Smith is rounding back into the form that makes him one of the best outside rushers in the league. He had two sacks last week against the Bucs -- although the second one was for no yards on the second-to-last play with the game out of reach -- and he has improved against the run. His ability to rush the passer helped Justin Smith get a sack when Aldon Smith crashed hard inside on a stunt and Justin Smith went outside to get a sack. One of the plays that caught my eye was a run stop by Aldon Smith on Bobby Rainey for a 2-yard loss. He jumped inside of Donald Penn , a pretty good tackle, and was able to tackle Rainey for the loss. It was an impressive stop in the run game. With Smith and Smith next to each other, the 49ers defense is getting back to its old ways.
4. I went back and watched Kirk Cousins against the Atlanta Falcons . He did make some really nice throws. But I noticed that he is much more comfortable outside the pocket. When he gets a chance to boot or roll out, he makes better throws than inside the pocket. Both his interceptions came when he was in the pocket. The first one came when he threw behind Aldrick Robinson on a crossing route. It was just a bad throw. The second came against a two-deep zone. He tried to force a pass on a crossing route to Pierre Garcon . What he had was a big play down the seam to Santana Moss , but he didn't pull the trigger. The safeties had widened and the linebacker was struggling to get deep in the middle and Cousins passed on the throw to Moss. That's something he has to do a better job of as he plays more: Anticipating players getting open. Maybe a few more games will help, but I think he's got some work to do before people start trading away high draft picks to acquire him. And let's not forget, he was facing an Atlanta secondary with three rookie starters.
5. I love the dimension that rookie running back Andre Ellington brings to the Arizona Cardinals . He is another "air back." He is good in space, can catch the ball out of the backfield and lines up outside or in the slot. He had a heck of a game last week against the Tennessee Titans and has the speed to get outside, even if a run looks to be breaking down. He did that twice against the Titans, bouncing outside for nice runs when it looked as if he would get swallowed up for little or no gain. Ellington isn't a big back, but he isn't afraid to run inside either. If the Cardinals are to have a chance to win at Seattle this week, he has to be a big part of the plan.
Three and out
Three 2014 draft-eligible players I can't wait to see in their bowl games
1. Fresno State QB Derek Carr: His stock is rising, and he has a big arm, but does the curse of his brother hurt him? Let's see how he does against USC in the Las Vegas Bowl.
2. UCLA OLB Anthony Barr: There are some who think he could be the first rusher off the board, ahead of Jadeveon Clowney. He will face Virginia Tech in the Sun Bowl.
3. Central Florida QB Blake Bortles: He is rising as well, but is it because the class is thinning? Let's see him against Baylor in the Fiesta Bowl.
Three free agents playing to bigger contracts
1. Brent Grimes , CB, Dolphins: Where would they be without him? He's on a one-year deal, but not next year.
2. Sen'Derrick Marks , DT, Jacksonville Jaguars : He also signed a one-year deal with the Jaguars, but has been their best defender.
3. Arthur Jones , DT-DE, Baltimore Ravens : He has five sacks from a down spot and has played the run well.
Show Comments
Hide Comments
Carr, now the NFL's highest paid player, is a big reason for the Raiders' resurgence in recent...

Carr is now the NFL's highest-paid quarterback

The Panthers went to the Super Bowl two years ago, but they don't even crack the top two h...
In a league dominated by passing, every team's QB is their best bet. But what about everyone...

The 34-year-old Tramon Williams wants to continue his NFL career anywhere but Cleveland

Avril's parents are Haitian, so he decided to give back to the community