Agent critical of NFL's suspension of Josh Brent, vows appeal
Agent Peter Schaffer says the 10-game suspension given Josh Brent is unfair, since the player has already voluntarily skipped a year.
• 2 min read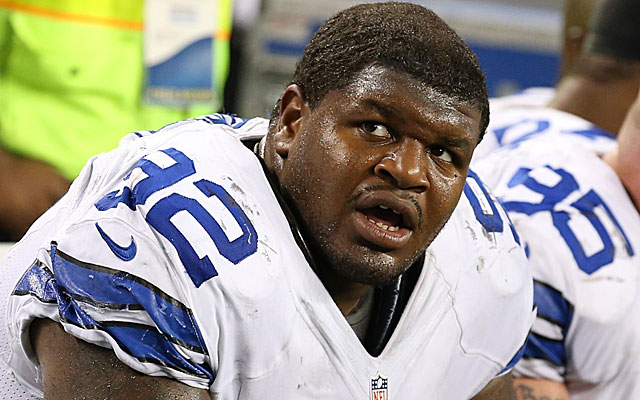 Agent Peter Schaffer says he will appeal the decision to suspend Josh Brent for 10 games as part of the player's reinstatement to the NFL. Brent was charged with DUI manslaughter following an accident in which his friend and Cowboys teammate, Jerry Brown, was killed in December 2012.
Brent spent 180 days in jail as part of his sentence and was given 10 years probation. Brent has remained close to Brown's family and the victim's loved ones have expressed their hope that Brent be able to resume his career at an appropriate time.
Brent was reinstated by the NFL on Tuesday, but with the stipulation he not be at the Cowboys' facility for six weeks and that he must serve a 10-game suspension. Brent in essence has missed 20 games to this point, including last season in which he opted to leave the NFL to deal with his ongoing legal issues.
"As a lawyer, I have a right to appeal and I will be invoking Josh's right to appeal, as provided for by the collective bargaining agreement," Schaffer said. "I was truly hoping that after Josh's meeting [with NFL officials], which I thought was fantastic, that there would be no need to appeal, that the Commissioner [Roger Goodell] would have imposed fair sanctions taking into account what has happened in the past, and we wouldn't have to do that, but we do." 
Schaffer pointed to the situation of former NFL receiver Donte' Stallworth, who was convicted of DUI manslaughter after he took the life of a pedestrian and was later reinstated to the NFL after a one-year ban. Schaffer contends that Brent's voluntary absence from the game should be taken into account in the league's discipline.
"This decision is absolutely unconscionable," Schaffer said. "Donte' Stallworth had the same exact fact pattern, and in this case Jerry's family wants what's best for Josh, and they've made amends and that has been wonderful. But it's the exact same fact pattern and what does Donte' Stallworth get? One year, 16 games. That's not fairness.
"And, also, Josh could have played last year and gone out and put the shield through all kinds of ridicule, but he went out of his way to say, 'I'm going to sit out.' He has too much respect for the NFL and what it stands for, and now that this punishment comes out, where is the incentive for any player to do that and put the league in front of themselves?"
Schaffer would also like to see Brent be able to rejoin the Cowboys and his teammates at least in a practicing or meeting capacity as soon as possible, seeking the structure of the NFL and familiar faces, and hoping under appeal he might be able to at least workout with the Cowboys soon.
"They're not letting him go to facility for the first six weeks," Schaffer said, "but Aldon Smith gets a nine-game suspension and they're letting him show up for work there every day and he went to camp and he played last year, and Josh hasn't played football in almost three years and he needs training camp more than anybody."
Dez spent $16,000 on barbecue food to throw a party and a kickball game for people in his...

Oher signed a three-year extension with the Panthers last offseason

Harrison is a strong man that loves showing off how strong he is
Simpson drew money from his NFL player pension, which is protected by Nevada laws

Johnson will likely work once again as the primary backup to David Johnson

Turner has made the Pro Bowl each of the last two seasons and was rewarded with a new cont...