Agent's Take: Cutler, Suh, Romo top list of high-end NFL cap issues
The NFL year starts March 11, and that's when clubs have to make calls on players with huge deals like Jay Cutler, Tony Romo and Darrelle Revis.
NFL teams with tight salary caps are in the process of getting under the projected $126.3 million 2014 cap before the new league year begins on March 11. Other teams under the projected cap are creating additional cap room in order to comfortably sign players when free agency begins on the same date. Cap room can be created by contract restructures, contract extensions, players taking pay cuts and players getting released. Players with the biggest cap numbers in the NFL often are impacted by this process.
Larry Fitzgerald was the first player this off-season to lower a high cap number. He created $9.4 million of cap room for the Arizona Cardinals when he lowered his 2014 cap number from $18 million, which was the ninth highest in the NFL, to $8.6 million by converting $11.75 million of his $12.75 million 2014 base salary into a fully guaranteed second day of the 2014 league year roster bonus (March 12). The Cardinals are able to pro-rate or spread out evenly this $11.75 million over the five years left on his contract. Fitzgerald's 2015, 2016, 2017 and 2018 cap numbers each increased by $2.35 million with the restructuring.
Here's a look at the situations of the players with 2014's five largest cap numbers and five other interesting situations of players with cap numbers in the top 20.
Top Five
1. Chicago Bears QB Jay Cutler -- $22.5 million: Cutler signed a new seven-year, $126.7 million deal within days of the 2013 regular season ending. Of that, $54 million of his contract is guaranteed. He also receives $54 million in the first three years. The deal's structure raised eyebrows because Cutler's 2014 cap number is approximately $6.4 million more than the projected non-exclusive quarterback franchise tag number. The Bears can lower Cutler's cap number because they can create cap room at any time during the deal with their discretionary right to convert a portion of his base salary into signing bonus. Exercising the right this year may be necessary because the Bears have $121.97 million in 2014 cap commitments with 47 players under contract while the top 51 cap numbers count during the off-season.
2. Detroit Lions DT Ndamukong Suh -- $22,412,500: Suh's cap number is a product of restructuring his five-year rookie contract (worth up to $68 million with $40 million fully guaranteed) twice in the past two years. Detroit's cap situation makes it difficult for them to handle his cap number. When tenders for three restricted free agents and five exclusive rights players with expiring contracts are included, the Lions are approximately $9.375 million over the projected 2014 cap. Detroit can't afford for Suh to play out his contract if they carry his cap number because it will be virtually impossible to use a franchise tag on him in 2015. His franchise tag number will be $26.87 million, which is based off of 120 percent of his 2014 cap number. A contract extension for Suh should be the richest veteran deal in NFL history for a defensive tackle because he probably won't consider a decrease from his rookie contract after becoming a four-time All-Pro in his four NFL seasons.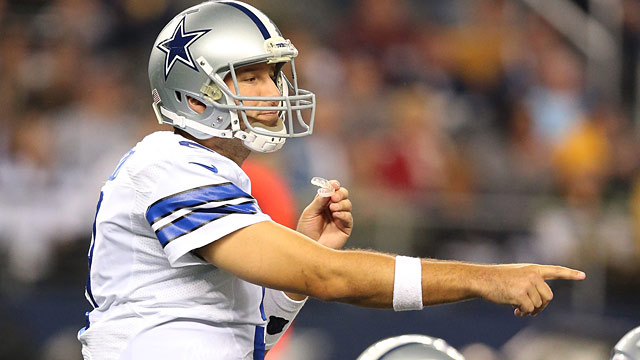 3. Dallas Cowboys QB Tony Romo -- $21.773M: The Cowboys have an NFL high $152.2 million in cap obligations for 2014. Some cap flexibility was built into the six-year, $108 million contract extension (with $55 million in guarantees) Romo signed in 2013 because the deal gives Dallas the discretionary right to convert a portion of his base salary into a signing bonus. Most of the lucrative deals the Cowboys have signed in recent years also contain this clause, which allows them to automatically create cap room. They can create $10.036 million of cap room by converting $12.545 million of Romo's fully guaranteed $13.5 million 2014 base salary into a signing bonus. Romo's 2014 cap number would drop to $11.737 million but his 2015 cap number would rise to $27.782 million.
4. New York Giants QB Eli Manning -- $20.4M: The Giants are in better shape cap wise this year than last, when Manning had the NFL's highest cap number at $20.85 million. Manning has two years left on the six-year, $97.5 million contract extension ($35 million guaranteed) he signed in 2009. Although Manning had a subpar 2013 season (he led the NFL with 27 interceptions), lowering his cap number probably means giving him a contract extension with an average salary of more than $20 million per year and more than $55 million in guaranteed money since he may not entertain a contact restructure.
5. Pittsburgh Steelers QB Ben Roethlisberger -- $18.895M: There has been speculation that the Steelers will look to extend Roethlisberger's contract this off-season, which has two years remaining, because of his high cap numbers ($18.395 million in 2015) and Pittsburgh having $140.1 million in 2014 cap commitments. There were two years remaining on Roethlisberger's rookie contract when he signed a six-year contract extension averaging $14,664,417 per year in 2008. The deal made him the NFL's second-highest paid player and his $33.2 million in guarantees were the third most ever in an NFL contract. Roethlisberger said he would "do whatever it takes to stay" in Pittsburgh, but may have been referring to contract structure instead of a hometown discount. In order for Roethlisberger to maintain the same place in the quarterback salary hierarchy as his 2008 deal, a new extension would need to top $20.75 million per year and $58 million in guarantees. Such a deal should be able to give the Steelers at least $3 million in 2014 cap relief.
Other cap situations of note
7. New Orleans Saints QB Drew Brees -- $18.4M: Brees became the NFL's first $20 million per year player with the five-year, $100 million contract (includes a record $60.5 million in guarantees) he signed with the Saints in 2012. He is willing to restructure his contract to help the Saints with their cap problems. The Saints are approximately $17.75 million over the projected 2014 cap once tenders for restricted free agents and exclusive players with expiring contracts are included. Brees has the largest cap number on the team at $18.4 million. It may be wise for the Saints to leave the 35-year-old's contract alone to avoid increasing his league high $26.4 million 2015 cap number.
8. Bears DE Julius Peppers -- $18,183,333: Peppers was missing in action during too many games in 2013. In three games, he failed to record a single statistic and six more games with only one tackle. The eight-time Pro Bowl selection's 7½ sacks represent his lowest total since 2007. Peppers, who signed a six-year, $84 million contract (worth a maximum of $91.5 million through incentives) in 2010 to join the Bears, demonstrated that there still was some gas left in the tank by registering 5½ sacks in the second half of the season. The 34-year-old should think twice about turning down a reasonable pay cut from his $14 million salary if the Bears give him the option because the free agent market last year wasn't kind to pass rushers over the age of 30. Dwight Freeney 's two-year, $8.75 million contract (worth a maximum of $13.35 million through escalators and incentives) from the San Diego Chargers and the two-year, $8.5 million contract (with an additional $3.75 million in escalators) Osi Umenyiora received from the Atlanta Falcons paced that market. The Bears will gain slightly more than $9.8 million of cap room by releasing Peppers.
10. St. Louis Rams QB Sam Bradford -- $17.61M: Bradford is one of the last high draft picks to benefit from rookie contracts where easily achievable escalators created large base salaries. As the first pick overall in the 2010 NFL draft, Bradford signed a six-year, $78 million deal (worth a maximum of $86 million) containing $50 million in guarantees. By contrast, Cam Newton signed a fully guaranteed four-year, $22,025,498 contract (with a collective bargaining agreement mandated fifth year option worth close to $14 million) as the first pick in 2011 after the creation of a rookie wage scale. Some have suggested that the Rams cut their losses with Bradford by taking the $10.42 million of cap room that can be gained by getting rid of his $14.015 million salary and use one of their two first-round picks (Nos. 2 and 13 overall) on a quarterback. That is unlikely, considering the Rams had initiated discussions with Bradford on a contract extension before he tore the ACL in his left knee during Week 7 against the Carolina Panthers .
16. Cowboys DE DeMarcus Ware -- $16,003,750: Ware's cap number is a result of restructuring his contract for three straight years. His figure needs to be addressed because of Dallas' cap problems. The seven-time Pro Bowler was limited to a career low six sacks in 2013 while dealing with quadriceps and back injuries. Instead of restructuring Ware's contract again, it may make sense for the Cowboys to ask the 31-year-old to reduce his $12.75 million salary. A $4 million pay cut seems reasonable considering 32-year-old Robert Mathis , who led the NFL with 19.5 sacks in 2013, is playing under a $9 million per year contract. Ware could be given the opportunity to earn the money back with not-likely-to-be-earned sack incentives beginning with seven sacks. It seems unlikely that Dallas would release Ware if he is unwilling to accept the pay cut. Although a little less than $7.5 million of cap room would be gained by parting ways with Ware, nobody on the current roster is capable of pressuring opposing quarterbacks like he can when healthy.
17. Tampa Bay Buccaneers CB Darrelle Revis -- $16M: Revis signed a six-year, $96 million contract that didn't contain any guaranteed money as a part of a 2013 predraft trade with the New York Jets . The lack of security in Revis' contract could become an off-season problem for Tampa Bay. The team didn't get holdout protection in his contract, like the Jets had, but have the right to convert a portion of his base salaries into roster bonus and also guarantee a portion of his base salaries and roster bonuses. It could be a smart move for the Buccaneers to either fully or conditionally guarantee Revis' 2014 and 2015 base salaries, both $13 million. Otherwise, it would not be a surprise if the contract drama that plagued the Jets during Revis' tenure in New York continues with Tampa Bay.
Joel Corry is a former sports agent who helped found Premier Sports & Entertainment, a sports management firm that represents professional athletes and coaches. Before his tenure at Premier, Joel worked for Management Plus Enterprises, which represented Shaquille O'Neal, Hakeem Olajuwon and Ronnie Lott.
You can follow him on Twitter: @corryjoel
You can email him at jccorry@gmail.com
Show Comments
Hide Comments
The Browns owner says there's a different vibe in the building, despite just four wins in two...

The former first-round pick hasn't had a market for his services since being waived by the...

Matt Elam, the Ravens' 2013 first-rounder, was also arrested in February
Other candidates include Jameis Winston, Blake Bortles and, of course, the Patriots

Jones provided Cowboys tickets and travel accommodations to officers and their families

Romo played DJ at a charity event and got Ezekiel Elliott on stage for 'O.P.P.'