Agent's Take: Looking at what's next for Victor Cruz
Victor Cruz has eye-popping stats, and wants a contract to match. Former agent Joel Corry examines what's in store as Cruz and the Giants look to resolve this impasse.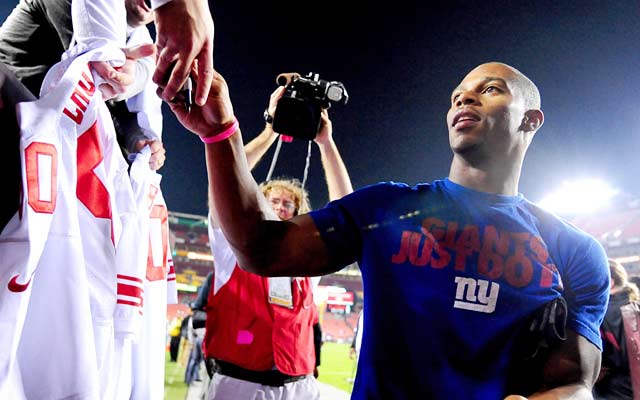 Restricted free-agent wide receiver Victor Cruz is missing the New York Giants ' three-day mandatory mini-camp, which runs through June 13, because of a contract dispute. Cruz's attendance isn't required since he isn't under contract. He also can't be fined for his absence because of his contract status.
Negotiations between Creative Artist Agency Football's Tom Condon, Cruz's agent and the Giants are at a standstill. Cruz wants to be paid based on his productivity. The Giants believe Cruz's salary should be dictated by his primary role as a slot receiver. Cruz is seeking a contract in excess of $10 million per year while the Giants are reportedly offering Cruz a long-term deal in the $7 million to $8 million per year range with at least $15 million guaranteed.
Cruz's Productivity
Cruz has produced like an elite wide receiver ever since cracking the starting lineup two years ago. He has caught 168 passes for 2,628 yards and 19 touchdowns since 2011. The 2011 second team All-Pro ranks ninth in receptions, fifth in receiving yards and eighth in touchdown catches in the NFL over the last two seasons. Cruz and Calvin Johnson are the only two wide receivers in the NFL to rank in the top 10 in all three categories during this span.
Mike Wallace set the 2013 market by becoming the NFL's third-highest paid wide receiver with the five-year, $60 million contract (including $30 million in guarantees) the Miami Dolphins gave him in free agency. He eclipsed the five-year, $56 million deal (including $26 million in guarantees) Dwayne Bowe received from the Kansas City Chiefs to forgo free agency.
Wallace and Bowe haven't performed statistically like upper-echelon wide receivers throughout the past two seasons. Wallace had 136 receptions for 2,029 yards and 16 touchdowns. Bowe caught 140 passes for 1,960 yards and eight touchdowns. Wallace capitalized on free agency because speedy wide receivers who can consistently stretch defenses as primary receiving targets are usually paid a premium. Bowe has been hampered by mediocre and inconsistent quarterback play since being named second team All-Pro in 2010.
The Slot Wide Receiver Market
The six-year, $67 million contract (includes $25.5 million in guarantees) Percy Harvin received from the Seattle Seahawks as part of his March trade from the Minnesota Vikings is the salary standard for slot receivers. Harvin differs from most other slot receivers due to his versatility. He is arguably the NFL's most dangerous all-around threat because he is a weapon when he lines up in the backfield and possesses Pro Bowl caliber kick returning skills.
Wes Welker and Danny Amendola didn't help Cruz by signing contracts significantly below the five-year deal averaging $7.26 million per year (including $18 million in guarantees) Marques Colston received from the New Orleans Saints in 2012 as free agency approached.
Welker turned down a more lucrative offer from another team to sign a two-year, $12 million contract with the Denver Broncos since he wanted to play for a Super Bowl contender. The New England Patriots gave Amendola a five-year, $28.5 million deal (with $10 million in guarantees and an additional $500,000 of incentives each year for receptions) to replace Welker.
June 17's Importance to Cruz's Restricted Free Agent Tender
An important date to watch with Cruz's situation is June 17. It gives the Giants a one-day window to reduce Cruz's $2.879 million restricted free agent tender to $630,000. Normally, teams have the right to reduce a player's tender to 110 percent of his prior year's salary on June 15 but 110 percent, $594,000, is less than the $630,000 league minimum for players with three years of service, like Cruz, and June 15 falls on Saturday this year. The Giants haven't been faced with this dilemma in recent years because their restricted free agents have signed their tenders in April or May. The Pittsburgh Steelers didn't reduce Wallace's $2.742 million tender last year when they had the opportunity.
Playing hardball with Cruz's tender could result in him missing training camp and potentially part of the regular season. In 2010, restricted free agent Logan Mankins sat out the first seven games of the regular season after the Patriots reduced his $3.268 million tender to $1.54 million, 110 percent of his 2009 salary, on June 15.
The San Diego Chargers did the same as the Patriots in 2010 with Vincent Jackson and Marcus McNeill , which also resulted in them withholding their services. McNeill returned to the Chargers after two regular season games. Jackson missed seven regular season games before signing his reduced tender of $682,000. McNeill is only one of the three that signed a long-term deal as a restricted free agent.
Cruz's Tactical Error
Cruz's approach to restricted free agency might have been counterproductive to signing a new contract. He reportedly instructed Condon not to solicit offers from other teams during the 39-day restricted free-agent signing period because he wants to stay in New York. An agent works for his client, not the other way around, so it's his or her job to execute the client's wishes. Nonetheless, Condon might have been frustrated by Cruz's constraints.
It's conceivable that Condon, one the most prominent football agents, could have gotten another team to bring Cruz in for a visit despite the first-round pick compensation for successfully signing Cruz to use as leverage against the Giants. Knowledge of another team's interest could have spurred the Giants to increase their offer to Cruz. If the Giants didn't make a pre-emptive strike to stop the visit, Condon could have communicated any verbal contract parameters or offers to the Giants given Cruz's preference. The potential of losing Cruz through an offer sheet might have broken the impasse. For example, restricted free agent Steve McLendon signed a three year, $7.25 million deal with the Pittsburgh Steelers the day after visiting the Green Bay Packers .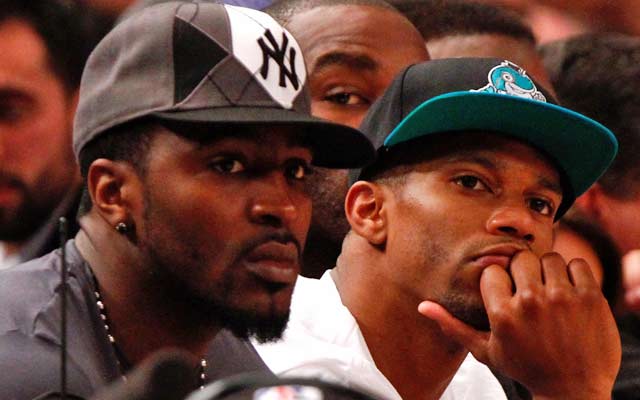 Hakeem Nicks ' Impact on Cruz's Contract
Hakeem Nicks' contract status complicates Cruz's negotiations. The Giants view Nicks, who is entering the final year of his five-year rookie contract, as their No. 1 wide receiver despite Cruz outperforming him. As an outside receiver who is considered a deep threat, Nicks attracts more attention from opposing defenses.
Nicks had the worst statistical season of his four-year NFL career in 2012 because of knee and foot injuries. He had 53 receptions for 692 yards and three touchdowns. In the two previous seasons, Nicks had caught 155 passes for 2,244 yards and 18 touchdowns.
Nicks seems willing to play out his contract because he doesn't have leverage after a disappointing 2012 campaign. He should be able to command the type of contract Cruz is seeking if he returns to his 2010 and 2011 form.
It will be difficult for the Giants to have two highly paid wide receivers. NFL teams typically can't afford that luxury. Seattle is the only NFL team that has two wide receivers, Harvin and Sidney Rice , with contracts averaging more than $8 million per year.  If Cruz signs a long term deal with the Giants, it should serve as a starting point for discussions on Nicks' contract provided that he has a rebound season in 2013.
Steve Smith Situation
Cruz's dispute is reminiscent of slot receiver Steve Smith's situation with the Giants in 2010. Smith reportedly turned down a five-year, $35 million contract (with $15 million guaranteed) after catching a franchise record and NFC leading 107 passes for 1,220 yards and seven touchdowns in 2009. He played under the final year of his four-year rookie contract, which paid him $550,000 in 2010, because he wanted Greg Jennings money. Jennings signed a three-year, $26.25 million contract extension (including $16.25 million guaranteed and worth a maximum of $30.6 million with escalators and incentives) in 2009 with the Green Bay Packers.
Smith suffered a serious knee injury late in the 2010 season that required microfracture surgery. He surprisingly left the Giants to join a division rival, the Philadelphia Eagles , in 2011 by signing a one-year, $2.5 million deal (worth a maximum of $4 million through incentives). He played with St. Louis Rams in 2012 on a one-year, $2.5 million deal (worth up to $4.25 million with incentives). Smith wasn't the same player after his knee injury. He only caught 25 passes for 255 yards during his two post-injury seasons before retiring recently.
Cruz has received criticism in some circles because he hasn't taken Smith's case as a cautionary tale and accepted the Giants' offer. Cruz should be familiar with the dynamics of Smith's negotiations because Smith was represented by Ben Dogra, Condon's partner at CAA Football.
Holdout
Cruz hasn't ruled out withholding his services if he hasn't signed a new contract when training camp opens on July 26. Technically, he will not be a holdout if he misses the start of camp. A training camp holdout is a player under contract who is subject to fines up to $30,000 per day and a portion of his signing bonus (early roster bonuses in some instances) can be recouped by his team for refusing to provide services. The Giants will not be able to fine Cruz or recoup bonus money if he is absent.
Cruz should be cognizant of the Giants' recent history with holdouts. He should pay particular attention to Michael Strahan's 2007 holdout. Strahan staged a 36-day holdout in attempt to increase his $4 million salary. The Giants proceeded as if Strahan, who was 35 years old at the time, had retired. He returned without a raise shortly before the regular season opener.
The $500,000 in fines Strahan accumulated during his holdout was reduced slightly as a part of his return. The Giants' handling of Strahan's holdout has effectively deterred other Giants from missing any significant time by holding out.
"Holding out" could also hurt Cruz's ability to take advantage of business and marketing opportunities that he believes are available in New York. Cruz could risk damaging his reputation or popularity with a "holdout." Fans typically don't take a player's side in a contract dispute with a team. The public doesn't relate to a player being unhappy with a substantial contract or offer. Unusual circumstances are required for public sentiment to be with the player. That was the case last year in New Orleans when a majority of Saints fans were in favor of Drew Brees becoming the NFL's highest paid player largely because of Bountygate.
Although Cruz has only made approximately $1.25 million from football contract during his three years with the Giants, he could be viewed as selfish and greedy by the fans for rejecting the Giants' offers.
The Giants have demonstrated a willingness to negotiate Cruz's contract in the media. If the dispute drags on, it wouldn't be a surprise for owner John Mara to start making statements about the reasonableness of their position in an attempt to put public pressure on Cruz to accept their offer. Cruz has taken the high road by refusing to publicly comment on his negotiations. He may want to reconsider his stance if the impasse can't be broken.
The Giants could eventually focus their attention on Nicks with protracted Cruz negotiations. Other teams have taken this approach in contract disputes. After Wallace reportedly turned down a five-year, $50 million deal, the Steelers signed Antonio Brown , their other starting wide receiver, to a five-year, $41.96 million contract extension. The Giants do not want to be in a position with both starting wide receivers unsigned long term heading into 2014 where they must use their franchise tag on one receiver while the other becomes an unrestricted free agent.
Cruz would return to the Giants by the Tuesday following the 10th week of the regular season in a worse-case scenario so he could earn a year of service for free agency. Otherwise, he would be required to sit out the remainder of the season and remain a restricted free agent in 2014.
Potential Solutions
Both sides should be motivated to reach a compromise. The Giants need to be careful about the signal it will send in the locker room by playing hardball with Cruz considering he has played at his league minimum for three years. Cruz's modest career earnings (by NFL standards) could drive him to make some contractual concessions.
Cruz might want to consider signing a shorter term deal, which provides him some level of security but also gives him the opportunity to test the free-agent market while he's still young enough to take advantage of it. As Hall of Famer John Randle's co-agent, I helped negotiate a "bridge" or intermediate deal for him in 1995 where he got a two-year contract extension with the Minnesota Vikings that made him one of the NFL's highest-paid defensive tackles. We wanted his deal to expire when the new television deal money was going to increase the salary cap. Randle became the NFL's highest paid defensive player with the five-year, $32.5 million contract (including $20 million guaranteed without offsets) he signed in 1998 to remain in Minnesota.
The intermediate deal concept was also employed while I was one of Drew Bennett's representatives when he was a restricted free agent. Bennett signed a three-year, $6 million deal in 2004 with the Tennessee Titans in which he only gave up two unrestricted free agency years. We looked at the deal in a piecemeal manner instead of in its totality. We were more concerned with valuing his unrestricted free agent years since his restricted free agent tender dictated the other contract year. Bennett signed a six-year, $30 million contract with the St. Louis Rams as a 28-year old despite a mediocre 2006 season.
A deal should be able to be made if Condon embraces this concept. Placing a value in the $10 million per year neighborhood on each of Cruz's two unrestricted years and adding the total to his $2.879 million restricted free-agent tender could give Cruz a three-year, $23 million deal. He would become an unrestricted free agent as a 29-year old under this approach.
Not likely to be earned incentives (NLTBEs) or base salary escalators could be used to bridge the gap between the two sides if Condon prefers to look at the deal in its entirety. Any incentives with higher thresholds than Cruz's 2012 individual statistical achievements (86 receptions, 1,092 receiving yards, 12.7 yards per catch, 10 touchdown catches, etc.) would be classified as NLTBEs and wouldn't initially counts towards the cap.
Both sides should be receptive to their inclusion considering that Condon client Mathias Kiwanuka had $2 million of NLTBEs and base salary escalators based on playtime and sacks in the two-year deal he signed in 2011. Kiwanuka's 2012 three-year contract extension has a $1 million sack escalator in each of the extension years.
Given that Nicks is more highly regarded by the Giants than Cruz and that Cruz has outperformed Nicks during the last two years, Condon should insist upon a salary escalator triggered by Cruz leading the Giants in any major statistical receiving category. There could also be another escalator triggered by Cruz earning Pro Bowl or All-Pro honors, or ranking in the NFL's top five in any receiving categories.
---
Joel Corry is a former sports agent who helped found Premier Sports & Entertainment, a sports management firm that represents professional athletes and coaches. Before his tenure at Premier, Joel worked for Management Plus Enterprises, which represented Shaquille O'Neal, Hakeem Olajuwon and Ronnie Lott.
You can follow him on Twitter: @corryjoel
You can email him at jccorry@gmail.com 
Show Comments
Hide Comments
One of the league's best wideouts had just four catches for 28 yards against Green Bay

The Browns selected Kizer in the second round of the 2017 NFL Draft

Talk about a great Christmas present
'I don't think there's anybody more worthy than Marshawn to wear that number,' Woodson sai...

He's targeting a return in early June

Lockette retired from the game after suffering an injury that nearly ended his life