Alex Smith's game management, Chiefs defense beats Eagles
Kansas City's offense isn't great. But it was great when it had to be Thursday.
• 3 min read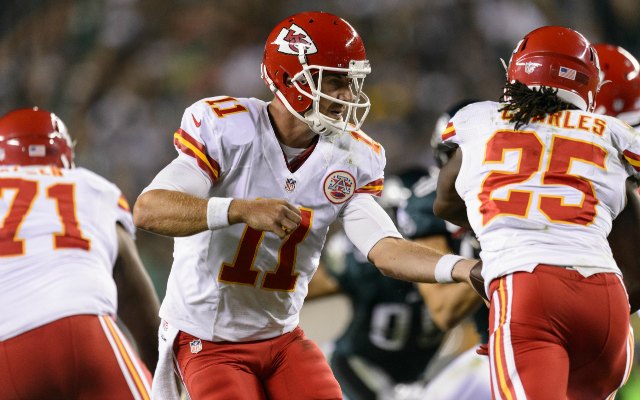 Andy Reid has changed the trajectory of the Chiefs organization. That much was clear the first two weeks of the season when Kansas City traveled to Jacksonville and dominated in Week 1 and then as the Chiefs survived the Cowboys in Week 2.
But the first big road test occurred Thursday when the Chiefs traveled to Reid's old stomping grounds, before a crowd that actually gave him a standing ovation before the game. Then, Kansas City celebrated Reid's homecoming by taking Philadelphia's newfangled offense and rendering it mostly obsolete during the Chiefs 26-16 victory.
"It was good to come back like this," Reid told NFL Network after the game. "You never think you're going to be in these shoes. But nowhere has red felt better than today."
Even with plenty of talented weapons on offense, Kansas City is probably going to be held back some (or much) of the time by Alex Smith. There were plenty of times Thursday he showed why 49ers coach Jim Harbaugh was eager to replace him with Colin Kaepernick last season. Smith is an average quarterback, and to expect much more from him is a folly.
Until, that is, the Kansas City's second-to-last drive of the game when the NFL's game manager managed the game especially well.
Here was the scene: LeSean McCoy had just pulled the Eagles within seven points of the lead with a 41-yard score, and the crowd, finally with reason to cheer, was doing so at the expense of its former coach. Then, Dexter McCluster dropped the kickoff, giving the Chiefs the ball at their own 5-yard line.
When you've got Smith and 95 yards to go to ice the game with 11:31 to play, that's not usually a great combination.
But in this case, Smith, who put together a 22-of-35, 273-yard performance, was fantastic. He went 5 for 6 on the drive, giving Ryan Succop a chance at the 38-yard field goal that gave the Chiefs a 10-point lead. The drive drained 8:15 off the clock and effectively dissolved Philadelphia's chance to win.
"We had to chase field position and eat some clock and give our defense a chance to rest," Smith said after the game. "We had some big conversions on third down."
The Chiefs generally struggled on third downs throughout the game, but Smith helped convert a third-and-10 and a third-and-1 on that particular drive. And it continued Smith's recent NFL success.
Alex Smith's last 17 starts: 3 losses, 24 touchdowns, 5 interceptions.

— Peter King (@SI_PeterKing) September 20, 2013
But aside from that one impressive drive, the key for the Chiefs on the night was the play of their defense.
Sure, there were some hiccups. Michael Vick notched a career-high 61-yard run in the first quarter that set up the Eagles' first touchdown, and McCoy, after leaving the game in the second quarter with an injured leg, scampered for the 41-yard touchdown to cut the lead to 23-16 early in the fourth quarter.
But overall, the Chiefs stopped Chip Kelly's offense from doing much damage. Certainly, Philadelphia was nothing like the squad that decimated the Redskins defense in the first half in Week 1. Instead, the Chiefs forced two interceptions from Vick and recovered three fumbles.
Chiefs linebacker Justin Houston was credited with 3.5 sacks. Eric Berry, with a pick-6, and Sean Smith each got themselves an interception as well. 
The Chiefs? Zero turnovers.
But all is not well with the Kansas City offense. Dwayne Bowe was a non-factor, and you don't want to have to count solely on Donnie Avery (seven catches, 141 yards) making huge plays out of intermediate crossing routes and Jamaal Charles putting together 172 yards of total offense.
A team trying to make the playoffs on that foundation will have a tough slog. But ...
The team is 3-0 now, and Reid -- the man coming home to a home that wanted nothing to do with him the past two seasons -- seemingly is the main reason why. In one single offseason, he seems to have changed everything in Kansas City.
Follow Josh Katzowitz on Google+
Show Comments
Hide Comments
Jones defended his decision to provide Cowboys tickets and travel accommodations to police...

Romo played DJ at a charity event and got Ezekiel Elliott on stage for 'O.P.P.'

Kaepernick has spent much of his offseason helping others and now supporters will return the...
Beast Mode led a bicycle parade through his hometown and apparently didn't even have to pe...

The NFL won't punish Revis, who remains on the market as a free agent

The NFL is playing the long game on L.A., but it's taking a serious hit in the short term