Alleged Peyton Manning incident cited in lawsuit against Tennessee
An incident involving Peyton Manning and an athletic trainer at the University of Tennessee was cited in a lawsuit against the university's athletic department.
In a recent Title IX lawsuit filed against the University of Tennessee, multiple "Jane Doe" plaintiffs alleged the university created a "hostile sexual environment" favoring student-athletes. Cited in the lawsuit? The alleged incident in 1996 between Peyton Manning and a former athletics trainer. 
The incident in question drew widespread attention over the weekend when a New York Daily News story resuscitated documents from a 2003 defamation lawsuit against Manning.
On Sunday the Tennessean reported the inclusion of Manning's name -- again, as a citation, not a party -- in the lawsuit:
The UT lawsuit filed last week calls out an alleged 1996 incident in which Manning, a UT football player, was accused of placing his naked genitals on the face of the female trainer while she was examining him. Manning has denied the allegations and said he was "mooning" a fellow athlete. The trainer, Dr. Jamie Naughright, later sued Manning after he described her in a book as "vulgar mouthed."
Including Manning's incident in the lawsuit is an attempt to establish a pattern of responses the University allegedly took toward sexual assault. 
Specifically, the lawsuit alleges the athletics department "deliberately created [and creates] a hostile discriminatory sexual environment for female students" and "acted with deliberate indifference in response to incidents of sexual assault."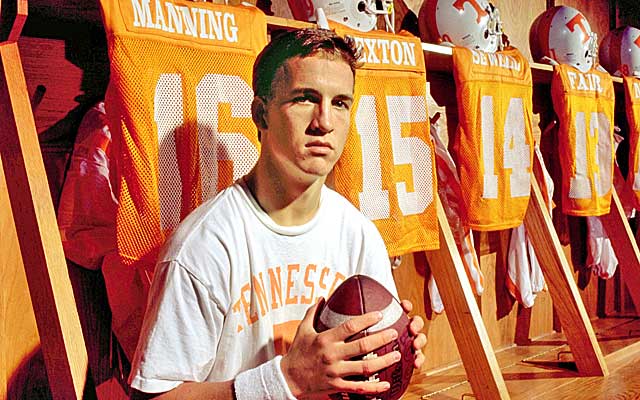 Manning's name being included doesn't change anything. There are no records that indicated that law enforcement ever looked into Naughright's allegations of sexual harassment and the defamation lawsuit she filed was settled out of court. Manning's name showing up in the new Title IX lawsuit is simply a logical inclusion of an incident involving a player and a female employee in an attempt to establish a pattern of behavior by an athletics department.
But with the timing of this re-emerging story, it certainly isn't a welcome headline for the Broncos quarterback, who very well may have played his last game in Super Bowl 50.
Show Comments
Hide Comments
Our Latest Stories
Houston will be going Gaga for the pop superstar on Super Bowl Sunday

Maxwell is being replaced by second-year corner Tony Lippett.

Gordon has been suspended multiple times for violating the substance abuse policy
The Bengals are wearing all white while the Dolphins will be in a block-orange look

The Cowboys' defensive end is only eligible to play in two games this season

What would Gronk look like with a shaved head and earring? Glad you asked