Allowing Adam Jones to speak to NFL Rookie Symposium is a mistake
A few things to kick around as the NFL enters its quiet season: Adam Jones speaking to rookies is a mistake (as is camp reality TV for his team), we note some replacement who need to come up big and Victor Cruz should play for his big payday.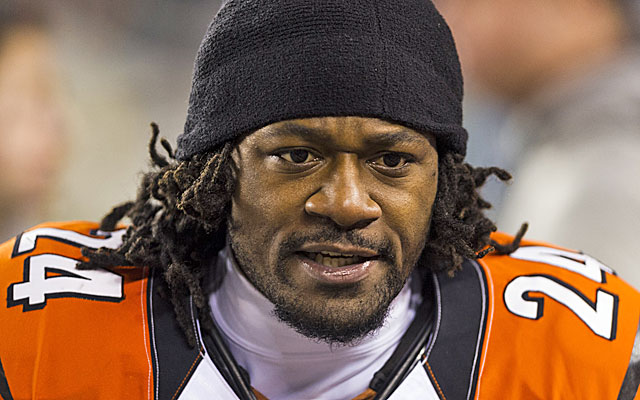 Late June and early July is the NFL's quiet period in the NFL, but in the meantime there are a couple of issues that caused me to react this week.
Adam Jones to speak at rookie symposium: I believe he has made strong attempts to turn his life around and was impressive in front of the 2012 rookie class. He is headed back to engage the class of 2013 in the do's and don'ts for a pro football player. However, Jones is in the middle of another off-field issue, so I think he and the NFL should take a year off from this engagement, until his issues are resolved. What message are players getting when Jones is standing in front of them this year? I would hate to see players conclude that you can get away with breaking the rules. There should be consequences for your actions, and this is not the year for a mixed message. I have great respect for Troy Vincent and the work he does for the players and the league, but this week he said, "You are not going to trick an athlete," when discussing the value of putting veteran players in front of the rookies to discuss life decisions. My response to that is no one's trying to "trick" them. Offering sound advice from members of the FBI, NFL security, and club leaders isn't tricking players, but pointing out harsh realities that await athletes who make mistakes. As one former player said: "When I was a rookie, [the] NFL security chief at the time, Charlie Jackson, spoke to us and scared me enough that I decided to walk the straight and narrow. I didn't need a veteran player telling me about all the mistakes he made to get me to buy in."
Cincinnati Bengals on Hard Knocks: Today I started to hear a few people claim that being on Hard Knocks made for better practices, and developing a better team. That is a stretch, to say the least. I think Hard Knocks is great for the fans to gain some insight into the inner workings of an NFL team during camp, and I'm impressed the Bengals are willing to do it again, but I don't believe the Bengals are going to be better this year because a set of NFL Films cameras are following them around for the summer. I really struggle with the players as reality-show stars. Would you like a camera crew filming you getting fired at work? I think not, and I hope commissioner Roger Goodell puts a stop to the cameras capturing the pain and anguish athletes go through when their dream comes to an end.
Risky replacements: Players move on in the NFL, especially with free agency. So teams get left with some risky replacements who have to come through if the original team doesn't want to go backwards. Here are a few guys who need to come through or their teams could go backwards. Sam Young replaces Andy Levitra in Buffalo, Gino Gradkowski replaces Matt Birk in Baltimore, Lamar Miller replaces Reggie Bush in Miami, Michael Jenkins replaces Brandon Lloyd in New England, Josh Bush replaces Yerimiah Bell at the New York Jets , Lamar Holmes replaces Tyson Clabo in Atlanta, rookie Arthur Brown replaces Ray Lewis in Baltimore (even more risky is Jacoby Jones stepping up for Anquan Boldin ), Steve McClendon replaces Casey Hampton in Pittsburgh, A.J. Jenkins replacing an injured Michael Crabtree for the San Francisco 49ers and Danny Amendola replaces Wes Welker for the New England Patriots .
Victor Cruz can't be compared to Mike Wallace : Cruz may deserve more money than Wallace, because his production over the past two years is better. In the past two seasons, Cruz has 189 receptions, 20 touchdowns, 28 receptions of 25-plus yards and averaged 15.3 per catch. Wallace: 139 catches, 16 TDs, 17 receptions of 25-plus yards and 14.8 yards per catch. It doesn't matter, because Cruz is restricted and now that he signed his tender he is eligible to be fined $30K a day if he holds out. If Cruz wants a Wallace deal, he needs to play through this tag, not get hurt, catch 80 or more balls, then hope the New York Giants don't franchise tag him. If the Giants get a contract extension with Hakeem Nicks before the season starts, or at least before they resolve the Cruz deal, then Cruz could be tagged for two years in a row -- making him a Giant thru 2015.
Show Comments
Hide Comments
Talk about a great Christmas present

'I don't think there's anybody more worthy than Marshawn to wear that number,' Woodson sai...

He's targeting a return in early June
Lockette retired from the game after suffering an injury that nearly ended his life

Mangini said he'd take Kaepernick over RG3 '10 times out of 10'

Cook spoke with CBS Sports about following in a future Hall of Famer's footsteps