Andrew Luck in favor of bringing Jonathan Martin to Indianapolis
Colts quarterback Andrew Luck said he stays in touch with Jonathan Martin and would be in favor of Martin landing in Indianapolis.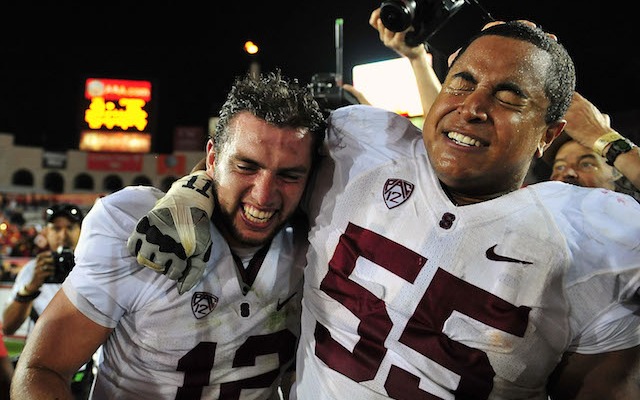 Jonathan Martin has made it clear that he wants to play in the NFL in 2014, but what's not quite clear yet is where Martin will play.
The 24-year-old offensive lineman is under contract with the Dolphins for two more seasons, but that doesn't mean he's staying in Miami. According to CBS Sports NFL Insider Jason La Canfora, conversations didn't go too well when Martin's camp met with the Dolphins at the NFL combine. 
A trade could send Martin anywhere, but one place he'd probably feel comfortable and where he'd see a lot of familiar faces is Indianapolis. In an interview with on NBC Sports Network's Pro Football Talk show on Wednesday, Colts quarterback Andrew Luck said he'd be in favor of bringing his former Stanford teammate to Indy. 
Specifically, Luck was asked what he would tell the Colts' front office if he were asked about Martin,  "I'd say I love Jon, we had a great time at Stanford together, still stay in touch with him regularly and I think he's a great man," Luck said. 
Just to be clear though, the Colts quarterback was also asked if he'd be 100 percent in favor of bringing Martin to Indianapolis, "Yes," Luck said. 
Luck also added that he's spoken to Martin within the past couple of days. 
If Martin's looking for welcoming locker room, Indianapolis might be his best bet. The Colts are basically Stanford-east. Besides Luck, the Colts also have three more of Martin's former Stanford teammates -- Coby Fleener, Griff Whalen and Delano Howell -- plus Colts offensive coordinator Pep Hamilton had the same job at Stanford while Martin was there.
Luck might be in favor of bringing Martin to Indianapolis, but the real question is: Would the Colts front office be in favor of it? 
Show Comments
Hide Comments
Dozens of NFL players took to Twitter to weigh-in on the Colin Kaepernick issue

If Week 3 is meant to be a dress rehearsal for the season the Chicago Bears have some work...

Being a punter isn't easy
The Packers running back is having second thoughts about his long hair

The Cowboys will once again be without their starting quarterback for an extended period of...

The Patriots not only have a guy who can win with Brady out, but should go 3-1 in his abse...