Are the Jets, Bucs discussing adding Sanchez to Revis trade?
As the Jets and Buccaneers continue to figure out a swap for cornerback Darrelle Revis, could Mark Sanchez also be involved?
• 1 min read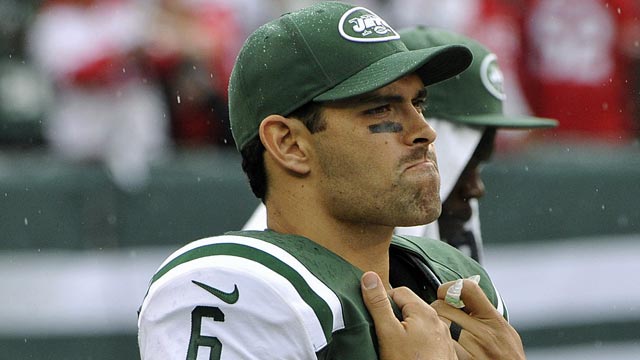 As the Jets and Buccaneers continue their work in trying to figure out a trade that would send cornerback Darrelle Revis from New York to Tampa Bay, the Jets reportedly are willing to rid themselves of one of their most important pieces.
That would be quarterback Mark Sanchez, according to a Pro Football Talk report.
"If the Jets could unload that obligation," PFT writes, "they'd surely jump at the chance."
Um, yes.
Considering Sanchez is due to make $8.25 million this season (and $11 million in 2014) and is one of the worst starting quarterbacks in the league -- and, by far, the most-maligned -- the Jets probably would do just about whatever it takes to get Sanchez out of their uniform and off their payroll.
Of course, there's also this caveat:


Re: @profootballtalk report on Sanchez coming up in TB-NYJ talks about Revis, the Bucs aren't taking Sanchez. No shot.

— Mike Garafolo (@MikeGarafolo) April 12, 2013


Oh, so the Buccaneers actually have watched the Jets play football the last couple of years, then? Well, damn, that's probably why Sanchez, much to the Jets' chagrin, probably isn't going anywhere (though PFT also points out that this potential Sanchez inclusion is about the Buccaneers doing whatever is needed to land Revis).
Though Tampa Bay coach Greg Schiano reportedly isn't sold on Josh Freeman as the Buccaneers' franchise quarterback, surely he can't think Sanchez could take over that spot and become that quarterback of the present and future.
But, then again, what if the Jets could convince the Buccaneers?


John Idzik would be the unanimous choice for NFL Executive of the Century if he could get the Buccaneers to take Mark Sanchez.

— Bart Hubbuch (@HubbuchNYP) April 12, 2013
Show Comments
Hide Comments
At the rate we're going, Bill Belichick might not ever retire

Plus Louisville prospects look to make their mark in our roundup of Thursday's pro day act...

Sharrif Floyd only played in one game last season
Will Johnny Football end up with the Saints?

The Falcons might need a place to play to start the 2017 NFL season

The Raiders don't seem very welcome in Oakland anymore