Art Modell: A visionary, a family man, a true fan
Following the death of 87-year-old Art Modell, reactions have poured in throughout the league.
• 4 min read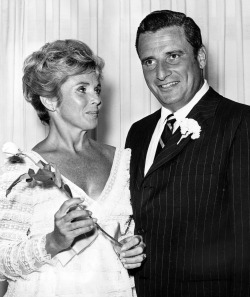 Art Modell with his late wife, Patricia. (AP)
Following the death of 87-year-old Art Modell, reactions have poured in throughout the league. Here's a sample of some of them.
Commissioner Roger Goodell: "Art Modell's leadership was an important part of the NFL's success during the league's explosive growth during the 1960s and beyond. As the longtime chairman of the league's Broadcast Committee, Art was a visionary who understood the critical role that mass viewing of NFL games on broadcast television could play in growing the league. Art played important roles in many other league matters as a key adviser to Pete Rozelle and Paul Tagliabue, and also built championship teams in Cleveland and Baltimore. His skills as an owner and league contributor were matched only by his great sense of humor. Any conversation with Art included laughs. He always left you with a smile on your face. We extend our condolences to John, David and the rest of the Modell family."
Former NBC president Dick Ebersol: "I believe very strongly that Art Modell is one of the most important figures in the history of the modern NFL. He and Pete Rozelle developed the magic formula that married the potential of television to the game. Those funds from this marriage propelled the game into what it is today. Art was there with Pete, and Art made it happen. Those two, along with Well Mara -- who convinced other owners about the power of shared revenue -- are the three men who pushed the NFL into what we know today.
"When I first became president of NBC Sports, I went to Cleveland to visit with Art. The thoughts he shared with me about television helped me gain success. His efforts in three-plus decades of steering the NFL's TV committee are monumental. The debt owed by his fellow owners, the current owners and everyone else who has made a living off the NFL, is incalculable. The good news is that Pat [Modell] will now be back with her Art.
 "But, I am so saddened with one thing: Art did not get to experience an induction into the Hall of Fame. The leaders in Cleveland, when he moved to Baltimore, put Art in an untenable situation and left him with the hard choice of moving. That scarred some people on Art. I hope in death Art is placed where he should be -- in Canton in the Hall of Fame."
Former Ravens coach Brian Billick: "Art Modell was all about family, and that's how he directed the Ravens. He treated me, my family and everyone in the organization like a member of his family. Before I think of the gratitude I owe him for giving me the opportunity to be his head coach, I think of the way he treated all of us. I don't believe there's another NFL franchise that embraces that more than Art did. That was reflected in the people he hired. He created an atmosphere that was the best. It was a joy to come to work for him. He accomplished so much as an owner: championships, playoffs, the TV contracts, the leadership in the NFL. They are all great and deserving of the Hall of Fame. Those who worked with Art will all say the same thing. He was a Hall of Fame person."
Ravens linebacker Ray Lewis: "When you think about Art Modell, you think about a great man, a leader, a father and a servant. Every minute of his life, he cared more about everyone around him than himself. Anytime I saw him, he would always make me smile. He always had a joke to lighten your mood or some sort of wisdom to impart to make you a better man. I genuinely loved Art as a man, and he showed me what to strive for in life. When you truly see the impact he had on everyone he touched, it humbles you. When I found out he wasn't doing well, I knew immediately I had to see him. When I was with him yesterday, I prayed with him and shared with him things that a son would say to a father. Even though he has left us, he is going to a place that one day we all want to be. I am truly blessed to have had Art in my life. He was a humble servant, and one of the best men I have ever known."
Former Browns RB/RS Dino Hall: "Art had a passion and a real love for the game of football. He was the true fan. I can remember him walking the sidelines at camps and at game time; he really was a true fan of football. For a long time, he meant a lot to Cleveland in a positive way, and he was a positive influence in that he loved Cleveland."

For more NFL news, rumors and analysis, follow @EyeOnNFL on Twitter, and subscribe to our Pick-6 Podcast and NFL newsletter. You can follow Josh Katzowitz on Twitter here: @joshkatzowitz.
Show Comments
Hide Comments
Receivers surprise in the top 10, Alabama goes MIA in the top 15 and more 2017 NFL Draft t...

Florida State RB Dalvin Cook will kick off Day 2 of the draft

There were a lot of good moves made during the first day of the 2017 NFL Draft
It seems that fans in Chicago feel like the Bears may have gotten ripped off

Round 1 is in the books -- and here's a recap of all the rumors, picks, trades and analysi...

Here's everything you need to know about the 2017 NFL Draft