Ball from Peyton Manning's record-setting TD pass almost disappeared
After hauling in Peyton Manning's record-setting touchdown pass, Broncos tight end Julius Thomas lost track of the football. However, Eric Decker saved the day.
When Peyton Manning hit Julius Thomas with a 25-yard touchdown pass in the fourth quarter against Houston on Sunday, everyone at Reliant Stadium seemed to be aware of the fact that Manning had just broken Tom Brady's single-season record for touchdown passes. Actually, everyone in the stadium except for Julius Thomas.  
After scoring the touchdown, Thomas flicked the ball to the ground and began to celebrate. At that point, anyone on the field could have picked up the ball. Luckily for Thomas, teammate Eric Decker grabbed it.  
"I dropped the ball so fast to do my usual thing and Deck picked the ball up so fast," Thomas said, via Yahoo Sports. "I was like, 'Why did Deck picked the ball up so fast?' I'm not paying any attention and I came back to the sidelines and I'm sitting down on the bench and somebody said, 'That was the one!' Maybe I shouldn't have dropped it so carelessly, I should've kept it."
Decker didn't just grab the ball, as you can see below, he tried to sneak off with it so that Thomas would think he lost the record-setting football.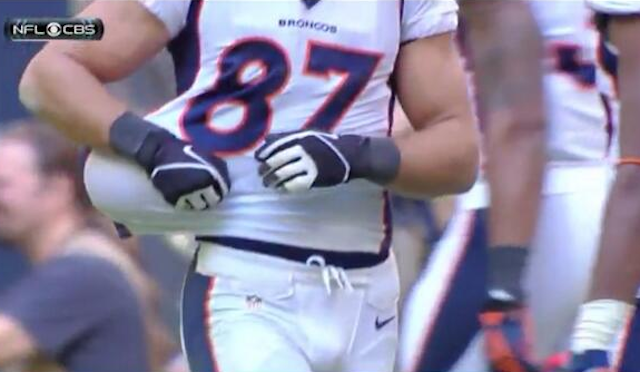 As for Manning, he half-expected to never see the ball again and that's mainly because he thought Thomas would barter it for something for valuable: a phone number. 
"Julius, it wouldn't have surprised me if he had handed it to some babe up in the stands and tried to get her phone number in exchange for the ball," Manning said. "That'd be right up Julius' alley. That's pretty in line with his thinking often times." 
The football is safe and sound though and if Manning doesn't keep it, it will most likely be making it's way to the Pro Football Hall of Fame in Canton, Ohio. 
(Wink of the CBS Eye to Larry Brown Sports)
Show Comments
Hide Comments
Our Latest Stories
The Ravens coach believes that Colin Kaepernick will eventually sign with a team

'Never say never,' the Giants coach said about Peterson potentially joining the team

The Falcons' Super Bowl loss has turned March 28 into the best day of the year
Here's what you need to know from the pro days of Florida, Florida State, Texas and Eastern...

The Browns might be getting a new look in the near future

One particular Vegas-area business is planning to take advantage of the NFL club's impending...