Bama's Derrick Henry weighs in at a whopping 247 pounds at NFL Combine
That's a lot of pounds.
We've got our first big number of this year's NFL Scouting Combine: 247. As in, Heisman Trophy-winning Alabama running back Derrick Henry weighed in at two hundred forty seven pounds at the combine on Wednesday.
Alabama RB Derrick Henry checks in at 247 pounds. That. is. massive.

— Joe Marino (@TheJoeMarino) February 24, 2016
I mean, I guess we shouldn't be that surprised. Look how big this dude is:
Look how huge Derrick Henry is in this image that I totally didn't alter one bit! #NationalChampionship #RollTide pic.twitter.com/fD4CSA3Ict

— Josh Sánchez (@jnsanchez) January 12, 2016
For some perspective, former Alabama running back Eddie Lacy (who has taken some flak for his weight over the years) weighed in at 231 pounds when he was at the combine in 2013. Lacy reportedly weighed around 260 pounds this past season, though.
So for more perspective, consider that a weight of 247 pounds would have made Henry the heaviest (listed) running back in the league this season. (Note: There are 14 "running backs" listed heavier than 247 pounds on that list linked in the previous sentence, but 13 of them are fullbacks and one is an offensive lineman.) That's one pound heavier than LeGarrette Blount, 17 pounds heavier than Le'Veon Bell, and 30 POUNDS heavier than Adrian Peterson. He's huge.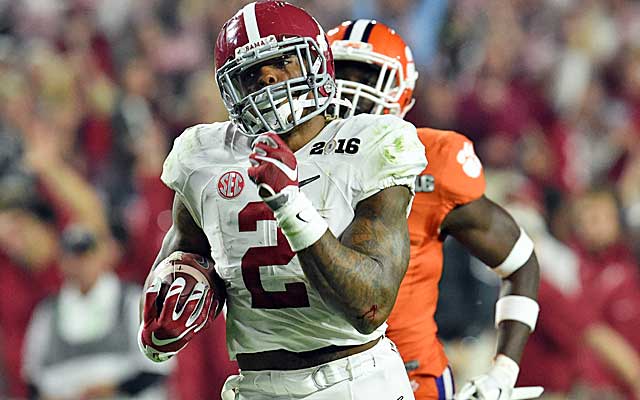 Mind you, we're not trying to say Henry is fat. At 6-foot-2.5, he'd also be one of the tallest, if not the tallest, running backs in the league. Only six players listed as running backs by Pro-Football-Reference were taller than 6-2, and the only one that is actually a running back is Steven Jackson, who was pretty much not actually in the league in 2015.
So, yeah. Derrick Henry. Big, big dude.
Show Comments
Hide Comments
Our Latest Stories
The Browns quarterback took to Twitter to discuss his personal life

Broncos GM John Elway doesn't sound like he has any regrets about letting Brock Osweiler get...

The Division-III left tackle transfer is quickly proving he has a future in the NFL
Clay Matthews and Morgan Burnett join Sam Shields as out, while two others are now doubtfu...

The former NFL wide receiver has some strong opinions on the commissioner

Gurley rushed for 1,106 yards as a rookie, now he's averaging 2.7 yards per carry