Bears decide not to retain defensive line coach and LB coach
The Chicago Bears announced on Sunday that defensive line coach Mike Phair and linebackers coach Tim Tibesar will not be returning to the team.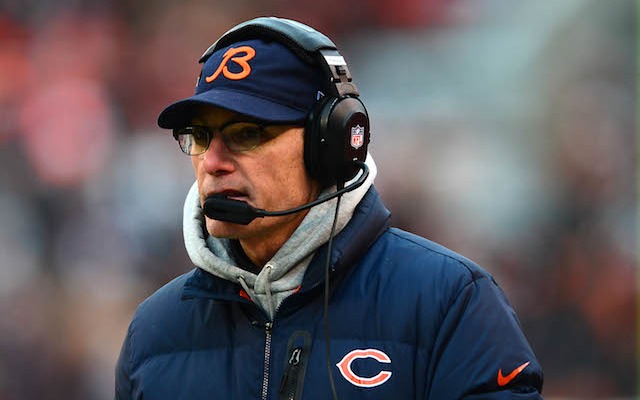 The Chicago Bears defense had some holes in it in 2013. The Bears gave up almost 400-yards per game and ranked 30th in the NFL. So it shouldn't come as surprising news that coach Marc Trestman decided to let two defensive assistants go on Sunday. 
The Bears announced that defensive line coach Mike Phair and linebackers coach Tim Tibesar will not return to the team next season, "We thank Mike and Tim for their effort and dedication," Trestman said in a statement. "They are men of high character and integrity. These are not easy decisions and we do not attribute our lack of success on defense to two individuals. We need to improve in all areas defensively and that will be a focal point for us this offseason."
One person who will keep his job is defensive coordinator Mel Tucker. The 2013 season marked Tucker's first one with the Bears, before that, Tucker was a defensive coordinator in Jacksonville for four seasons. 
"We believe Mel is the right person to lead our defensive unit," Trestman said. "He fully understands where we need to improve, has the skill set and leadership to oversee the changes that need to be made and to execute our plan to get the results we know are necessary."
Trestman may be giving Tucker the benefit of the doubt because of how hamstrung the Bears defense was by injuries in 2013. Defensive tackle Henry Melton (13), linebacker D.J. Williams (10), cornerback Charles Tillman (8) and linebacker Lance Briggs (7) all missed at least seven games this season. 
Show Comments
Hide Comments
Players can now sell their data as the NFLPA looks to advance player safety

Ross looks like the perfect replacement for Brandin Cooks in the Big Easy

The former Bucs and Raiders star only sees 'splash plays' with the Texas A&M defensive end
Expect four QBs to come off the board and for Reuben Foster not to fall out of the first r...

John Lynch needs a franchise QB, but he also said the 49ers were open to trading the pick

From busts to Super Bowl-winning underdogs, 10 NFL Drafts have churned out a disparity of...