Bears QB Jay Cutler ruled out for Week 12 vs. Rams
Bears coach Marc Trestman said on Monday that Jay Cutler has been ruled out for Chicago's Week 12 game in St. Louis.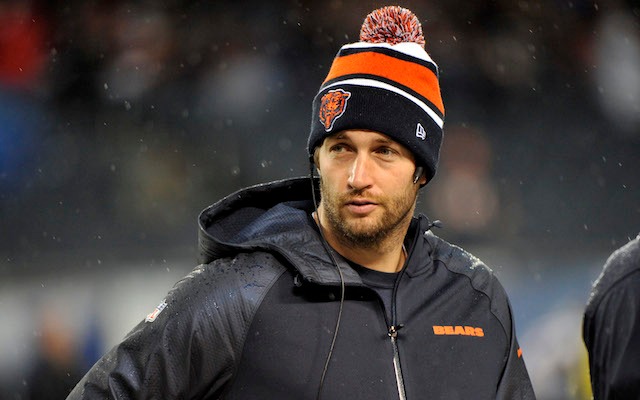 Bears coach Marc Trestman has said that quarterback Jay Cutler is 'week-to-week,' but that doesn't mean Cutler will be playing any time soon and he definitely won't be playing in Week 12. Trestman said on Monday that Cutler won't be the Bears' starter against the Rams. 
"I would rule Jay out for Sunday," Trestman said, via ESPN.com. 
Just because Cutler will be missing his second straight game with an ankle injury and just because Josh McCown is 2-0 in two starts this season doesn't mean there's a quarterback controversy in Chicago. Trestman reaffirmed on Monday that a healthy Cutler is his starting quarterback.
"Jay is the quarterback of our football team and Josh is our backup quarterback," Trestman said. "The three of us all know that. That hasn't changed."
McCown threw for 216 yards and a touchdown in Chicago's 23-20 overtime win over Baltimore on Sunday. The Bears overcame an early 10-0 deficit and an almost two-hour weather delay to get the win. 
After the game, McCown was asked if he's starting to feel like the Bears starting quarterback. 
"I have said this over and over again -- I'm the backup quarterback on this team. The way that I serve my team is to play when the starter is not healthy," McCown said, via the Chicago Tribune. "Jay is our starting quarterback, there is no doubt about that. So for me, I need to serve our team, in my role. Hopefully whenever Jay is healthy, we are still in a position to get everything we want to get accomplished and done when he takes back over."
McCown may say he's the backup quarterback and Trestman may say McCown's the backup quarterback, but if the Bears keep winning with McCown, it's going to be hard for Trestman to bench him. As CBS Sports NFL Insider Jason La Canfora wrote on Monday, the Bears will have a decision to make on Cutler and the odds of the team signing him to a long-term deal are "bleak."
Show Comments
Hide Comments
Our Latest Stories
Check out the uniforms that Oakland and Kansas City will be wearing on Thursday

Birthday parties can get expensive

The Ravens are going to use the Force to beat the Patriots
Are the Chargers going to move to Los Angeles?

The return of RG3 is apparently upon us

Here's who can cash in big, as well as five guys who won't be getting their bonuses