Bears S Chris Conte out 4-5 months after shoulder surgery
Bears safety Chris Conte will be sidelined for the next 4-5 months after undergoing shoulder surgery in late March.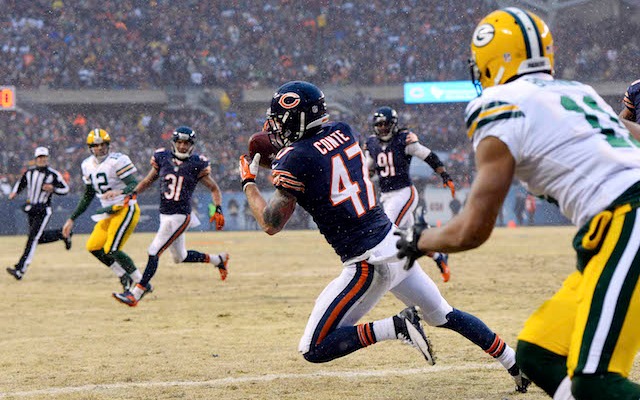 Since free agency began on March 11, the Chicago Bears have been on a safety signing binge. Over the past three weeks, the Bears have signed three safeties and re-signed one of their own. Those four moves might have been made because of the health of starting free safety Chris Conte. 
Conte underwent shoulder surgery in late March and is expected to be sidelined for the next 4-5 months, according to the team's website. That means Conte could be back in August or worst case scenario, it could mean Conte misses the first week or two of the Bears' regular season. 
The third-year safety started all 16 games for the Bears last season, but that doesn't mean he's guaranteed a starting job or even a roster spot. Once he's healthy, Conte will have to compete with newly signed safeties Ryan Mundy, M.D. Jennings and Danny McCray. 
"I know I'm going to have to compete for my position on this team," Conte told the Bears' official website. "I am prepared to do that and felt having this surgery was the best way to be 100 percent healthy and be the best player I can possibly be."
Since being selected by Chicago in the third round of the 2011 NFL Draft, Conte has started a total of 40 games for the Bears and he doesn't seem to be fazed by the added competition. 
"Competition is a big part of why I love playing football," Conte said. "I knew they would be bringing in players to compete. It doesn't bother me. It will only make me better."
Besides Mundy, Jennings and McCray, the Bears also have Craig Steltz, whom the team re-signed to a one-year contract on March 18. 
Show Comments
Hide Comments
Both teams blasted the reports of a potential Kirk Cousins deal during Round 1 of the draf...

After an unpredictable Round 1, here are some predictions you can bank on for Rounds 2 and...

Receivers surprise in the top 10, Alabama goes MIA in the top 15 and more 2017 NFL Draft t...
Florida State RB Dalvin Cook will kick off Day 2 of the draft

There were a lot of good moves made during the first day of the 2017 NFL Draft

It seems that fans in Chicago feel like the Bears may have gotten ripped off