Ben Roethlisberger calls 0-4 Steelers 'worst team in the league'
If you want to call the 0-4 Pittsburgh Steelers the worst team in the NFL, Ben Roethlisberger's not going to argue with you.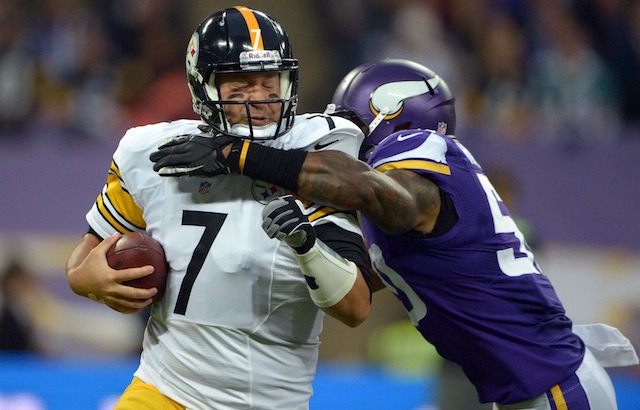 Through the first four weeks of the NFL season, a few teams have looked really bad, teams like the 0-4 Jacksonville Jaguars. The Jaguars are losing by an average of 24.5 points per game, but does that mean they're they worst team in the league?
Not according to Steelers quarterback Ben Roethlisberger. Roethlisberger would like to vote for his team. The Steelers lost to the Vikings 34-27 on Sunday at Wembley Stadium in London to drop to 0-4 for the first time since 1968. 
"Right now, you could say we're the worst team in the league," Roethlisberger said. "That hurts."
Roethsliberger might have an argument. The Steelers have trailed by double-digits at least once in each of their four losses and the offense hasn't been able to get the run game going. Le'Veon Bell's 57 rushing yards against Minnesota on Sunday is the highest total by a Steelers running back through four weeks this season. 
The Steelers 0-4 record marks only the second time the team has been under .500 through four games since Roethlisberger took over as the full-time starter in 2005. In 2006, the Steelers opened 1-3 and finished 8-8. 
"We are in uncharted territory and the water is dangerous right now," Roethlisberger said. "It stings. I have to hope and believe we can turn it around. That's the approach I'm going to take this week and next week. I'm going to do the best I can to lead these guys and let them see how I go about my job."
If the Steelers are going to right the ship, they have the schedule to do it. After a bye in Week 5, Pittsburgh only plays one of its following five games against a team that's over .500. Not to mention, even at 0-4, the Steelers are only two games out of the division lead with the Browns, Bengals and Ravens all tied at 2-2. 
Roethlisberger might be right about the Steelers being bad, but until the Steelers fan base is paying for Tim Tebow banners to be flown over Heinz Field, we won't call Pittsburgh the worst team in the league. 
Dez spent $16,000 on barbecue food to throw a party and a kickball game for people in his...

Oher signed a three-year extension with the Panthers last offseason

Harrison is a strong man that loves showing off how strong he is
Simpson drew money from his NFL player pension, which is protected by Nevada laws

Johnson will likely work once again as the primary backup to David Johnson

Turner has made the Pro Bowl each of the last two seasons and was rewarded with a new cont...