Ben Roethlisberger has sprained AC joint, torn ligaments in his shoulder
Roethlisberger suffered the injury when he was driven into the ground by Bengals linebacker Vontaze Burfict.
The Pittsburgh Steelers say Ben Roethlisberger is day to day with the shoulder injury he suffered during the team's wild-card win over the Cincinnati Bengals. Big Ben himself says he not only has a sprained AC joint, but also torn ligaments in that shoulder.
In his weekly radio appearance on The Cook and Poni Show on CBS affiliate 93.7 The Fan, Roethlisberger revealed the full extent of his injuries, which occurred when he was sacked and driven into the ground by Bengals linebacker Vontaze Burfict late in the third quarter. Roethlisberger was then removed from the game and carted to the locker room.
Backup quarterback Landry Jones played the next few drives before Roethlisberger returned for the team's last-ditch comeback attempt, which succeeded thanks to a fourth-down conversion and multiple personal foul penalties on Cincinnati.
"It didn't hurt when I reached back to throw," Roethlisberger said of that drive. "But it was pushing forward to throw and then the end of the throw. So I definitely felt like I was shortening up my motion up a little bit, which is why we threw some screens, and couldn't really get the ball down the field … I think it just more affected how I could throw it."
Steelers coach Mike Tomlin said on Tuesday that Roethlisberger will be a partial participant in Wednesday's practice and that he has a chance to play this weekend.
As for the QB himself, "I'll go in tomorrow with the intent to see what I can do," he said. "I honestly don't know. I haven't tried to throw a football since the game, and maybe that's not even the right thing to do right away. I'll see the doctors and trainers tomorrow, we'll evaluate kind of how I feel. If anything, maybe I can practice and hand off and still get some mental reps that way. So we'll really just kind of see how it goes tomorrow."
Roethlisberger has a history of playing soon after serious injuries, but as our own Ryan Wilson showed earlier this season, his performance has left much to be desired in those games. We don't know just yet how physically ready he'll be for this weekend's game against the Denver Broncos, but it's going to be tough sledding against one of the league's best defenses no matter whether he's fully healthy or not.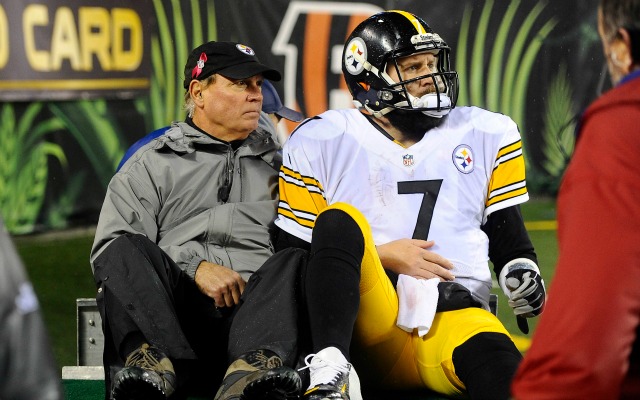 Show Comments
Hide Comments
Our Latest Stories
Broncos GM John Elway doesn't sound like he has any regrets about letting Brock Osweiler get...

The Division-III left tackle transfer is quickly proving he has a future in the NFL

Clay Matthews and Morgan Burnett join Sam Shields as out, while two others are now doubtfu...
The former NFL wide receiver has some strong opinions on the commissioner

Gurley rushed for 1,106 yards as a rookie, now he's averaging 2.7 yards per carry

Everything you need to know for the Vikings vs. Panthers on Sunday