Bengals announce sellout, NFL avoids playoff blackout
There won't be any blackouts in the NFL this weekend. The Bengals announced a sellout on Friday becoming the fourth and final team to sellout their wild-card home game.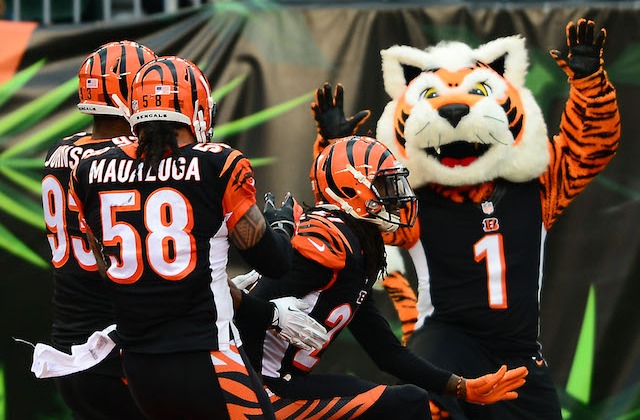 The Bengals opened up their little black book this week, called up all of their sponsors and it looks like the strategy has paid off. About one hour before Friday's 4 p.m. ET deadline, the Bengals announced that Sunday's wild-card playoff game against the Chargers was a sell out, which means the game will be televised locally in Cincinnati.
The Bengals were the last of three teams to announce a sellout on Friday. Indianapolis owner Jim Irsay tweeted on Friday morning that the Colts game against Kansas City was a sellout thanks to Meijer, a local business that bought the final 1,200 tickets. 
A few hours after Irsay's tweet, the Packers announced a sellout, which means there will be about 73,000 fans braving the minus-30 degree wind chill that's expected in Green Bay on Sunday. 
Fans in Cincinnati will be able to watch the game locally thanks in large part to sponsors who picked up the tab on the rest of the tickets. National grocery chain Kroger bought around 1,200 of the leftover tickets, but that's not all, the Bengals also got help from some big-time sponsors, including: Tide, Bounty, Gillette and COVER GIRL. Easy, breezy beautiful -- Bengals-Chargers is on television. 
The sellouts in Indy, Green Bay and Cincinnati mean that the NFL will avoid the league's first playoff blackout since 2001. 
Show Comments
Hide Comments
Brad Kaaya looked smooth in passing drills in front of all 32 teams at Miami's pro day

That would result in the second-most touches in a single NFL season

The free agent notched two picks for the Rams last year, but his offseason isn't going wel...
So then, let's compare Bennett to Rob Gronkowski

The NFL approved the Raiders' move to Las Vegas on Monday

'I don't see anything happening at all,' Seahawks coach Pete Carroll said Wednesday