Bengals, Colts and Packers looking to avoid playoff blackouts
If the Bengals, Colts and Packers don't start selling tickets at a faster pace, there could be three wild-card games blacked out this weekend.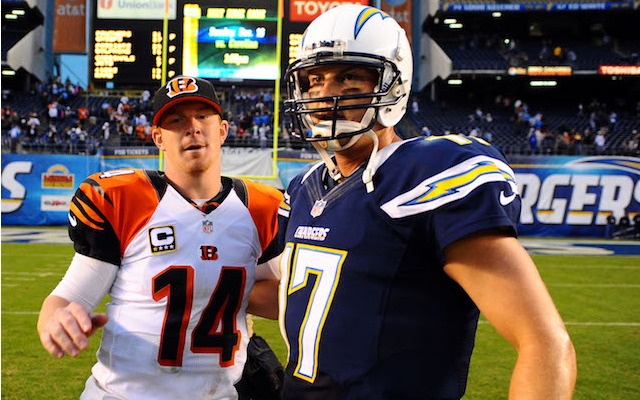 Blackouts aren't just a regular season thing, they can happen in the playoffs too and if the Bengals, Packers and Colts don't start selling more tickets soon, those three fan bases could be left in the dark this weekend. 
The Bengals have just over 10,000 tickets they need to sell before Thursday's blackout deadline, according to Andrew Brown, the team's manager of ticket sales. Under NFL rules, a game has to sellout 72 hours before kickoff or it will be blacked out in the team's local market. 
If the Bengals don't sell those 10,000 tickets, then the team's wild-card game against San Diego won't be shown locally in Cincinnati and right now, things are looking grim.
"NFL playoff games are rare and wonderful chances for communities to showcase their communities in front of a national TV audience of roughly 30 million viewers. The Club appreciates the support we are seeing and remains excited about next Sunday's game," the team said in a statement, via the Cincinnati Enquirer. "However, we need to be candid that -- unless the rate of daily sales increases -- we will not achieve a sellout, and the game will not be televised in Cincinnati, Dayton or Lexington, Ky., per NFL policy."
The Bengals aren't the only team struggling to sell playoff tickets. The Colts have over 6,000 tickets left for Saturday's game against Kansas City, according to the team's website. Under normal blackout rules, the Colts would have to sellout their game by Wednesday at 4:30 p.m. ET. However, since Wednesday is a holiday, the NFL has granted Indianapolis an automatic 24-hour extension, so the Colts have until Thursday to sellout the game. 
The Packers also have several thousand playoff tickets left, but it doesn't seem likely their game against San Francisco will be blacked out in Green Bay. The team had 40,000 playoff tickets available on Monday, but that number quickly went down to 13,000 by Tuesday at 1 p.m. ET, according to the Green Bay Press-Gazette. 
There hasn't been a playoff blackout since the 2001 season when the Dolphins hosted the Ravens in the wild-card round. A Dolphins playoff game was also blacked out in 2000 and fans in Miami missed a Dolphins overtime win over Peyton Manning's Colts. 
According to Sports Illustrated, the only other two playoff games to be blacked out since 1990 was a Packers at Lions game in the 1993 wild card round and an Oilers at Bills in the 1992 wild card. In the Buffalo-Houston game, Bills fans missed the team's famous comeback from a 35-3 second half deficit. 
The good news for the Packers, Bengals and Colts is that the NFL will usually grant an extension if the league thinks progress is being made. In 2001, the Saints were granted an extension until Friday for a Saturday game. 
Show Comments
Hide Comments
We ran a 'Madden' 17 simulation with Jimmy Garoppolo and the Patriots aren't terrible

Baldwin criticizes his two teammates, but doesn't make a big deal of it

Could McCaffrey overtake Dalvin Cook and Leonard Fournette to be the top back in the 2017...
Stork, a center, is just 25 and started the Patriots' most-recent Super Bowl as a rookie

The Broncos GM and Cardinals coach bring plenty of experience to the table

It actually makes a lot of sense given Cleveland's limited options with troubled WR