Bengals DT Geno Atkins has torn ACL, out for season
The Bengals confirmed Geno Atkins tore his ACL and is out for the rest of the year.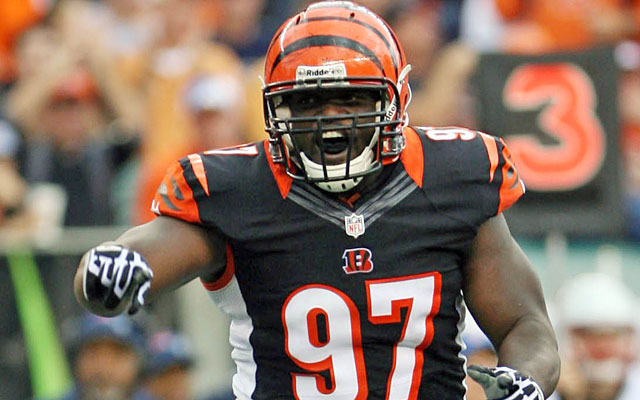 The Bengals' loss in Miami on Thursday night wasn't just your normal nightmare loss. It was doubled up thanks to the injury suffered by superstar defensive tackle Geno Atkins, which the team announced as a torn ACL on Friday.
Marvin Lewis confirmed on Friday that Atkins tore his ACL against the Dolphins.
Lewis initially told reporters Thursday night (and credit to him for doing so; it's pretty unusual to see that in today's NFL) that Atkins suffered an "ACL injury." Reports indicated it was likely torn but it wasn't confirmed until Friday afternoon.
Atkins suffered the injury during the second quarter on a Dolphins run. He attempted to stop and his knee got bent up underneath a pile of players. He remained on the ground for a bit until he was able to stand up and limp to the sideline, at which point he was carted to the locker room.
The defensive tackle was quickly ruled out for the rest of the game.
Miami took advantage too, running right at the center of the Bengals defense when Atkins left, with Ryan Tannehill eventually plunging in for a go-ahead score from the 1-yard line after Daniel Thomas motored down to the goal line.
Atkins was the Bengals' leading pass-rusher at the time of his injury, totaling six sacks. Defensive coordinator Mike Zimmer can help Cincy recover from this, but replacing Atkins production is impossible.
The only small bright spot for Atkins here is that he signed a five-year, $55 million contract before the season began.
Show Comments
Hide Comments
Jones provided Cowboys tickets and travel accommodations to officers and their families

Romo played DJ at a charity event and got Ezekiel Elliott on stage for 'O.P.P.'

Kaepernick has spent much of his offseason helping others and now supporters will return the...
Beast Mode led a bicycle parade through his hometown and apparently didn't even have to pe...

The NFL won't punish Revis, who remains on the market as a free agent

The NFL is playing the long game on L.A., but it's taking a serious hit in the short term