Bengals linebacker Vontaze Burfict tops performance-based pay list
Every season, some players are rewarded monetarily for play above and beyond their paycheck. Eleven players earned more than $250K in performance-based pay (in addition to their salaries), led by the Bears' Jordan Mills and the Bengals' Vontaze Burfict.
• 1 min read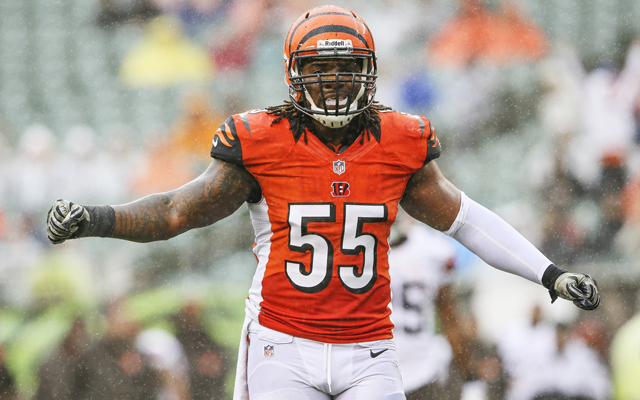 More: Complete performance-based pay list (PDF) | News & notes
The NFL has released its annual report on performance-based pay, with 11 players earning at least an additional $250,000 in 2013 compensation based on their work last season. The performance-based pay program works to compensate players whose level of playing time was much higher than what their salary would have paid.
Generally, lower draft picks and un-drafted free agents who end up being starters, earn the most through the program, because their base salaries very low.
For 2013, Bears tackle Jordan Mills ($318,243.96) topped all earned in the program, according to the NFL Management Counsel report that was released recently to teams.
Bengals linebacker Vontaze Burfict, a former un-drafted player who has annually been near the top in performance-based pay since becoming a starter, was second in the league accruing $315, 847. 69 in performance-based pay.
The following players earned more at least $250,000 in performance-based pay:
Tops in performance-based pay
Player
Position
Team
Performance-based pay
Jordan Mills
Tackle
Bears
$318,243.96
Vontzaze Burfiict
Linebacker
Bengals
$315,847.69
Ronald Leary
Guard
Cowboys
$307,104.43
George Iloka
Safety
Bengals
$281,515.23
Melvin White
Defensive back
Panthers
$269,714.80
Teshaun Gipson
Safety
Browns
$266,299.14
Yeremiah Bell
Safety
Cardinals
$263,067.02
Larry Warford
Guard
Lions
$260,630.09
Jason Kelce
Center
Eagles
$259,815.06
J.R. Sweezy
Guard
Seahawks
$258,414.01
Paul Worrilow
Linebacker
Falcons
$254,761.29
Sanders Commings
Defensive back
Chiefs
$253,736.76
Show Comments
Hide Comments
Our Latest Stories
Credit Mike McIntyre for developing the talent needed to catch scouts' attention in this t...

The Browns quarterback took to Twitter to discuss his personal life

Broncos GM John Elway doesn't sound like he has any regrets about letting Brock Osweiler get...
The Division-III left tackle transfer is quickly proving he has a future in the NFL

Clay Matthews and Morgan Burnett join Sam Shields as out, while two others are now doubtfu...

The former NFL wide receiver has some strong opinions on the commissioner