Bengals punter Kevin Huber gets destroyed on Steelers return TD
Bengals punter Kevin Huber had a rough quarter on Sunday. Huber fumbled a punt snap on his first punt attempt, then suffered a fractured jaw on his second punt.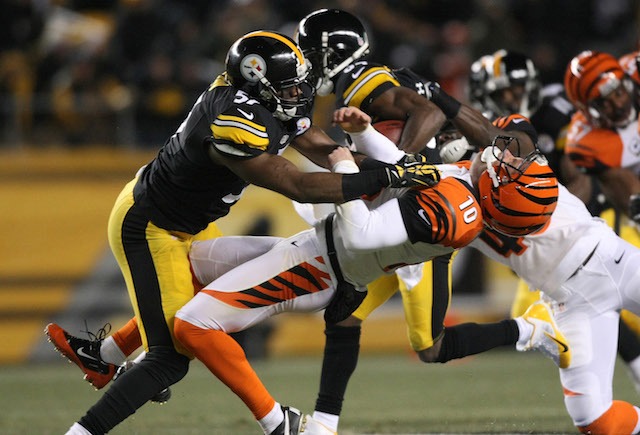 Being a punter is one of the easiest jobs in the NFL, until someone blindsides you and fractures your jaw that is. Cincinnati Bengals punter Kevin Huber found that out the hard way on Sunday. 
After a first quarter punt, Huber tried to make a tackle on Steelers punt returner Antonio Brown. Only Huber didn't come anywhere near making the tackle because he got destroyed by Pittsburgh's Terence Garvin.
If you've never seen someone fracture their jaw right before your eyes, just go ahead and watch that again. Now you have. Huber suffered a fractured jaw on the play and won't be returning to the game. Kicker Mike Nugent will handle the Bengals punting duties. Andy Dalton will take Huber's place as Nugent's holder on field goals and extra points. 
(Wink of the CBS Eye to GIFDSports)
The pass rusher thinks he is being misused by Kansas City

The legendary Rams running back wants to see Sean Mannion play instead of the No. 1 pick

A 911 call from the Uber driver sounds pretty terrifying
The Falcons quarterback thinks more checks and balances could have helped Atlanta

The HOF will not stop the Juice from showing up at the ceremony to honor the new inductees

Raiders fans are probably going to be jealous of Tiger's pool table