Bills disgruntled safety Jarius Byrd would welcome trade
Jarius Byrd has not requested a trade, but -- still seeking an extension -- that doesn't mean he would not welcome a deal.
• 1 min read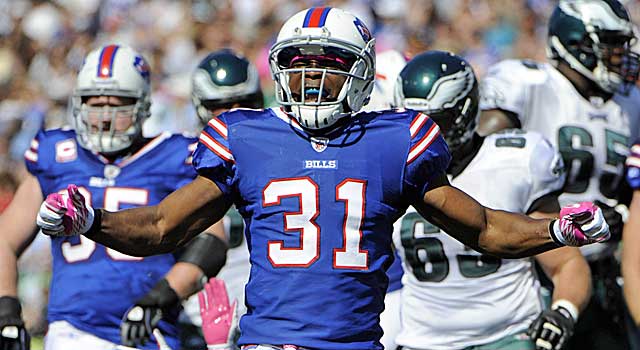 Contrary to a report, Bills safety Jairus Byrd has not requested a trade, but, according to a source close to the situation, he would welcome a change of scenery at this point as he plays out the 2013 season on the franchise tag. Sources said the Bills sought further clarity from the NFL about his status, inquiring as to whether, if he were traded, if a new team could possibly alter his contract.
The word back from the NFL Management Council was as expected. As a franchise player, no changes to Byrd's contract could be made by any team after the July 15 deadline to extend the contract of a franchise player. So given that any team that acquired Byrd would essentially be only renting him for the season, with Byrd eligible for unrestricted free agency unless he was franchised again (at a 20 percent raise), trade talks haven't really gotten off the ground.
Teams will not part with what Byrd -- a playmaking safety just entering his prime -- is worth, given the uncertainty about his future with their club. Byrd is currently dealing with foot injuries, and will not face New England in the season opener Sunday. It's only logical to wonder if he had contract security beyond this season if he might be more willing to extend himself medically to play.
The sides could not get close on an extension this summer, with Buffalo floating offers worth about $7 million a season, sources said, which is similar to the franchise tag value. Regardless, it would be difficult to see Byrd back in Buffalo in 2014 at this point. With the trade deadline now pushed back, perhaps the Bills assume a pick for him at some point if they believe it is worth slightly more than the compensatory pick his departure would net them, particularly if the rebuilding team struggles early on.
With the trade deadline now at the midpoint of the season, trading Byrd then would cost the team acquiring him only half of his $6.92M salary, and would also cut his cap number in half, which would increase the number of teams able to assume the contract.
Show Comments
Hide Comments
Spencer Hall grades every seventh-round pick of the 2017 NFL Draft

Follow all of the latest news and rumors as the 2017 NFL Draft wraps up in Philly

Pete Prisco grades every third-round pick of the 2017 NFL Draft
Jerry Jones and everyone else in the war room had a good laugh at the expense of Eagles' f...

It was her 'first official car,' Watson said

Kaaya will battle for the right to back up Matthew Stafford