Bills offering discounted tickets to avoid first NFL blackout of 2013
The first televised blackout of the NFL season could happen on Sunday in Buffalo if Bills fans don't snatch up close to 7,000 tickets by the league's 1 p.m. deadline on Thursday.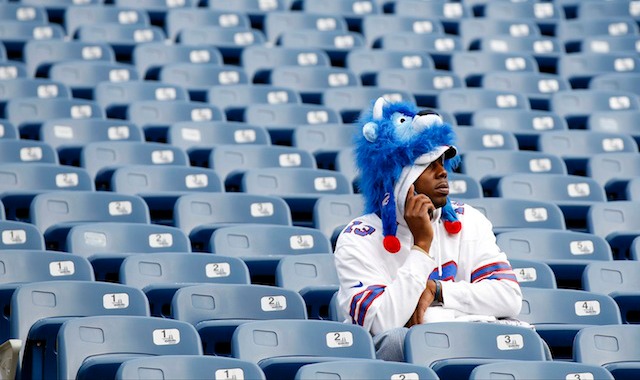 The NFL could have its first television blackout of 2013 and that blackout could be happening in Buffalo on Sunday. Buffalo has until Thursday at 1 p.m. to sell the 7,000 tickets needed to avoid the blackout. Although if the team doesn't sell all 7,000, but gets close to it, the Bills can request a 24-hour extension to sell the remaining tickets. 
How do you get fans to buy tickets? You can give them free beer, that always works. However the Bills aren't going to go the Jacksonville route, instead Buffalo's going to offer its fans up to $15 off tickets to Sunday's game against Cincinnati. 
#Bills vs. #Bengals: Up to $15 off per ticket. Use promo code GPBBT. http://t.co/K5UCKWej00 | pic.twitter.com/Z9e3EcVsCh

— Buffalo Bills (@buffalobills) October 9, 2013
The Bills aren't the only team having trouble selling tickets this week, the Chargers are having problems too. San Diego has 10,000 tickets remaining for the team's Monday night game against the 4-1 Indianapolis Colts, according to U-T San Diego. However, since the Chargers game is on Monday, San Diego has until Friday at 1 p.m. to sell its remaining tickets. 
If the Chargers don't sell out the game, it would mark the first time since the 1999 season that a Monday night game was blacked out in a team's home market. 
Blackouts haven't been a problem in the NFL this season. Through five weeks there have been zero blackouts. That's longest the league has gone without a blackout to open a season since 2008.
Show Comments
Hide Comments
The Seahawks have drafted one quarterback in the Pete Carroll era

The Jets have been attempting to move Richardson for a while now

With 75 picks in the cards for Friday, we have you covered with all the action and reaction...
Things might be get ugly this season between the Watt brothers

McKinley promised his late grandmother that he would make the NFL, and he did

Trubisky was shocked when the Bears picked him, and knows he's going to back up Glennon in...