Bills owner and founder Ralph Wilson dead at 95
Bills owner Ralph Wilson died at the age of 95, the team announced Tuesday.
Ralph Wilson, founder and owner of the Buffalo Bills and a member of the Pro Football Hall of Fame, died at the age of 95 the Bills announced Tuesday.
Wilson, a legendary NFL owner, formed the Bills in 1959 and was one of the original American Football League owners. 
"I speak for everyone within the Bills organization when I say that we are all suffering a deep and profound sadness with the passing of our Hall of Fame owner Mr. Wilson," Bills CEO and President Russ Brandon said in a statement Tuesday. "We have lost our founder, our mentor, our friend, and this is a very difficult time for us all."
During Wilson's run as owner, the Bills captured an AFL Championship (1964-1965) and four consecutive AFC titles in 1990, 1991, 1992, and 1993 but never a Super Bowl.
"No one loved the game of football more than Ralph Wilson," Brandon said. "He passed away peacefully at his home with his beautiful wife, Mary, and his daughters by his side."
Wilson was a one-time president of the AFL, helping to negotiate the merger between the NFL and AFL, which helped the league blossom into what it's become today.
"This incredible man was the personification of the Buffalo Bills," Brandon said. "His life was grit, determination and resolve. He was bigger than life in many ways and yet he was the everyday man, driving his Ford Taurus to the local store and greeting everyone as they called out 'Hi Ralph!'
"He will be greatly missed by those in our community whose lives he touched."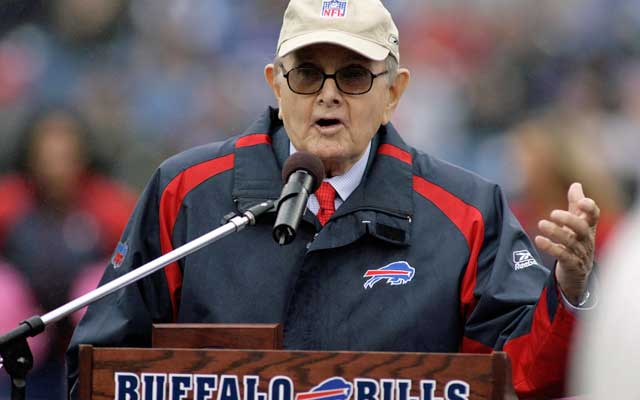 Wilson had a tremendous impact on the NFL as an owner. He was described as the "conscience" of the league and served on multiple committees, including Board of NFL Charities, the Super Bowl Site Selection Committee, and the NFL's Expansion Committee. He also once served as Chairman of NFL Pension Committee and Labor Committee. 
"Ralph Wilson was a driving force in developing pro football into America's most popular sport," NFL Commissioner Roger Goodell said in a statement Tuesday. "He loved the game and took a chance on a start-up league in 1960 as a founding owner of the American Football League. He brought his beloved Bills to western New York and his commitment to the team's role in the community set a standard for the NFL."
We are grateful for his many contributions to the NFL and offer our heartfelt sympathy to the Wilson family." That's @nflcommish on Ralph.

— Greg Aiello (@gregaiello) March 25, 2014
The group of men who helped form the AFL were known as "The Foolish Club," and Wilson was one of two surviving members.
"At a critical juncture in the National Football League's history, Ralph Wilson provided a level of leadership and vision that helped make the NFL what it is today," Cardinals president Mike Bidwell said in a statement. He not only recognized the sport's potential popularity and success but was pivotal in helping to achieve it. Our hearts go out to his wife Mary, the Bills organization and everyone in Western New York on their tremendous loss."
Only Barron Hilton now remains alive and Wilson was the last remaining NFL owner of the group.
Wilson was enshrined in the Pro Football Hall of Fame in 2009. 
"His legacy is great," Dolphins owner Stephen Ross said. "He led a good life, made his mark. He was somebody very well respected."
A new and uncharted chapter will begin for the Bills, now facing their first-ever change in ownership after Wilson's death.
According to a police report, he faces six years in jail and/or a $10,000 fine

Floyd has claimed that he failed the test due to drinking too much kombucha
Fairley will miss the season due to a heart condition, and his career is in jeopardy

The Chiefs went 43-21 under Dorsey's guidance

He definitely doesn't skip leg day