Bills QB EJ Manuel suffers right knee injury, leaves game early
Bills quarterback EJ Manuel left the game in the third quarter on Thursday after taking a hit from Browns defensive back Tashaun Gipson.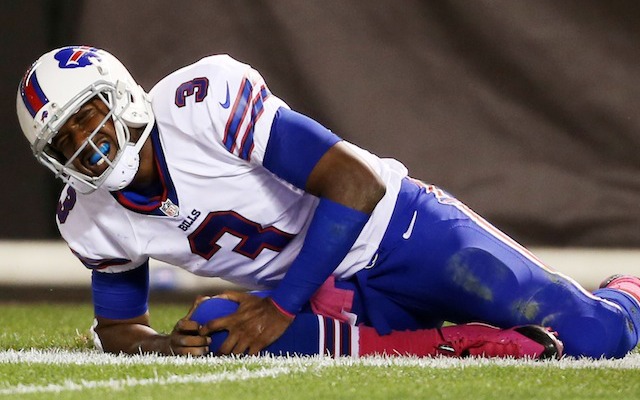 It's been a rough night for quarterbacks in Cleveland.
Browns starter Brian Hoyer was knocked out of the game in the first quarter after sliding awkwardly after an 11-yard run. Hoyer's injury could be serious, Browns coach Rob Chudzinski said the team is fearful that Hoyer has a torn ligament. 
Hoyer isn't the only injured quarterback though. Bills starter EJ Manuel left the game in the third quarter after taking a big hit from Browns defensive back Tashaun Gipson. Manuel grabbed his right knee after the play and left the game. He did not return.
The injury happened on a third-and-8 play as Manuel was finishing a 14-yard scramble. Manuel was near the sideline but wasn't out of bounds when Gipson hit him. Manuel immediately clutched his right knee after the hit.
Manuel was able to walk off the field under his own power. 
The Bills backup quarterback is undrafted free agent Jeff Tuel. Tuel entered the game with 8:02 left in the third quarter and finished the touchdown drive that Manuel started to give Buffalo a 24-17 lead. 
Show Comments
Hide Comments
Floyd claims to have drank four or five bottles of kombucha tea, resulting in a failed alcohol...

Atlanta's new video board wraps around the length of the stadium and looks incredible

Miami wound up turning to Matt Moore, who fared well but couldn't deliver in the playoffs
John Mara says Beckham needs to show more maturity, but he wishes every player worked as hard...

Bennett is transitioning from playing with one all-time great quarterback to another

Carr is the highest-paid player in the NFL, until the next deal for a franchise quarterback...