Bills WR Sammy Watkins: Connection with EJ Manuel isn't there yet
Sammy Watkins and EJ Manuel haven't quite got their on-field chemistry figured out yet.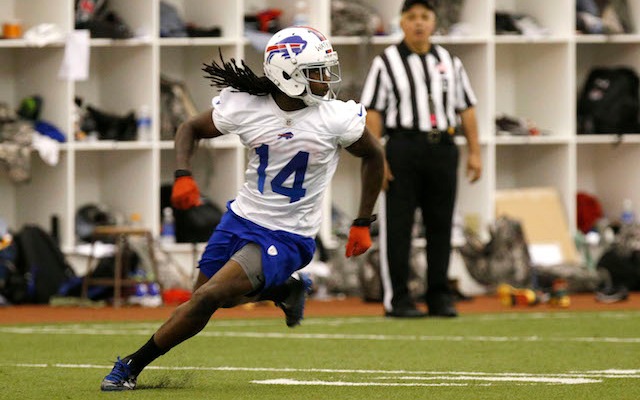 Sammy Watkins and EJ Manuel are on the same team, but apparently they're not on the same page yet. The Bills rookie receiver said this week that he doesn't hasn't quite developed an on-field connection with his new quarterback. 
"It's not fully there," Watkins told NFL Network. "I mean, we've been connecting at minicamp, and OTAs, but at the same time, I could be wide open, and if he don't feel it, or if I run it a different type of way, he won't throw the ball. So it really just got to come with him believing in me. I believe in him."
Despite the fact that Manuel and Watkins are still working on their chemistry, Watkins says he's been impressed with his second-year quarterback. 
"He can throw just about any ball," Watkins said. "So it just comes down to... we just need a lot of reps."
Those reps won't be happening anytime soon -- at least not at a Bills practice. Buffalo wrapped up minicamp on June 19 and won't practice again until July 20 when the team's training camp kicks off at St. John Fisher College in Pittsford, NY.
Watkins will probably want to make sure he's on the same page as Manuel by Nov. 30 when the Bills face the Browns. The rookie said this week he can't wait to 'battle, scrap and have a couple fights' with Cleveland. 
Browns safety Donte Whitner didn't take too kindly to Watkins' comments. 
Be quiet Sammy. Trust me!

— DonteHitner (@DonteWhitner) June 27, 2014
All you wack buffalo fans don't have to feel this. Sammy will!

— DonteHitner (@DonteWhitner) June 28, 2014
Thanks to Whitner and Watkins, people outside of Buffalo and Cleveland might actually have a reason to watch these two teams in Week 13. 
Show Comments
Hide Comments
We ran a 'Madden' 17 simulation with Jimmy Garoppolo and the Patriots aren't terrible

Baldwin criticizes his two teammates, but doesn't make a big deal of it

Could McCaffrey overtake Dalvin Cook and Leonard Fournette to be the top back in the 2017...
Stork, a center, is just 25 and started the Patriots' most-recent Super Bowl as a rookie

The Broncos GM and Cardinals coach bring plenty of experience to the table

It actually makes a lot of sense given Cleveland's limited options with troubled WR