Blake Bortles thinks Jaguars' commitment to Chad Henne is 'cool'
It doesn't sound like Jaguars rookie quarterback Blake Bortles is all that disappointed that Jacksonville is starting Chad Henne.
• 1 min read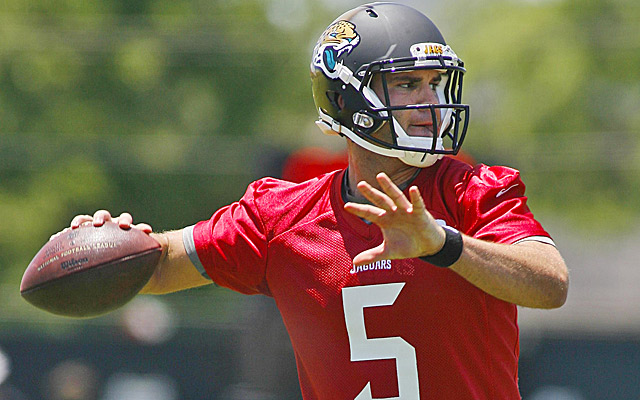 We've heard over and over this offseason -- and we've probably done some advocating of our own -- that the teams who drafted quarterbacks in the first round would be better off starting those rookies right away.
For now, though, all of those taken in the first round -- Jacksonville's Blake Bortles, Cleveland's Johnny Manziel and Minnesota's Teddy Bridgewater -- are in the backup role, though second-round pick Derek Carr has overtaken Matt Schaub in Oakland. This, even though Bortles, Manziel and Bridgewater all have had at least some success in preseason games.
Still, Bortles doesn't seem to mind the wait. In fact, he told Jaguars coach Gus Bradley that he likes the team's thus-far rock-solid commitment to starting Chad Henne at quarterback.
Here's what Bradley said, via the Florida Times Union:
"Blake came to me and said, "Wow, Gus, this is really good. I'm competing, don't get me wrong. What's cool is how strong you are for Chad.'"
Wait, so why would Bortles be so cool with it?
"'What's cool [is] because when it's my opportunity, you're going to be strong for me,'" Bradley said, repeating the conversation with Bortles.
Count Bradley, then, as being a fan of Bortles being a fan of Bradley's fandom of Henne.
"That's pretty good. That's pretty good," Bradley said. "Those are the lessons that he's learning, that he's seeing, that he has the ability to watch. I think that helps him when he does have his chance: 'OK, I know they're going to be strong for me. I don't have to worry about that. Let's go play.'"
Fine, but when exactly can we expect Bortles to take over for Henne? Not anytime soon, apparently.
"We felt that Chad executed and did really well," Bradley said. "It just worked out. If Chad had maybe not performed very well, we didn't feel that would be the case. He didn't show it in OTAs and in training camp (that he would falter). He picked it up."
Show Comments
Hide Comments
Here's everything you need to know about the 2017 NFL Draft

Marshawn Lynch might not ever take off his Raiders' helmet

Where does your team need the most help? Check out this team-by-team breakdown to find out
Hernandez's third suicide note remains a mystery

Beast Mode seems like he's going to be a popular guy in the Raiders' locker room

The Browns might go quarterback and not take Myles Garrett No. 1 after all