Boomer Esiason: If Manziel starts vs. Steelers he'll get his 'ass kicked'
Former NFL quarterback Boomer Esiason isn't impressed with Johnny Manziel and thinks if he's on the field in Week 1 vs. the Steelers it could get ugly.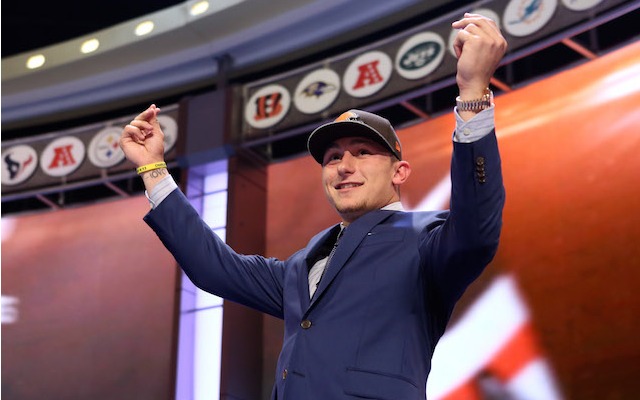 More NFL: Photos |  Videos & GIFs |  Training Camp updates | Manziel watch
Brace yourself, because we're in for a lot of Johnny Manziel. After an uninspiring effort against the Redskins Monday night, the Browns' quarterback situation is as murky as ever, but that isn't the story after Johnny Football gave the Redskins' bench the finger late in the third quarter.
Johnny Manziel letting the Redskins bench know how many scoring drives the Browns have been on tonight. pic.twitter.com/Sbtf2zzByB

— John Breech (@johnbreech) August 19, 2014
Honestly, we don't care but plenty of people do, including former NFL quarterback Boomer Esiason, who works on CBS' NFL pregame show and also hosts a radio show on WFAN in New York.
"I'm telling you right now, he is not even remotely close to being ready," Esiason said at the top of Tuesday's show. "If he opened as the starting quarterback in Pittsburgh in Week 1, he would get his ass kicked. And his ass would be driven into the ground. Because I'm telling you, other teams hate this guy. Hate him."
But this is about more than Manziel's middle finger. It's about, well, everything, from the partying, to the trouble at Texas A&M to the entitled attitude, to this text Manziel sent the Browns on draft night: "I want to wreck this league together."
Esiason was predictably unimpressed.
"Yeah, OK. You're gonna get wrecked, son," he said. "You know, the NFL is about as unforgiving a place as there is on God's green earth. It is a men's place. It is for people that have a very, very strong constitution. Whether or not you can handle it is going to be determined by your maturity level. And right now, this kid is a baby."
No word on how Esiason feels about former Browns punter Chris Gardocki.
There's a precedent! RT @AGretz: Found it. pic.twitter.com/XcPC5wl7DO

— ryan wilson (@ryanwilson_07) August 19, 2014
Show Comments
Hide Comments
Our Latest Stories
Packers cornerback Makinton Darleant is also charged in incident early Sunday morning

Panthers owner Jerry Richardson won't be in attendance as he continues to battle health is...

The Raiders vote is expected as early as Monday, and 'pace of play' is also high up on the...
Translation: The Browns want to upgrade at the quarterback position

Oher missed the final 13 games of the 2016 season

The new Packers tight end says he was inspired by his brother, Seahawks defensive end Michael...