Brandon Marshall: Johnny Manziel doesn't get it, needs to get life together
Based on his actions, it's fair to conclude that Johnny Manziel doesn't care much about football.
Based on his actions, it's fair to conclude that Johnny Manziel doesn't care much about football. During his two-year NFL career, he's primarily been in the news for his off-field goings-on, almost none of them good.
Just this season, he's had a domestic issue with his girlfriend (alcohol was involved), he spent his bye week partying in Austin, Texas (and then lied to his coach about it), and reportedly was in a Las Vegas casino last Saturday, the night before the Browns' season finale. Even weirder: Manziel reportedly wore a wig, mustache and sunglasses to hide his identity.
And while Cowboys owner Jerry Jones may be relishing the thought of bringing Manziel to Dallas, TheMMQB.com's Peter King thinks 25 teams wouldn't even put in a waiver claim for Manziel if the Browns cut him.
And now, Jets wide receiver Brandon Marshall, who had off-field issues of his own early in his career, has weighed in.
"Johnny, Johnny, Johnny. This is a serious topic," Marshall said during Tuesday's appearance on Showtime's Inside the NFL. "Well, first, you've got to forget about football, sir. You need to go get your life together. And to be quite frank, I don't think you get it. You don't understand. You're ruining a very, very special opportunity. It's an honor to be in the NFL.
"There is a thing out there called divine mentorship, where you can learn from others' mistakes. He has the opportunity to really sit back and reflect on his situation, look at others, and learn from it and be better."
There are reports that Manziel wants to play in Dallas and Jones hasn't exactly shot down that idea. But the reality is that, even if that comes to pass, Manziel hasn't shown he's close to being an NFL quarterback. Even if Jones buys him a one or two-year reprieve from the real world, the bottom line doesn't change: On Manziel's current course, he'll be out of football soon enough with little hope of getting another shot. If he doesn't think it can happen, his agent should set up a meeting with JaMarcus Russell.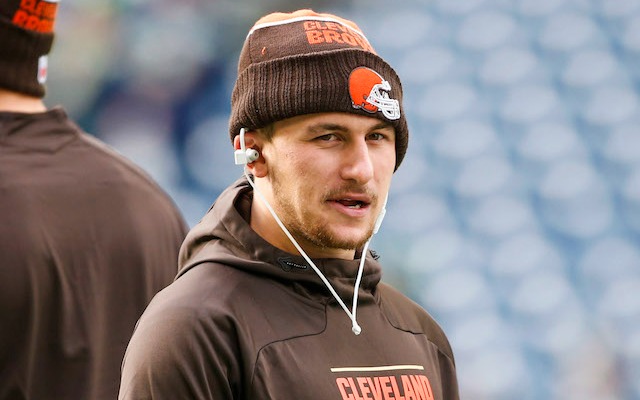 * via SportingNews.com
Show Comments
Hide Comments
Sometimes it's hard to figure out what the Bills are doing

Peterson would join a formidable backfield that includes Mark Ingram and, of course, Drew...

John Schneider has a simple rule: He doesn't like lying to people
Kizer, the former Notre Dame standout, is one of the top QBs in the draft class

Can the Browns get it right? Can the Cowboys and Raiders build dynasties?

The versatile safety/linebacker could slip out of the first round