Broncos GM John Elway: I want to get John Fox extension done
Broncos general manager John Elway said on Friday that he wants to get an extension done for coach John Fox. Fox's contract is set to expire after the 2014 season.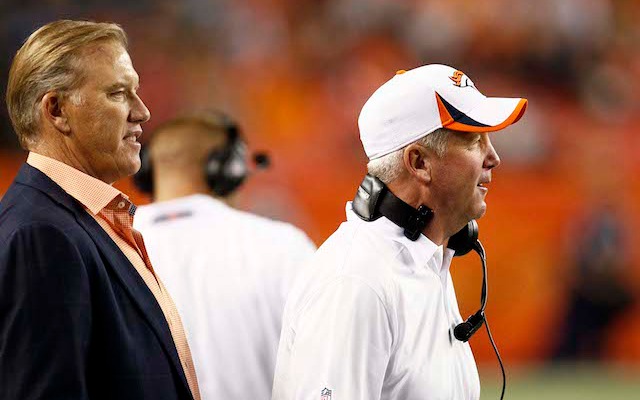 John Elway got his extension, now he wants to get John Fox one. Elway, who was signed to a three-year extension on Feb. 12 and officially named Broncos general manager, said at the NFL combine on Friday that getting Fox an extension is one of his top priorities. 
"I want to get him done," Elway said of Fox. "I'm going to sit down with his agent while I'm here. I'm going to sit down with him, see where we come out and what they're thinking."
Fox has one year left on the four-year, $14 million deal he signed before the 2011 season. In three years as Denver's coach, Fox is 34-14 and has won three AFC West titles. Fox didn't win all three of those division crowns with Peyton Manning either. During his first season in Denver, Fox won a division title with Tim Tebow running the show. 
"He's done a nice job," Elway said. "I think that when you look at winning three AFC West championships, there's a lot to that."
Before an extension gets hammered out though, Elway just wants to make sure everyone's on the same page, "There's also a lot to the expectations of we've got to continue doing what we're doing," Elway said. "So that's what we're going to talk about."
If Fox is smart, he'll work another Super Bowl bonus into his extension. The Broncos coach would've collected a $1 million bonus if Denver would have won the Super Bowl. 
Show Comments
Hide Comments
Drama is always a certainty when it comes to the unpredictability of the draft

Anderson will be keeping track of the linebackers who get picked before him on draft night

Tennessee could be on the move again, and here are four possible suitors
The Browns take a QB, but it isn't who you think, while RBs are left out of the first roun...

With the draft starting Thursday, here's some trade fodder to gnaw on in the interim

The two sides appear to be making a deal happen to bring the retired running back to Oakla...