Broncos training camp: Do Peyton, better D (Ware, Talib) mean SB XLIX?
Peyton Manning may be better than an eye-popping 2013. DeMarcus Ware and Aqib Talib help a defense for a club built to avenge a Super Bowl rout.
More NFL: Photos | Videos & GIFs | Training Camp updates | Manziel
ENGLEWOOD, Colo. -- Anything less than winning the Super Bowl will be a disappointment for the Peyton Manning -led Denver Broncos , and every offseason move was dedicated to Denver being a "now" team.
Gone are eight starters from last season's Super Bowl. Enter five new veteran starters, and many of the 10 key veterans on IR for the Super Bowl loss to Seattle are back and healthy. While John Elway told me he is "excited" about those vets returning, have the Broncos done enough to make the final difference in 2014?
Here are some impressions after a preseason game and a bird's-eye view of practice:
What to expect on offense: Manning talked about his unit, and started by recognizing the loss of Eric Decker (free agent who signed with the Jets) could be an issue but was excited about newcomer Emmanuel Sanders ' versatility. Sanders said the Broncos run a complicated offense and it will take time to learn all the positions they are training him at during camp.
Don't forget playmakers WR Demaryius Thomas and TE Julius Thomas are still here, and look outstanding. Julius Thomas said Manning is giving him additional signals at the line to increase the athletic tight end's role.
Both Thomases are in contract years and the club is trying to get them locked up sooner rather than later. I suspect they may not get them or guard Orlando Franklin signed before the season starts. Franklin's versatility is going to make him a valuable commodity.
The offensive line will be a better-equipped to solidify the running game with LT Ryan Clady back, Franklin at left guard and Chris Clark at right tackle. With RB Knowshon Moreno (free agent who signed with the Dolphins) gone, Montee Ball will have to pick up the slack and it remains to be seen if he can handle the blocking and receiving duties, particularly on third down. On the other hand, there's little doubt Ball can fill the rushing void.
What to expect on defense: John Fox said his defense is "light years away from last year at this time," and he's right. DE DeMarcus Ware (former Cowboys star, who signed as a free agent) has plenty left. After talking with Ware about his health and conditioning, as well as watching him in the first preseason game and a practice Monday, I wouldn't be surprised if he has at least 10 sacks opposite Von Miller . The inside push supplied by Terrance Knighton and Sylvester Williams will collapse the pocket, creating rushing alleys for Ware.
Nate Irving takes over at MLB after the loss of Wesley Woodyard (signed with the Titans as a free agent) and failed attempts by linebackers like D'Qwell Jackson . Irving will start out as a two-down player and be replaced by "WILL" linebacker Danny Trevathan in sub packages, though Trevathan was hurt at practice Tuesday. Keep an eye on 2013 college free agent Lerentee McCray , who will make this team.
The secondary is much improved with addition Aqib Talib and T.J. Ward , but the sub packages with an extra corner or safety have yet to be determined. Kayvon Webster should win the nickel job, though rookie Bradley Roby will have something to say about it.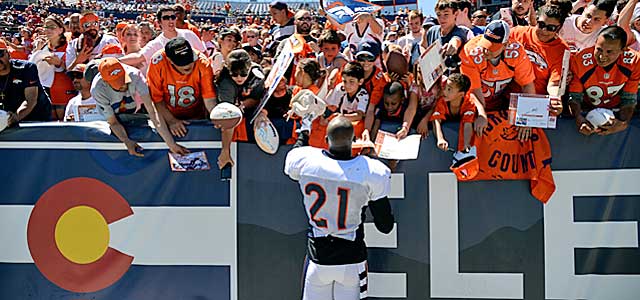 Rookie report: I doubt the Broncos have a rookie starter until late in the season, if at all. First-round pick Roby (Ohio State) is not winning that nickel spot at this point. Fifth-round ILB Lamin Barrow (LSU) could see some time later in the season, as could O-lineman Michael Schofield (third round, Michigan). Second-round pick Cody Lattimer (Indiana) has talent but backs up at least three wide receivers who are better.
Three big questions
1. Can the Broncos overcome the Super Bowl loss and return to the big game? It hasn't been done since the 1993 Bills, but not many of those ensuing Super Bowl losers had Peyton Manning. John Elway has put the pieces in place to get back to the Super Bowl.
2. Can Manning maintain last season's level of play? You may not believe it, but he looks bigger, stronger and has more velocity on the ball than he has had the past two years.
3. Can the pass defense improve from No. 27 in 2013? I have little doubt the Broncos will have better pass-rush and back-end coverage units.
Outlook: The Broncos went 13-3 last season, but failed miserably in the Super Bowl. While this year's squad may be better, 12-4 is a realistic record goal as the opposition starts to figure out this offense. I like the Broncos to go deep into the playoffs but they are up against a fast improving Patriot team and a rising star in the Pittsburgh Steelers.
Show Comments
Hide Comments
Plus Nick Saban sends a ton of talent to the NFL, the Browns find a QB and more from Rounds...

The Vikings' Latavius Murray and Bengals' Jeremy Hill also get put on notice with Cook, Mixon...

Here's everything you need to know about the 2017 NFL Draft
Here's a recap of Round 2 and Round 3 in the 2017 NFL Draft

Here are the 25 best prospects still available after three rounds of the 2017 draft have w...

The fans in Philadelphia did their best to make the 2017 NFL Draft more fun