Broncos' Von Miller: 'You might see Johnny Manziel in Denver'
Well, umm, that's an idea.
• 1 min read
It's taken a month, but we've officially reached peak-offseason status. And for that, we can thank Super Bowl MVP Von Miller and embattled quarterback Johnny Manziel.
During a recent interview with GQ's Clay Skipper, Miller fielded a few questions about Manziel, who, like Miller, played college ball at Texas A&M. One question -- "You think we'll see him back in the NFL?" -- and Miller's response might just lead to the total destruction of comment sections everywhere.
Here's what Miller had to say:
"Not only will he be back in the league -- of course I'm biased -- I still feel like he has a lot of game left in him. I feel like the world hasn't even seen him get down yet. Some of the stuff he was doing in college, he gonna do the exact same thing in the National Football League. I feel like -- you know you never want to blame a team -- I don't think he had enough support around him. Who knows? You might see Johnny Manziel in Denver."
And suddenly, the idea of Manziel and Miller teaming up with the Broncos just got a little less crazy. To be clear, it's still an insanely crazy idea. However, now that Miller has brought it up, it's officially an idea.
Listen closely ... Do you hear that? That's the sound of the Manziel train slowly rolling its way over to Denver.
I mean, the Broncos will need a quarterback if Brock Osweiler leaves via free agency. And even if Osweiler stays, they'll need a backup. Manziel did show some signs of improving this past season before his off-the-field incidents derailed him. The Browns are a sure-bet to release him. And Manziel ...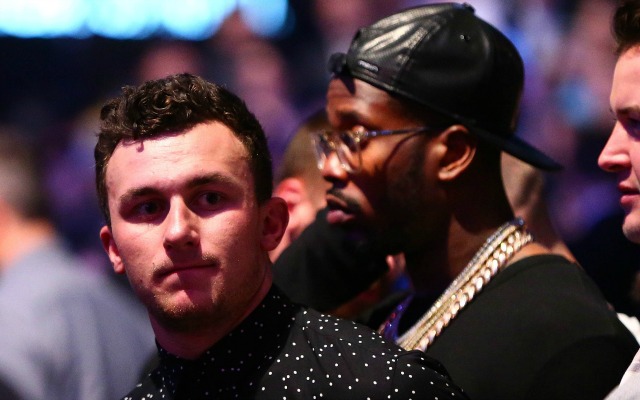 OK, OK, OK, back to reality. This would be shocking. Manziel still has issues -- like his domestic violence case that's in the hands of a grand jury. And it just wouldn't make sense for the team -- the defending Super Bowl champs! -- to gamble on a troubled player who, quite frankly, isn't even that good.
But hey, among offseason ideas, this one ranks right up near the top of the leaderboard.
Show Comments
Hide Comments
The Cardinals, however, don't sound enthused about his return

According to NFL Network's Michael Silver, the Browns might want to trade up to draft a franchise...

The projected top-20 pick could fall out of the draft with teams having little time to gather...
Bryant will have his progress reviewed again before the coming season

From Jadeveon Clowney to Odell Beckham, here's the option year prognosis for each 2014 first-round...

Gruden's team took Cadillac Williams instead of Rodgers in the 2005 NFL Draft