Broncos WR Demaryius Thomas sets Super Bowl record for receptions
It wasn't all bad news for the Broncos in Super Bowl XLVIII. Wide receiver Demaryius Thomas set the Super Bowl record for most receptions in a game.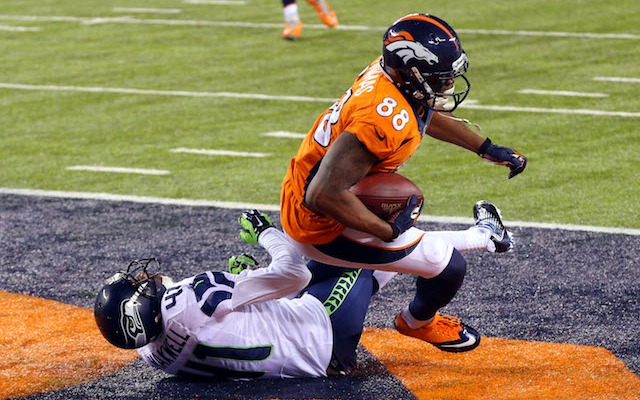 More SB coverage: Seahawks win, 43-8 | Photos | Numbers | More news
Demaryius Thomas won't be getting a Super Bowl ring this year, but he did set a Super Bowl record on Sunday. The Broncos wide receiver caught 13 passes against the Seahawks, setting a new record for most receptions in a Super Bowl.
The previous record was 11.  
Thomas' record-breaking catch came on the final play of the third quarter on a 14-yard touchdown pass from Peyton Manning that cut Seattle's lead to 36-8. Thomas tacked on another catch in the fourth quarter to end the game with 13 receptions. 
Before Thomas came along in Super Bowl XLVIII, the record for most receptions in a Super Bowl had been held by four different players. Jerry Rice, Dan Ross, Deion Branch and Wes Welker all shared the record with 11 receptions in a game.
Ross, the former Bengals tight end, did it in a Super Bowl XVI loss to the 49ers. Rice did it in Super Bowl XXIII against the Bengals. Branch and Welker both did it when they were with the Patriots. Branch's big game came in Super Bowl XXXIX against the Eagles and Welker did it in Super Bowl XLII against the Giants. 
Thomas finished the game with 118-yards receiving, which is nowhere near Rice's Super Bowl record of 215. 
Show Comments
Hide Comments
The Giants seem to have Plan B ready for whenever Manning decides to retire

At the rate we're going, Bill Belichick might not ever retire

Plus Louisville prospects look to make their mark in our roundup of Thursday's pro day act...
Sharrif Floyd only played in one game last season

Will Johnny Football end up with the Saints?

The Falcons might need a place to play to start the 2017 NFL season