Browns banning national media from rookie camp to protect Manziel
The Browns are banning members of the national media from the team's rookie minicamp next week because they don't want it to turn into a 'Tebow situation.'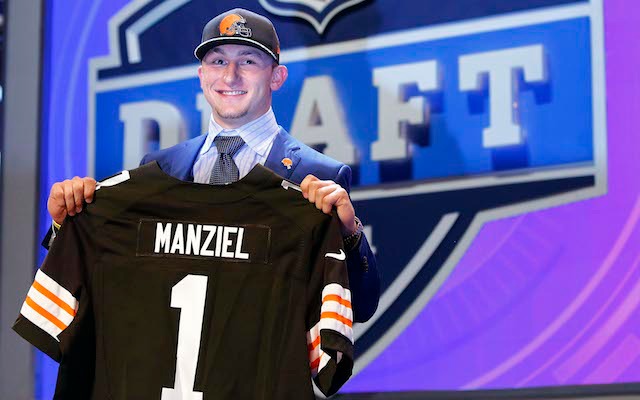 More Draft coverage: 2015 Mock Drafts | 2015 Top 100 | 2014 Draft Grades | News
There will be a lot of eyes on Johnny Manziel next week when he practices with the Browns for the first time at Cleveland's rookie minicamp. However, those eyes won't belong to anyone in the national media because the Browns have banned national media members from the May 16-18 camp, according to the New York Post. 
Wow, the Browns told me the national media is barred from their rookie minicamp this weekend due to the team's "tight grip" on Manziel.

— Bart Hubbuch (@HubbuchNYP) May 13, 2014
Apparently, the Browns noticed what happened to the Jets when a certain quarterback was traded to New York before the 2013 season. 
"We don't want this to be a Tebow situation," a Browns spokesperson told the Post. "It's not going to be Johnny Football-Mania out there."
But IT IS going to be Johnny Football Mania. For heaven's sake, LEBRON JAMES HAD ON A JOHNNY MANZIEL JERSEY THE DAY AFTER THE DRAFT. He definitely wasn't wearing a Justin Gilbert jersey. Not to mention, the Browns sold 1,500 season tickets in the 12 hours after drafting Manziel, so it's not like 'Johnny Football-Mania' is hurting their bottom line. 
The Browns really should be embracing this entire thing. They should sell Johnny Football lightsabers, Johnny Football kettle corn, Johnny Football bath towels and even Johnny Football iPhone cases if the NFL will license it. I'd also charge $50 to each rookie minicamp session and then use the money to make more Manziel lightsabers. But no, it looks like the Browns are going to do it their way, which brings up the obvious question: 
If the Browns didn't want the Johnny Manziel circus, THEN WHY DRAFT THE GUY?

— Bart Hubbuch (@HubbuchNYP) May 13, 2014
Show Comments
Hide Comments
Our Latest Stories
The 24-year-old Marlins pitcher died in a boating accident early Sunday morning

The Browns will turn to rookie Cody Kessler with their 37-year-old veteran sidelined

There have been protests -- both peaceful and violent -- in Charlotte every night since Tu...
Everything you need to know heading into Week 3 is right here

Let's look at the line moves over the last week

Here are the 10 biggest storylines to watch as Week 3 of the NFL continues Sunday